Cabot Cheddar Lace Crisp Taco Shells
Servings
Prep Time
Cook Time
These mini taco shells are made using Cabot Legacy Farmhouse Reserve Cheddar for a crisp, delicious shell. Fill with pulled pork and fresh coleslaw, grilled fish, sautéed vegetables or any of your favorites…use your imagination!
Directions
PREHEAT oven to 350°F.
STIR the cornmeal and the cheese together in a medium sized bowl. Lightly coat a 11 x 17 baking sheet with the olive oil.
TAKE about 2 tablespoons of the cheese mixture and form a small mound using your hands, about 2" in diameter and about ¼ high, in one corner of the baking sheet. Continue making the cheese mounds, leaving about ½ inch between each one. You should be able to fit 15 mounds on the baking sheet. If there's remaining cornmeal in the bottom of the bowl, sprinkle it evenly over the cheese mounds.

BAKE 7 to 9 minutes. Keep a watchful eye the last couple of minutes and remove the baking sheet as soon as they start to lightly brown around the edges, and they have an overall "lacy" appearance.

LET cool for just a minute or two, and then carefully lift one crisp at a time and form into shells, using your fingers to gently bend the crisps into shape.
PLACE the "shells" carefully on a plate or another baking sheet, and let cool completely.

SERVE by carefully filling the cheese taco shells with your favorite taco ingredients.
Nutrition
Nutrition
Serving Size

1 cheddar taco shell
Amount/Serving
% Daily Value
Fat

4.5 grams

Sodium

73 milligrams

Saturated Fat

2 grams

Protein

3 grams

Fiber

0 grams

Cholesterol

12 milligrams

Carbs

1 grams

Calcium

81 milligrams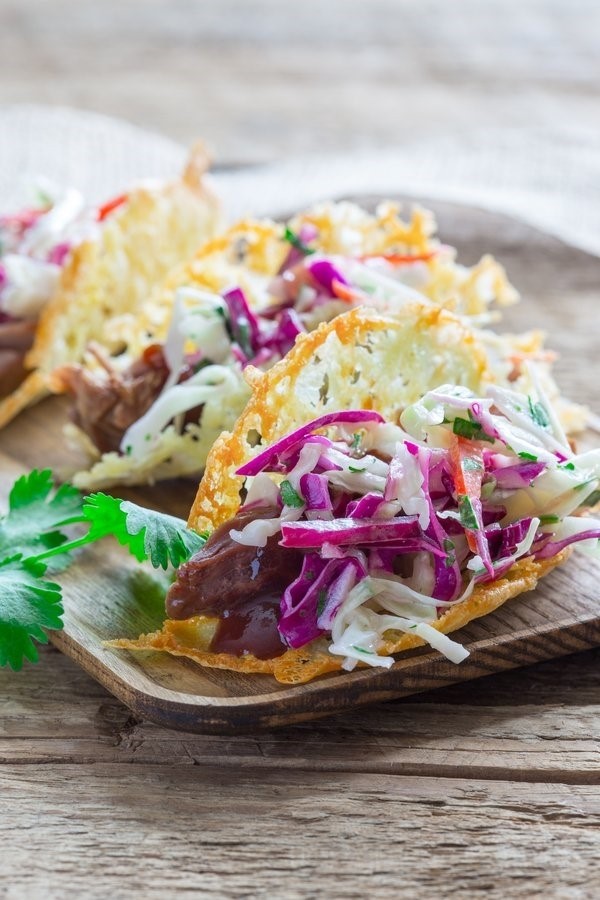 Recipe Tips
An easy way to help each shell hold it's shape is to cut 2 paper towel sheets into 8 pieces each. Fold each piece a couple of times and place inside the shell while they cool.
Check out this Cabot Baked Taco recipe for taco filling ideas and
these Cheddar Lace Crisps also makes a great, keto-friendly party snack.