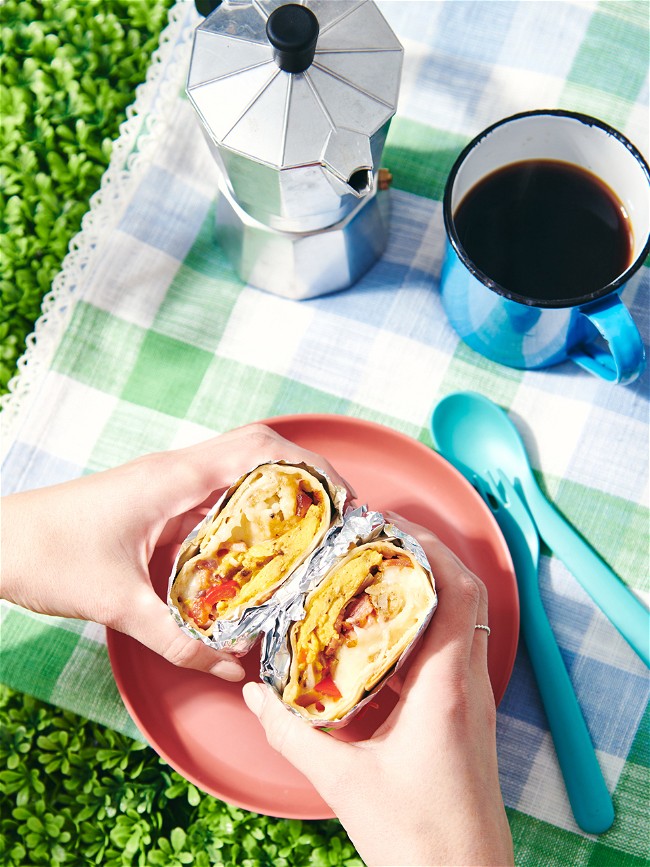 Cheesy Tater Tot, Bacon & Egg Burritos
Category
Breakfast & Brunch
These cheesy breakfast burritos are perfect for any time you're on-the-go and need a hearty, handheld breakfast. Feel free to experiment with your favorite breakfast ingredients. Sweet potato tots and sausage are welcome substitutions. Eat these fresh, or freeze for later and reheat at home or on the campfire.

Ingredients
2 cups frozen tater tots
4 large eggs
2 tablespoons milk

¼ teaspoon salt

¼ teaspoon ground pepper

4 slices bacon, chopped

¼ cup finely chopped red onion

¼ cup finely chopped red bell pepper

4 ounces Cabot Extra Sharp Cheddar, shredded (1 cup)

4 large (burrito size) flour tortillas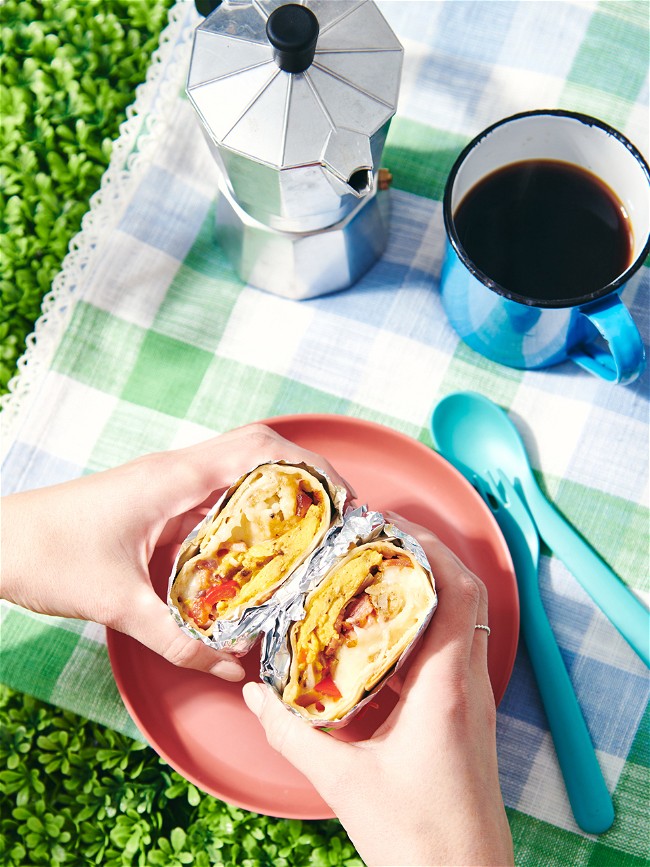 Directions
COOK tater tots according to package instructions.

WHISK eggs, milk, salt and pepper together in a small bowl.

COOK bacon in a medium skillet over medium heat, until the fat starts to render, about 2 minutes. Add onion and bell pepper. Cook, stirring occasionally, until the bacon is crisp and the vegetables are tender, about 2 minutes more. Using a slotted spoon, transfer the bacon mixture to a small bowl.

DRAIN all but 1 tablespoon of the remaining bacon fat from the skillet. Add the egg mixture to the pan and let cook, without stirring, until almost set on the bottom. Push the outer edge of the eggs to the center and to allow any uncooked eggs to come in contact with the pan. Continue cooking until the eggs are set but not dry, about 2 minutes.

ASSEMBLE the burritos: evenly distribute the eggs, tater tots, bacon mixture, and cheese between the tortillas. Roll up into a burrito. Wrap each burrito in heavy-duty foil. Freeze for up to 3 months.

To heat in the microwave: Unwrap a burrito and place on a microwave-safe plate. Cover with a paper towel and microwave on High until steaming hot throughout, 1½ to 2½ minutes.

To heat over a campfire: Place foil-wrapped burrito on a cooking grate over a medium to medium-hot fire. Cook, turning once or twice, until steaming hot throughout, 5 to 10 minutes if partially thawed, up to 15 minutes if frozen.