Classic Poutine with Pickles
Servings
Prep Time
Cook Time
Cheese curds are irresistibly tasty bites of farm-fresh cheese known for their endearingly squeaky texture and mild flavor. Cabot Cheese Curds elevate poutine to flavorful new heights and are great for everyday snacking.

Ingredients
For the Fries:

2 large russet potatoes (about 1½ pounds)

1 tablespoon extra-virgin olive oil
1 teaspoon kosher salt
½ teaspoon garlic powder

For the Pickles:

¼ cup rice or white vinegar

¼ cup water

2 tablespoons granulated sugar

¾ teaspoon kosher salt

1 cup diced vegetables, such as cucumbers, red onion, radishes, and/or peppers

For the Gravy:

2 tablespoons Cabot Unsalted Butter

¼ cup finely chopped onion 
1 teaspoon poultry seasoning
2 tablespoons all-purpose flour

1½ cups low-sodium beef broth

1 tablespoon cornstarch
1 tablespoon water

¼ teaspoon kosher salt

¼ teaspoon ground pepper

For Serving:

5 ounces (1 package) Cabot Cheese Curds, at room temperature

Chopped fresh thyme or parsley for garnish.
Directions
PREPARE the fries: Cut potatoes into ¼-inch thick fries. Soak the fries in cold water for 30 minutes. Preheat the oven to 375°F. Generously coat a large rimmed baking sheet with cooking spray (or line with parchment paper).

DRAIN the fries and pat dry with a clean kitchen towel. Toss the fries with olive oil, salt and garlic powder in a large bowl. Spread the fries in a single layer on the prepared baking sheet.

BAKE the fries for 20 minutes. Using a spatula, flip the fries on the baking sheet. Increase the oven temperature to 425°F and continue baking until golden brown, 20 to 25 minutes.

PREPARE the pickles: Combine vinegar, water, sugar, and salt in a small saucepan and bring to a boil over high heat. Remove from heat. Add vegetables and stir. Set aside, stirring occasionally.

PREPARE the gravy: Melt butter in a medium saucepan over medium heat. Add onion and poultry seasoning; cook, stirring occasionally, until softened, about 2 minutes. Sprinkle flour on top of the onions and cook, stirring, for 30 seconds. Slowly pour in broth while constantly whisking. Cook, stirring occasionally, until the sauce starts to thicken, about 2 minutes.

WHISK cornstarch and water in a small bowl. Add to the gravy, along with the salt and pepper, and cook until thickened, about 1 minute more.

ARRANGE the hot fries on a serving platter. Top with cheese curds, gravy, strained pickles, and chopped fresh thyme or parsley.
Nutrition
Nutrition
Serving Size

1/5 of recipe
Amount/Serving
% Daily Value
Fat

16 grams
25%

Saturated Fat

8 grams
40%

Cholesterol

45 milligrams
15%

Sodium

1160 milligrams
48%

Carbs

41 grams
14%

Fiber

4 grams
16%

Sugar

9 grams

Protein

10 grams

Calcium

224 milligrams
20%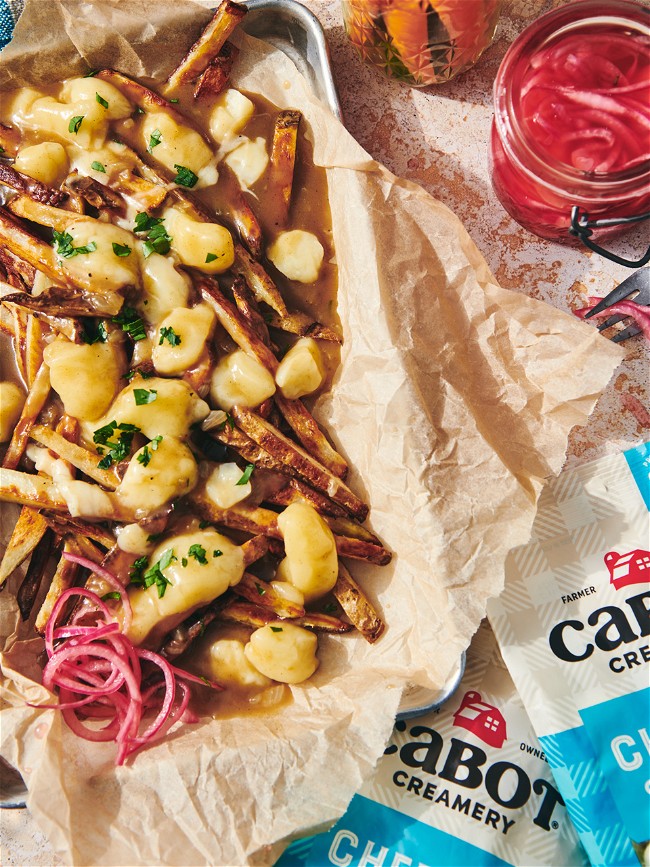 Recipe Tips
Baking homemade fries instead of frying lightens up this classic poutine a bit,
but feel free to use frozen french fries made in the oven, or air fryer, if you're in a pinch.

The pickles are a fresh, tangy, and colorful addition to really make this dish pop.

Make Ahead: Refrigerate pickles for up to 2 weeks.