Dark Chocolate Glazed Baked Doughnuts with Pistachios
If you've got a sweet tooth, then you'll absolutely love our recipe for chocolate yogurt pudding. The recipe, which makes for six servings, features a touch of coffee as well as plenty of chocolate, allowing it to pair wonderfully with a digestif or a warm beverage. The recipe is fairly easy to make, with preparation only taking a few hours. If you happen to know someone who loves chocolate desserts that feature coffee flavors, suggest this recipe! After trying the recipe, please make sure to share it with your family and friends on Facebook, Pinterest, Twitter or Instagram.
In order to make our chocolate yogurt pudding recipe, you'll need the following ingredients: brown sugar, unsweetened cocoa, salt, coffee, reduced-fat milk, cornstarch, Cabot two percent Vanilla Bean Greek Yogurt, and pure vanilla extract. The directions below highlight how to prepare the recipe. Once you've assembled all of the ingredients and whisked everything together, make sure to refrigerate the yogurt for up to two hours. It's best when served nice and chilled.
If you have a craving for chocolate, then try out our recipe for chocolate donuts. The recipe calls for pistachios, so the donuts have a nice crunch! Cabot is a cooperative of 800 farm families. We've been making award-winning cheeses collectively for generations. We're positive that you and your loved ones will love our chocolate yogurt pudding recipe, but we'd love to hear your feedback about it. After trying it, please rate and review the recipe. If we can improve it in any way, we'll sure try!
Ingredients
Doughnuts:

Cooking spray

⅔ cup King Arthur Unbleached All-Purpose Flour

½ teaspoon baking powder
¼ teaspoon baking soda
⅛ teaspoon salt
⅔ cup packed light brown sugar

½ cup Cabot Lowfat Vanilla Bean Greek

1 large egg
1 teaspoon pure vanilla extract

½ (3.5-ounce) bar Divine 85% Dark Chocolate (12 rectangles), broken into pieces

Glaze:

½ (3.5-ounce) bar Divine 85% Dark Chocolate (12 rectangles), broken into pieces

2 tablespoons Cabot Salted Butter

¾ cup confectioners' sugar
About 2 tablespoons milk
2 tablespoons chopped skinned pistachios
Directions
To make doughnuts:
PREHEAT oven to 425ºF. Coat 6-hole doughnut pan* with cooking spray.
WHISK together flour, baking powder, baking soda and salt in small bowl.
WHISK together brown sugar, yogurt, egg and vanilla in another small bowl, until no lumps of brown sugar remain.
SET third small heatproof bowl over small pan of barely simmering water; add chocolate, stirring until melted.
SCRAPE melted chocolate into yogurt mixture and whisk until smooth. Stir chocolate mixture into dry ingredients just until combined. Spoon batter evenly into doughnut pan wells.
BAKE for 9 to 11 minutes or until doughnuts feel set when lightly pressed. Remove from oven and let stand in pan while you make glaze.
To make glaze:
COMBINE chocolate and butter in bowl you used to melt chocolate for doughnuts; return to pan of barely simmering water and stir until melted.
REMOVE bowl from heat and whisk in confectioners' sugar until blended. Gradually whisk in enough of milk to make smooth, glossy and thick glaze. Dip "well" side of each doughnut in glaze. Sprinkle each with some of pistachios.
SERVE warm, or let cool and store in airtight container for up to 2 days.
Nutrition
Amount/Serving
% Daily Value
Fat

13.5 grams
21%

Saturated Fat

7 grams
35%

Cholesterol

44 milligrams
15%

Sodium

210 milligrams
9%

Carbs

61 grams
20%

Fiber

2.5 grams
10%

Protein

6 grams

Calcium

86 milligrams
9%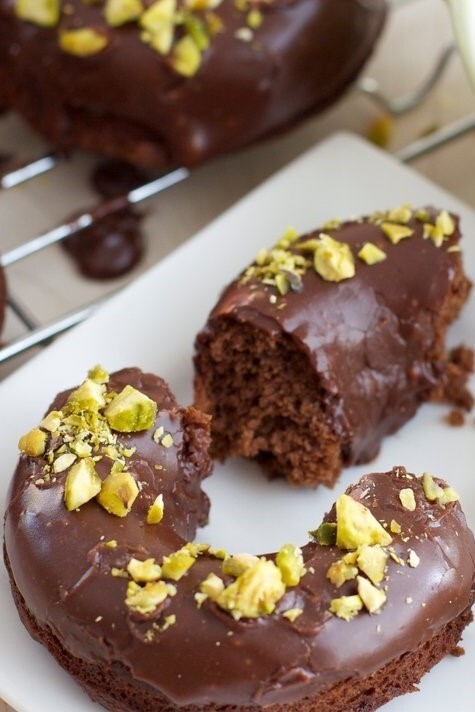 Recipe Tips
*You can also bake batter in muffin or mini muffin pan, filling about ¾ full.