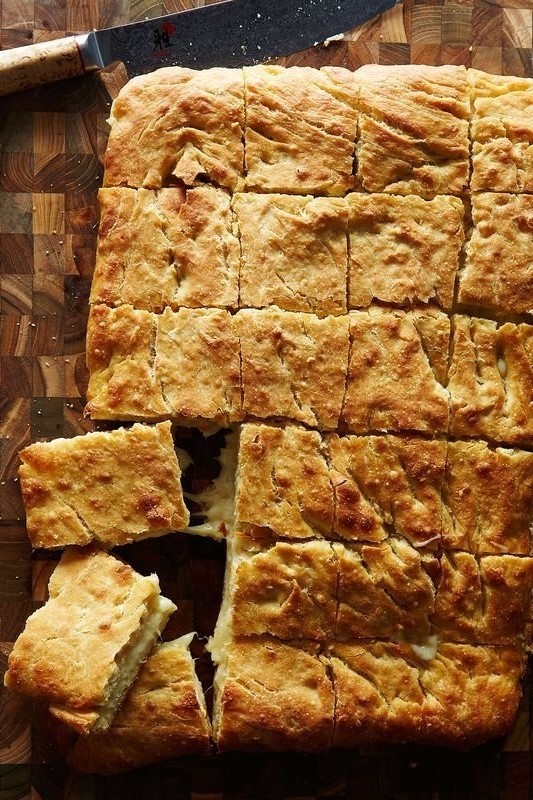 Focaccia Grilled Cheese Recipe
Servings
8-10 sandwiches depending on size
This crunchy, gooey focaccia grilled cheese made with Cabot's Sharp Cheddar feeds a crowd! This grilled cheese in oven recipe is simple and quick to make and can be customized to suit your taste. Love some crumbled bacon on your grilled cheese? Throw it in the mix! How about pesto? Sun-dried tomatoes? All of these delicious ingredients can be easily incorporated, making this focaccia even more savory. Once you've made our focaccia sandwich recipe, share it with family and friends on Facebook, Pinterest, Twitter or Instagram.
Preheat oven to 375°F and slice focaccia into two equal slabs.
Sprinkle grated Cabot Sharp Cheddar cheese on one of the focaccia slabs. Use as little or as much as you need to get the coverage you desire between the slices of focaccia. If using additional ingredients such as crumbled bacon, pesto and/or sun-dried tomatoes, add them as well. Top with the other slab of focaccia.
Place a heavy-bottomed pan directly on top of the focaccia to weigh it down. Bake at 375°F for about 8 minutes.
When done, slice into 9 large sandwiches. Alternately, you can cut them into small pieces to serve as appetizers at a party.
For another scrumptious grilled cheese recipe that's perfect for entertaining, try our Zesty Grilled Cabot Cheese Bites. Cabot is a co-operative of farm families and we work hard to produce our award-winning dairy products. We'd love to hear your feedback on this focaccia grilled cheese in oven recipe, so please rate and review it when you have the chance.
Ingredients
1 large piece of focaccia, one that will fit snugly on an 18×13-inch baking sheet

1½ pounds Cabot Sharp Cheddar (about 6 cups), or comparable cheese

Crumbled bacon, pesto, sun-dried tomatoes, or anything you'd put in a regular grilled cheese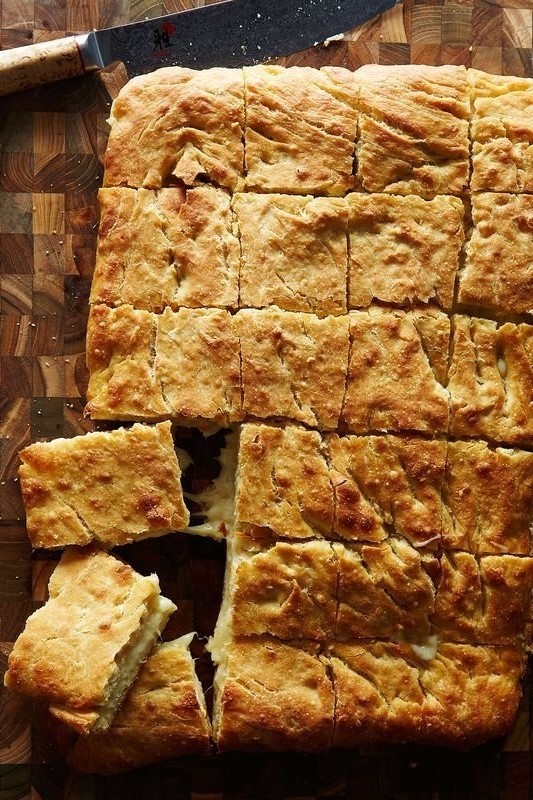 Directions
PREHEAT oven to 375°F. Slice the focaccia so that you have two equal slabs.
SPRINKLE your preferred grated cheese for as little or as much coverage as you'd like between the slices of focaccia.
WEIGHT the whole thing down with a heavy-bottomed pan—that's right, put a pan right on top of the focaccia—and bake at 375°F for about 8 minutes.
SLICE into 9 large sandwiches, or as small as you'd like to serve at a party.
Nutrition
Nutrition
Serving Size

1/9 recipe
Amount/Serving
% Daily Value
Fat

41 grams
63%

Saturated Fat

16 grams
80%

Sodium

720 milligrams
30%

Cholesterol

80 milligrams
27%

Carbs

22 grams
7%

Fiber

1 grams
4%

Protein

23 grams

Calcium

530 milligrams
50%