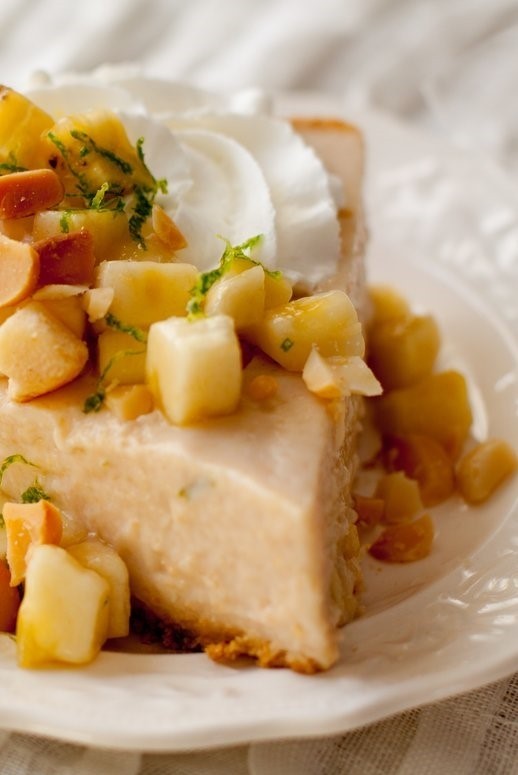 Fresh Lime & Roasted Banana Pie
Nothing says summer like a fresh slice of banana cream pie. If you're planning on hosting a backyard BBQ and you're looking for a dessert that's refreshing, flavorful, and perfect to nibble on during a warm summer evening, then give our easy banana cream pie recipe a try. The recipe, which makes ten servings, features a lovely blend of Cabot Lowfat Vanilla Bean Greek Yogurt, brown sugar, bananas, lime, and Cabot Whipped Cream that pairs perfectly with a graham cracker crust. After trying the recipe, please share it with your friends and family on Facebook, Pinterest and Twitter.
Our banana pie recipe is simple to make. You'll only need the following ingredients: four bananas (preferably yellow in color), Cabot Lowfat Vanilla Bean Greek Yogurt, brown sugar, lime zest, lime juice, water, gelatin, graham cracker crust, Cabot Whipped Cream, and toasted macadamia nuts for topping. In order to make the pie, you'll need to bake your unpeeled bananas for fifteen to 20 minutes, until the outer skins turn a rich, dark brown. Then remove the bananas from the oven, allowing them to cool. After the bananas have cooled to the touch, add them to a food processor, along with the sugar and yogurt. The directions below highlight everything you need to know when it comes to adding the other ingredients and baking the pie. Just remember that when you're adding the pie filling into the crust, smooth the top gently and thoroughly. Remember to refrigerate the pie for a few hours so that the filling with set properly.
If you're hooked on bananas, check out our recipe for banana bread. It makes for an excellent snack or a light dessert, pairing wonderfully with a nice cup of coffee. Cabot is a cooperative of more than 1,075 farm families. Collectively, we've been making outstanding cheeses and dairy products for generations. We're proud of all of the goods we make. We hope you and your loved ones like our banana pie recipe. We'd love to hear your thoughts about the recipe. Please rate and review it after trying it!
Ingredients
4 medium firm-ripe bananas (yellow in color, not green or brown), divided

1 ¾ cups Cabot Lowfat Vanilla Bean Greek

¼ cup packed light brown sugar
1 teaspoon freshly grated lime zest, plus more for garnish
2 tablespoons fresh lime juice
1 tablespoon water
1 envelope plain gelatin
1 reduced fat store-bought graham cracker crust
Cooking spray

Cabot Whipped Cream

About ⅓ cup chopped toasted macadamia or cashew nuts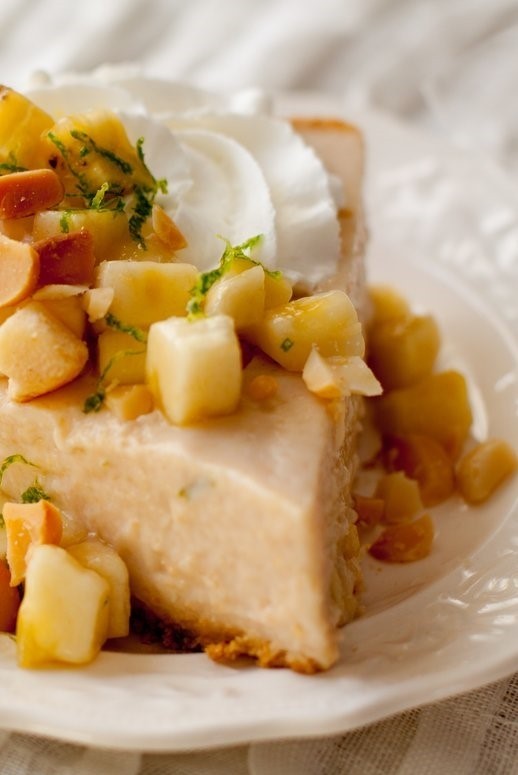 Directions
PREHEAT oven to 350ºF.
PLACE three unpeeled bananas on baking sheet; pierce each in several places with tip of knife.
BAKE for 15 to 20 minutes or until skins are dark brown, flesh is soft and liquid is bubbling from pierced slits. Remove from oven and let cool in skins to room temperature.
PEEL bananas and place in food processor. Add yogurt and sugar and process until smooth.
COMBINE 1 teaspoon of lime zest, lime juice and water in a small heatproof cup; sprinkle with gelatin. Place cup in saucepan filled with about ½ inch of water. Set pan over medium heat, stirring when water begins simmering, until gelatin is completely melted.
SCRAPE gelatin mixture into filling and process until combined.
POUR filling into crust, smoothing top. Lightly coat piece of plastic wrap with cooking spray and invert over top of pie. Refrigerate for a few hours or until set.
DICE remaining banana when ready to serve. Top each piece with swirl of whipped cream, some diced banana and sprinkle of nuts and lime zest.
Nutrition
Nutrition
Serving Size

1/10 recipe
Amount/Serving
% Daily Value
Fat

11 grams
17%

Saturated Fat

3.5 grams
18%

Cholesterol

14 milligrams
5%

Sodium

89 milligrams
4%

Carbs

36 grams
12%

Fiber

1.5 grams
6%

Protein

5.5 grams

Calcium

72 milligrams
7%