Servings
Prep Time
Cook Time
Ingredients
8 ounces Cabot Extra Sharp Cheddar or Cabot Seriously Sharp Cheddar, grated (about 2 cups), divided

3 ½ cups King Arthur All-Purpose White Flour*

1 envelope quick-rising yeast
1½ teaspoons salt
1 cup water

½ cup Cabot Lowfat Plain Greek Yogurt

1 tablespoon sugar or honey
1½ teaspoons Dijon mustard
Directions
SET ¼ cup of grated cheese aside and refrigerate.
TOSS together in large bowl or bowl of stand-up mixer, 3 cups of white flour, remaining cheese, yeast and salt.
WHISK together in a small saucepan the water, yogurt, sugar or honey and mustard. Stir over medium heat just until very warm to touch (120-130°F); immediately stir into dry ingredients. Mix by hand in bowl until mixture forms dough.
TURN dough out onto work surface and knead by hand adding the remaining ½ cup flour while kneading. Knead for 10 minutes or until dough is smooth and elastic. (To knead, firmly push dough away from you by pressing in center with heels of both hands, then fold dough back onto itself, pressing again. Rotate ¼ turn and repeat.) Alternatively, in stand mixer, add remaining ½ cup flour and knead dough with dough hook for about 5 minutes, until dough is smooth and elastic.
PUT small amount of oil in clean bowl and add dough, turning to coat. Cover bowl with plastic wrap and place dough in warm place to rise until doubled in size, 45 to 90 minutes (placing dough in closed, turned-off oven next to large pan of just-boiled water works well).
OIL 9 x 5-inch loaf pan or coat with nonstick spray. Gently turn dough out onto lightly floured work surface. Press ball of dough into rectangle, about length of pan. Fold rectangle in thirds, as if folding letter. Fold in half again lengthwise, pinching edges and ends together firmly until sealed.
PLACE dough seam-side-down in pan. Sprinkle top with reserved grated cheese. Cover loosely with wrap and let rise until about 1 inch above top of pan, without letting the dough over-rise. This could take about 30 to 45 minutes. Toward end of rising time, preheat oven to 350°F.
PLACE bread in middle of oven and bake for 60 to 70 minutes, or until bottom of loaf sounds hollow when tapped, or instant-read thermometer registers 190-200°F when inserted in center. Remove loaf from pan and let cool completely on wire rack.
Nutrition
Amount/Serving
% Daily Value
Fat

5 grams
8%

Saturated Fat

2.5 grams
13%

Cholesterol

15 milligrams
5%

Sodium

321 milligrams
13%

Carbs

20 grams
7%

Fiber

1 grams
4%

Protein

7 grams

Calcium

118 milligrams
12%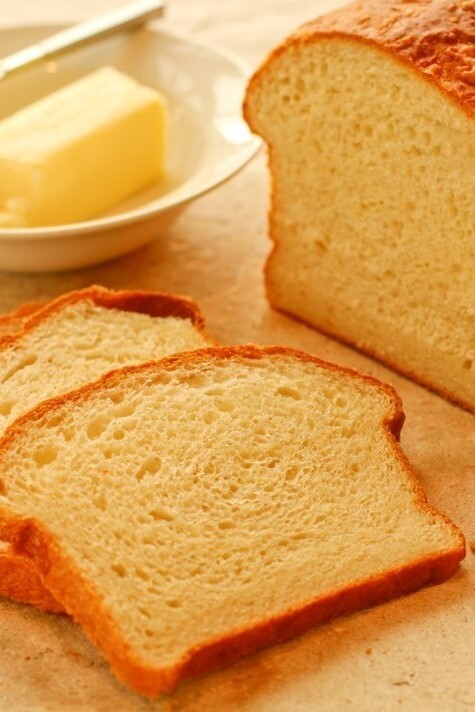 Recipe Tips
*You can substitute up to 1 cup King Arthur 100% Whole Wheat Flour for equivalent amount of white flour.
TIP: Variations and serving suggestions: creative additions to add separately or in combination are chopped fresh jalapenos, hot sauce, minced garlic, sliced green onions, chopped olives, chopped sundried tomatoes and fresh herbs like basil or dill.
Serve plain or toasted with soups, or to add a cheddary bite to classic sandwiches like BLT's, tuna or chicken salad, or avocado-tomato. Toast any leftovers into cheese croutons for salads, soups or snacking.