Green Chile Chicken Enchilada Casserole
Servings
Prep Time
Cook Time
Great flavor with little effort is what this recipe is all about! Assemble the ingredients in layers and then bake until done. Super easy and so tasty!

Ingredients
1 cup uncooked quinoa, rinsed
½ pound boneless skinless chicken breasts, cooked and shredded
4 ounce can diced green chiles
1 cup black beans, rinsed and drained
½ cup diced red bell pepper
2 scallions, sliced thin
1 zucchini, diced
1 cup low sodium chicken broth
1¼ cups green enchilada sauce or red enchilada sauce if you prefer

4 ounces Cabot Vermont Sharp Cheddar, shredded (about 1 cup)
Directions
PREHEAT oven to 350° F and spray a 9×13 or similar size baking dish with non-stick cooking spray.
ADD quinoa to baking dish, spreading it into an even layer that covers the bottom of the dish. Add the green chiles, diced red bell pepper, black beans, scallions, diced zucchini and shredded chicken. Evenly distribute the ingredients over the top of the quinoa.
WHISK together chicken broth and enchilada sauce in a large glass measuring cup or bowl, then evenly pour over all of the ingredients in the baking dish.
COVER the dish with foil and bake for 45 minutes. Remove foil and bake for another 10-15 minutes.
SPRINKLE the cheese evenly over the top and bake for another 5-10 minutes, or until cheese is melted.
TOP casserole with diced tomatoes, avocado, cilantro, red onion and Cabot Plain Greek Yogurt or Sour Cream if desired.
Nutrition
Amount/Serving
% Daily Value
Fat

5 grams
8%

Saturated Fat

2 grams
10%

Cholesterol

28 milligrams
10%

Sodium

380 milligrams
16%

Carbs

23 grams
8%

Fiber

4 grams
16%

Protein

16 grams

Calcium

194 milligrams
15%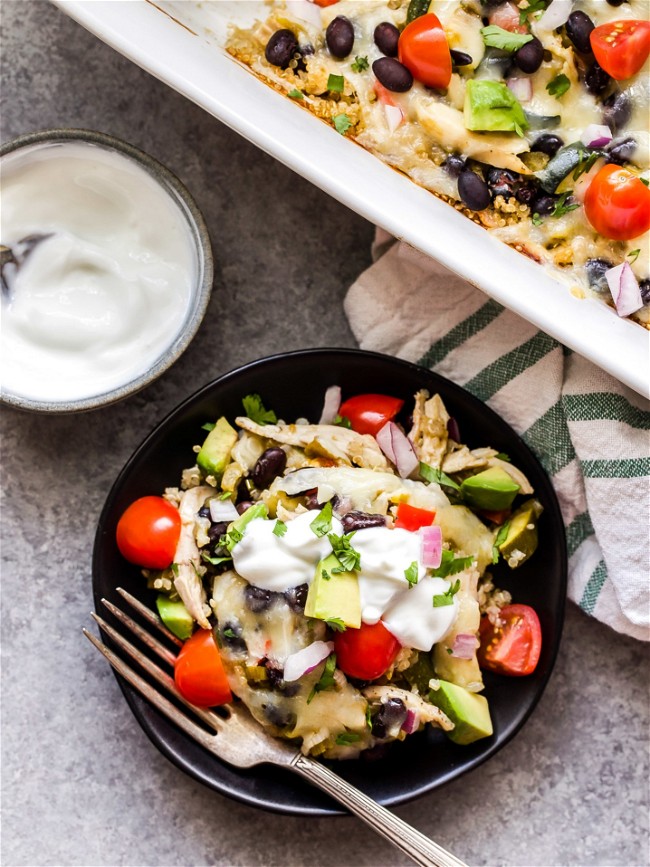 Recipe Tips
*Toppings – diced tomato, avocado, red onion, cilantro, Cabot Plain Greek Yogurt or Cabot Sour Cream