Grilled Cabot Cheddar & Roasted Red Pepper Sandwiches
For a fancy, yet easy twist on the classic grilled cheese sandwich, give this roasted red pepper sandwich a try. Trust us when we say you will absolutely love how the roasted red peppers, fresh basil, green onion, mayonnaise, white wine vinegar, hot pepper sauce and Cabot Lite50 Sharp Cheddar come together to create this flavorful grilled cheese recipe. You'll want to share it with family and friends on Facebook, Pinterest, Instagram, and Twitter.

Ingredients
¼ cup bottled roasted red peppers
2 tablespoons reduced-fat mayonnaise
1 teaspoon white wine vinegar
½ teaspoon hot pepper sauce

6 ounces Cabot Lite50 Sharp Cheddar, grated (about 1½ cups)

¼ cup chopped fresh basil
1 tablespoon finely chopped green onion
8 slices whole-wheat bread
Nonstick cooking spray
1 large tomato, thinly sliced
Bread of choice
Directions
MIX together the reduced-fat mayonnaise, white wine vinegar and hot pepper sauce in a medium bowl. Add grated Cabot Lite50 Sharp Cheddar cheese, chopped fresh basil, finely chopped green onion and the reserved roasted red peppers. Stir gently to combine.

COAT one side of each slice of bread with cooking spray and arrange 4 slices, coated-side-down, on work surface. Spread each slice with one-fourth of the cheese mixture and top with tomato slices. Add remaining bread slices, coated-side-up.
HEAT a large nonstick skillet over medium heat. Add sandwiches and cook, turning midway, until bread is lightly browned and cheese begins to melt, about 3 minutes per side. Transfer to plates, cut in half diagonally and serve immediately. Enjoy!
Nutrition
Amount/Serving
% Daily Value
Fat

9 grams
14%

Saturated Fat

5 grams
25%

Cholesterol

23 milligrams
8%

Sodium

678 milligrams
28%

Carbs

28 grams
9%

Fiber

4 grams
16%

Protein

18 grams

Calcium

350 milligrams
35%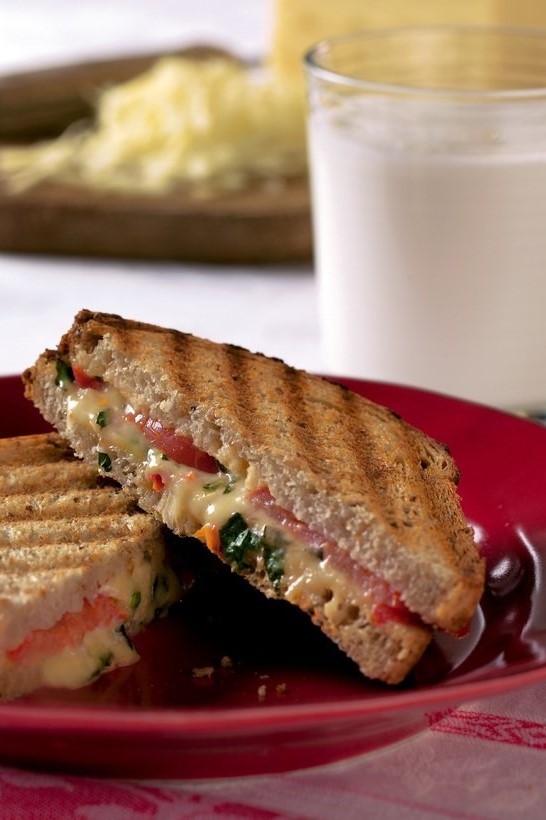 Recipe Tips
To make 2 cheddar grilled cheese sandwiches, place the roasted red peppers on a stack of several paper towels and blot dry. Then chop peppers and set aside