Freshly frozen, farm-raised fish is often a very economical option for those of us who don't live with a seaport nearby. Check with your market's fish department to find the best prices and quality. If you're planning to grill up a fiesta feast, look no further than these grilled fish tacos. A dish that is high in protein and low in fat, grilled fish tacos are always a heavy dose of deliciousness. This recipe is great for a backyard BBQ if you're looking for a change-of-pace from the traditional BBQ fare. All the neighbors will want to know where you got the recipe when they take a bite, so be sure to write a review and share any tips or ideas on how you added a personalized twist.
When it comes to our fish tacos, it's all about what makes your taste buds sing. Whether you like diced jalapeño peppers, crisp shredded veggies, or even sliced apples, you can't go wrong with the toppings. Because at the heart of this irresistible recipe is ¾ pound of smoky grilled white fish topped off with spicy Cajun seasoning and tangy lime juice. Red snapper, halibut, or striped bass are all perfect for grilled tacos. Be sure to check for the best prices and quality at your local market's fish department. Once you've filled the flour tortillas and sprinkled on our award-winning Cabot Lite50 Sharp Cheddar, top off the tacos with fresh guacamole or your favorite salsa!
All of our Cabot dairy products are made using only the highest quality ingredients. You'll taste the difference not only in these grilled fish tacos, but in any dish that features Cabot cheese! Don't forget to rate this recipe and leave us a review with your thoughts and comments. We think these fish tacos are pretty phenomenal, and we're sure that you will too!
Ingredients
½ cup Cabot Light Sour Cream

¼ cup chopped fresh cilantro
1 tablespoon fresh lime juice
1 tablespoon blackening or Cajun seasoning
¾ pound firm white fish fillets (such as red snapper, halibut or striped bass)
4 fat-free flour tortillas

2 ounces Cabot Lite50 Sharp Cheddar, grated (about ½ cup)
Directions
PREPARE and preheat grill.
COMBINE sour cream, cilantro and lime juice in a small bowl; set aside.
SPRINKLE seasoning over fish. Cook fish on grill over medium-high heat just until opaque in center (about 2 to 5 minutes per side depending on thickness of fillets.) Transfer fish to bowl and flake into bite-size pieces with fork.
PLACE tortillas on grill and cook until lightly charred on both sides, about 20 seconds per side.
DIVIDE fish among tortillas; top evenly with sour cream mixture and cheese. Serve with toppings, as desired.
Tip: To prepare fish in the oven, place on a baking sheet coated with cooking spray and bake at 350°F for 12 minutes or until fish flakes with a fork.
Nutrition
Amount/Serving
% Daily Value
Fat

13.5 grams
21%

Saturated Fat

4.25 grams
21%

Cholesterol

122 milligrams
41%

Sodium

565 milligrams
24%

Carbs

31 grams
10%

Fiber

0 grams
0%

Protein

21 grams

Calcium

147 milligrams
15%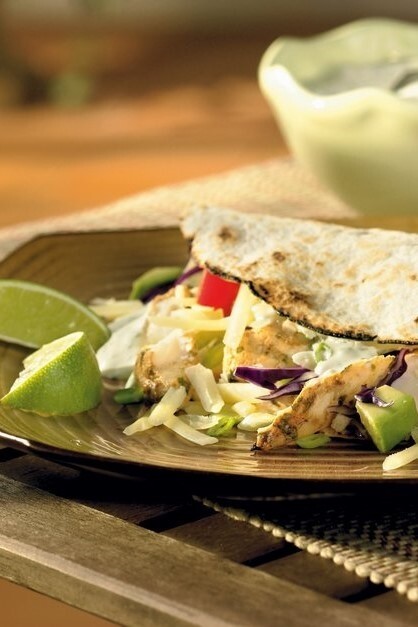 Recipe Tips
Optional toppings: fresh lime wedges, diced tomato, finely shredded red cabbage, sliced green onion, chopped fresh jalapeño, salsa

Make it a Meal: Serve with an avocado, mango and Bibb lettuce salad tossed in a light poppyseed dressing.