Meatballs Marinara with Cheddar-Spinach Polenta
Ingredients
Meatballs:

⅓ cup reduced fat (2%) milk
¼ cup "instant" (quick-cooking) polenta*
1 teaspoon dried oregano
1 teaspoon dried thyme leaves
1 teaspoon minced garlic
½ teaspoon salt
¼ teaspoon ground black pepper
1 large egg
1 pound ground round beef (85% lean)
1 teaspoon olive oil
2 cups marinara sauce

Polenta:

4 cups water
¾ teaspoon salt
1 cup "instant" (quick-cooking) polenta*
4 cups lightly packed fresh baby spinach or arugula leaves, coarsely chopped
Directions
To Make Meatballs:
STIR together milk, polenta, oregano, thyme, garlic, salt and pepper in small bowl; let stand until milk is absorbed, about 2 minutes.
WHISK egg until frothy in large bowl; add ground beef and polenta mixture and mix together well. Divide mixture into four equal portions. Shape each portion into six (1¼-inch) meatballs, for a total of 24.
HEAT oil over medium-high heat in large skillet. Add meatballs and cook, turning, until browned all over, about 4 minutes.
REDUCE heat to low and add marinara sauce, turning meatballs to coat. Cover skillet with lid or foil and let meatballs simmer gently until cooked through to center, about 10 minutes.
To Make Polenta:
BRING water and salt to boil large saucepan; Reduce heat to medium-low. While stirring, gradually add polenta, Stir in spinach or arugula; continue stirring until polenta has absorbed water and is simmering and thickened, about 3 minutes. Stir in cheese.
REMOVE eight meatballs from sauce, cover and set aside in refrigerator for Supper # 2, Tex-Mex Meatball Pizza.
SPOON polenta onto platter or into shallow bowls and top with meatballs (4 per portion) and sauce.
Nutrition
Amount/Serving
% Daily Value
Fat

20.5 grams
32%

Saturated Fat

8.5 grams
43%

Sodium

milligrams

Carbs

1257 grams
52%

Fiber

48 grams
16%

Protein

29 grams

Calcium

275 milligrams
28%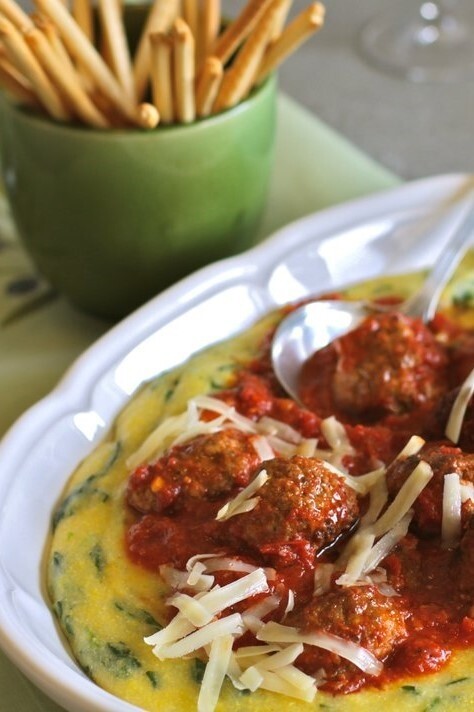 Recipe Tips
*If you can't find "instant" polenta, use 1 cup regular polenta for the cheddar-spinach polenta, following the package cooking directions, but use ⅓ cup fine dry breadcrumbs in the meatballs instead of polenta.