New England Potato Salad with Cabot Horseradish Cheddar
Dishes like burgers, hot dogs and potato salad are perfect for backyard cookouts. This take on New England potato salad is a great one to try out this summer, and it features a flavorful kick too—the recipe calls for horseradish and yogurt, so it features a creamy bite that's delightfully addictive! It makes eight cups, and features four ounces of shredded Cabot Horseradish Cheddar, Cabot Extra Sharp Cheddar or Cabot Farmhouse Reserve Cheddar. After trying this recipe, make sure to rate and review, and also do try and share it on Facebook and Twitter—we'd love to hear what you have to say about it!
Horseradish potato salad might sound like it's a bit potent, but we assure you, it's extremely delicious. This recipe calls for a lovely combination of yogurt and cheese, giving the potatoes a nice creamy texture that's very satisfying. After shredding four ounces of your favorite Cabot cheddar, make sure to gather together two pounds of small, red-skinned potatoes that should then be cut into chunks. After that, you're going to add vinegar, yogurt, red onion, ground pepper, mayonnaise, salt, celery and your favorite tender herbs (such as parsley, chives, or basil) with the cheese and potatoes. Season the whole thing to your taste.
After trying this Horseradish potato salad make sure to post a review to let us know what you think! Cabot understands just how important it is to cook wholesome, enriching meals, and we want to make sure that you enjoy all of our recipes. Our award-winning cheeses will surely make this dish a popular one.
Ingredients
2 pounds small red-skinned potatoes, cut into chunks about 1½ inches each

1 tablespoon plus 1 teaspoon cider vinegar

½ cup Cabot Lowfat Plain Greek Yogurt

3 tablespoons mayonnaise
¾ teaspoon salt
¼ teaspoon ground pepper, preferably white

4 ounces Cabot Horseradish Cheddar, Cabot Extra Sharp Cheddar or Cabot Farmhouse Reserve Cheddar, shredded (about 1 cup)

1 cup finely chopped celery hearts
¼ cup minced red onion
3 tablespoons chopped fresh tender herbs, such as parsley, chives, chervil, basil, tarragon and dill
Freshly ground pepper to taste
Directions
HEAT several inches of water in a large saucepan fitted with a steamer attachment. When water is boiling, add potatoes to steamer and cook until tender and flesh feels tender when pierced with a fork, about 15 minutes.

REMOVE potatoes and steamer transfer to a large bowl. Drizzle vinegar over the potatoes and toss to coat. Refrigerate until chilled, about 1½ hours.

WHISK yogurt, mayonnaise and salt in a medium bowl. Stir in cheddar and mix until any clumps of cheese are broken up. Stir in the celery hearts, onion and herbs.

STIR yogurt mixture into the cooled potatoes and season with pepper to taste.
Nutrition
Nutrition
Serving Size

1/8 recipe
Amount/Serving
% Daily Value
Fat

6 grams
9%

Saturated Fat

2 grams
10%

Cholesterol

11 milligrams
4%

Sodium

245 milligrams
10%

Carbs

13 grams
4%

Fiber

1.5 grams
6%

Protein

5 grams

Calcium

96 milligrams
10%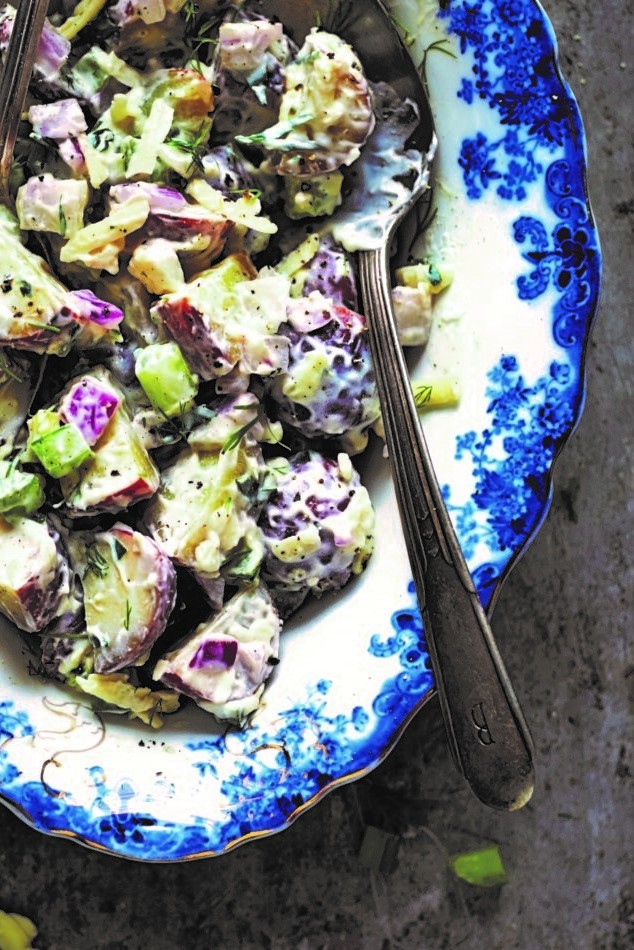 Recipe Tips
Be careful not to overcook the potatoes! And depending on the size of the new potatoes,
some can be left whole or just cut in half.
We also love this Tzatziki Potato Salad made with Greek Yogurt.