Philly Cheese Steak Burgers
Calling all burger lovers! While we all love a good, traditional burger, there's certainly a time and place for delicious twists on the classic. And with BBQ season upon us, now is the perfect time to try our awesome Philly Cheesesteak Burger recipe. This recipe makes four servings, making it perfect for a family dinner, but can easily be doubled or tripled to serve a larger crowd. After you've made them, share the recipe with your fellow burger lovers on Facebook, Pinterest, Instagram, and Twitter.
Before making the burger patties, preheat your grill for medium to hot direct grilling. You'll want to maintain a constant grill temperature of 400°F to 450°F. To make four servings, form 1 pound of ground beef (preferably 85% lean ground beef) into patties and sprinkle all over with salt and pepper.
Swirl 1 tablespoon of extra-virgin olive oil in a large cast iron skillet. Layer half of a sliced onion and half of a sliced sweet bell pepper in the skillet and place skillet on the hot grill surface. Cook until the vegetables are sizzling in the oil. Stir the vegetables and continue cooking, stirring often, until they are soft.
Meanwhile, cook burgers according to the directions below. When ready, top the burgers with the peppers and onions, dividing them evenly among all four patties. Then top each burger with three slices of Cabot Extra Sharp Cheddar cheese or 1 Year Cheddar, Extra Sharp Cheddar Cracker Cuts and cover the grill to cook burgers until they reach the preferred level of doneness and until the cheese is melted. Serve on buns with a side of fries, macaroni salad, or potato salad. Enjoy!
Craving another mouth-watering burger recipe? OurBBQ Pork Burgers with Pepper Jack won't disappoint! Cabot has relied on our farm families to make the highest quality dairy products in the world for over 100 years. Our commitment to quality is what makes our products stand out from the rest – and why you'll love our recipes! We'd love for you to rate and review our Philly Cheesesteak Burger recipe once you've tried it.
Directions
PREHEAT charcoal or gas grill to medium-hot for direct grilling. Temperature sensor on the lid should read a constant 400°F to 450°F.

FORM beef into 4 burger patties. Sprinkle all over with salt and pepper.

SWIRL the oil in the 12-inch cast iron skillet. Layer in onion and peppers and place skillet on the hot grill surface, slightly to one side. Cook until the vegetables are sizzling in the oil, about 3 minutes. Stir the vegetables and continue cooking, stirring often, until they are soft, about 12 minutes.

PLACE burgers on the grill next to the skillet, when there is about 4 minutes left for the peppers.
COOK, rotating ¼ degrees after 2 minutes for a total of 4 minutes on the first side.
SCRAPE peppers and onions to one side of the skillet with a spatula.
FLIP two burgers onto their uncooked side on the plain side of the skillet. Use tongs or the spatula to top the burgers with half of the pepper mixture, dividing evenly.
REPEAT clearing spots and topping with the remaining two burgers.
TOP with three slices of cheese per burger.
COVER the grill and let cook until the burgers are cooked to desired doneness and the cheese is melted, about 4 – 6 minutes.
SERVE on buns and enjoy.
Nutrition
Amount/Serving
% Daily Value
Fat

31 grams
48%

Saturated Fat

12 grams
60%

Cholesterol

105 milligrams
35%

Sodium

950 milligrams
40%

Carbs

25 grams
8%

Fiber

2 grams
8%

Protein

33 grams

Calcium

300 milligrams
30%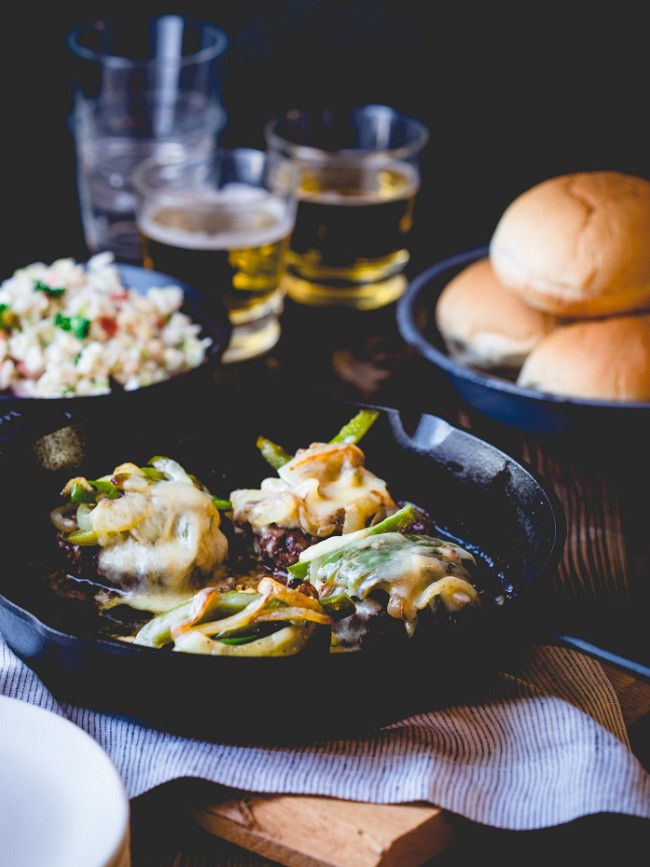 Recipe Tips
*For added convenience use any flavor of Cabot's ready-to serve Cracker Cuts.