Ingredients
3 ¾ cups cubed white bread

1½ cups cubed whole-wheat bread
3 tablespoons olive oil
1 cup chopped onion
6 large garlic cloves, roughly chopped
½ pound lowfat turkey sausage
¾ cup chopped celery

2 ½ teaspoons dried sage

1½ teaspoons dried rosemary
½ teaspoon dried thyme leaves
1 Golden Delicious apple, cored and chopped
¾ cup dried cranberries
⅓ cup minced fresh parsley

4 ounces Cabot Lite50 Sharp Cheddar, cut into 1-inch chunks (about 1 cup)

¾ cup turkey stock
Directions
PREHEAT oven to 350°F.
SPREAD white and whole-wheat bread cubes in single layer on large baking sheet. Bake for about 7 minutes or until nicely toasted. Transfer to large bowl and set aside.
HEAT large skillet over medium-high heat. Add oil, onions and garlic cook, stirring, for several minutes until onions are golden.
ADD sausage, breaking up with spoon, and cook until evenly browned. Add celery, sage, rosemary and thyme; cook, stirring, for 2 minutes to blend flavors.
POUR sausage mixture over bread cubes. Mix in apple, cranberries, parsley and cheese. Drizzle with turkey stock and toss together lightly. Let cool.
SPOON stuffing into turkey, loosely filling cavity.
Nutrition
Amount/Serving
% Daily Value
Fat

12 grams
18%

Saturated Fat

3 grams
15%

Cholesterol

16 milligrams
5%

Sodium

421 milligrams
18%

Carbs

23 grams
8%

Fiber

3 grams
12%

Protein

10 grams

Calcium

130 milligrams
13%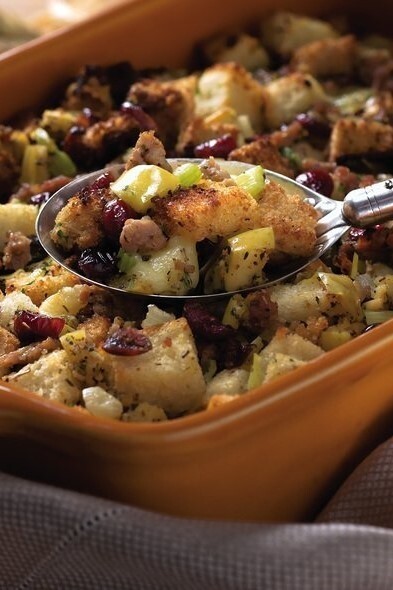 Recipe Tips
Alternatively, bake at 375°F in an oiled dish covered with foil for 30 minutes, then uncovered for 20 minutes longer.