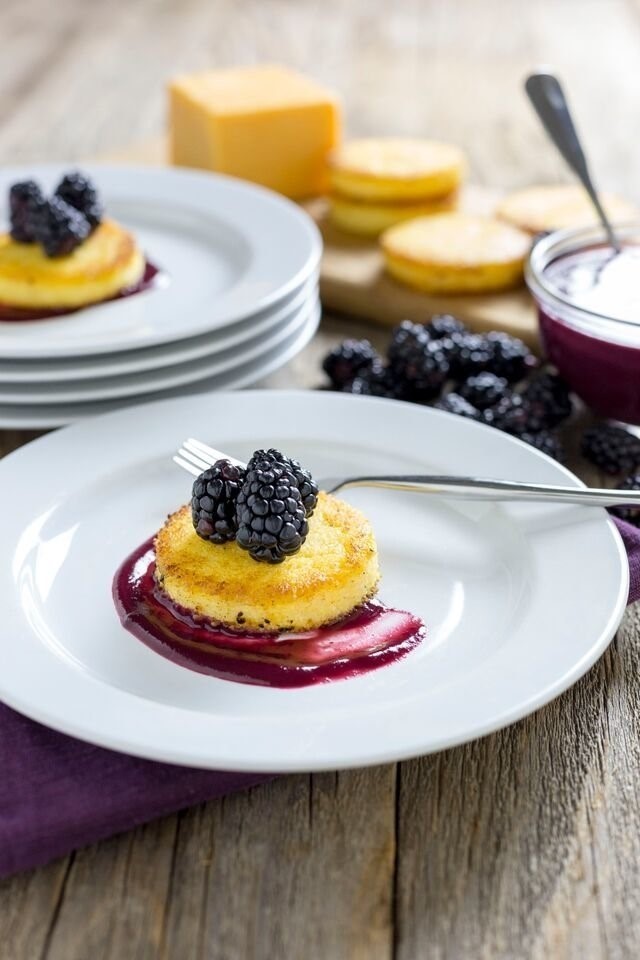 Seriously Sharp Cheddar Polenta Cakes with a Spicy Blackberry Sauce
Ingredients
For the Cheddar Polenta Cakes:

5 cups of water
2 teaspoons salt
1 cup polenta                                                               

1 cup Cabot Seriously Sharp Cheddar Cheese, grated

freshly ground black pepper
2 tablespoons olive oil                   

For the Spicy Blackberry Sauce:

1 tablespoon butter                                                 
1 roasted jalapeño, seeded and minced                           
2 tablespoons minced garlic

2 cups of California Giant Blackberries

⅓ cup granulated sugar                                         
1 ¼ cups red wine, divided                                     
1 ½ teaspoons fresh lime juice
1 teaspoon corn starch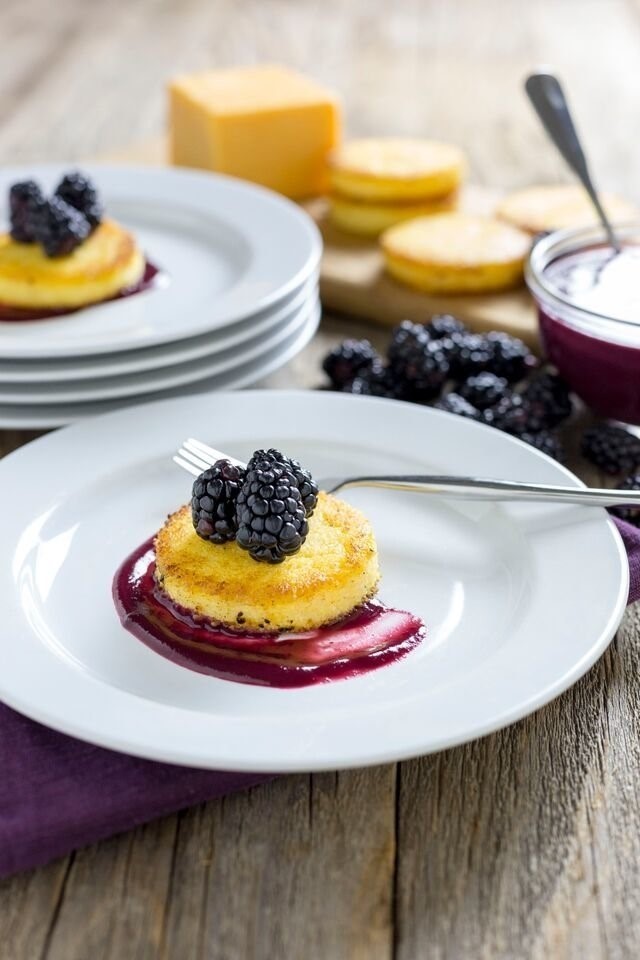 Directions
For the Cheddar Polenta Cakes:
BRING water to a rolling boil. Add salt and then gradually add polenta while stirring to prevent lumps. Reduce heat to low and cook, stirring often, until polenta is thickened and soft (about 30 minutes).
PREPARE a small rolled rim baking sheet by lining it with cling film. Make sure some of the film extends beyond the edges to lift out polenta later.
TASTE for salt and make necessary adjustments. Add freshly ground black pepper to taste and stir in shredded cheddar.
POUR polenta into the lined pan and smooth out the top. Lay another piece of cling film on the top of the polenta and place it in the refrigerator to cool at least 2 hours.
LIFT the polenta out of the pan and remove the cling film when cooled. Cut circles with a large cookie cutter or biscuit cutter.
HEAT olive oil in a skillet over medium heat. Place the polenta cakes in the oil and cook until golden brown around the edges (about 2-3 minutes per side). Place on paper towels to remove any excess oil and serve topped with fresh blackberries and spicy blackberry sauce.
For the Spicy Blackberry Sauce:
ROAST the jalapeño over a flame on the stove or under the broiler until skin is blistered all over. Place the jalapeño in a small bowl immediately and tightly cover with plastic wrap.
ALLOW it to rest for 20 minutes. Take the pepper from the bowl and easily peel away the skin. Slice open the side and remove any seeds and stem. Mince the remainder.
MELT butter in a medium saucepan over medium heat. Add minced jalapeño and garlic. Cook until softened. Add blackberries, sugar, 1 cup of the red wine, and lime juice to the pan.
BRING the mixture to a boil and then reduce to a simmer. Continue cooking until berries burst and the juices thicken. Pour the mixture into a blender and blitz until smooth. Remove any solids by straining through a fine mesh strainer.
RETURN the strained liquid to the saucepan over medium heat. Add cornstarch to ¼ cup of wine and stir to dissolve. Add the mixture to the blackberry mixture and stir until thickened. Remove from heat and cool slightly before serving. Store in an airtight container.