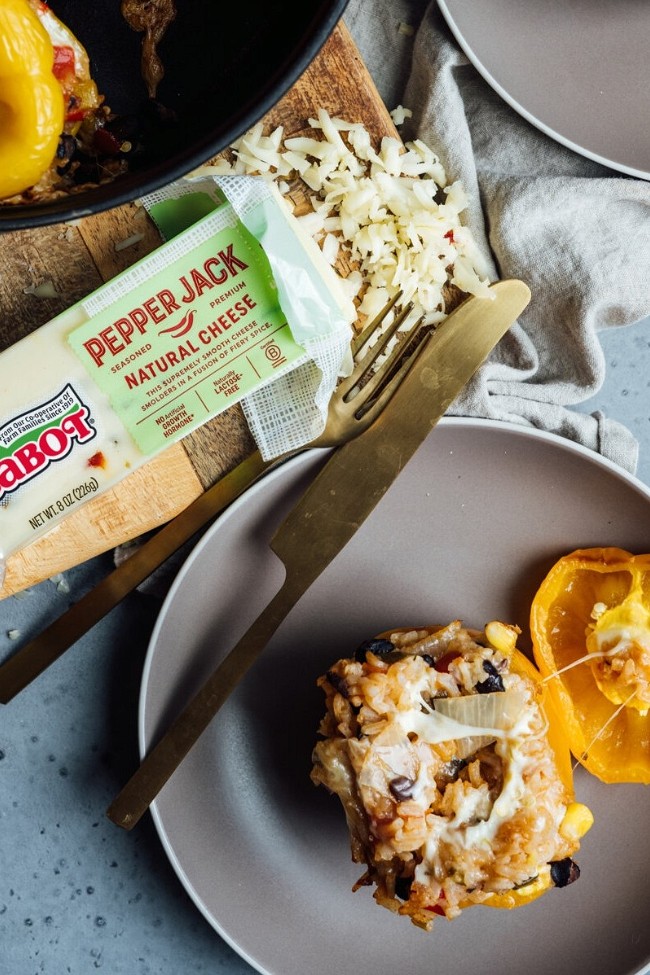 Vegetarian Stuffed Peppers
If you've been underwhelmed with other vegetarian stuffed bell pepper recipes, you should definitely give this one a try – it will be worth it! Stuffed with rice, diced onions, diced red bell peppers, diced tomatoes, corn, black beans, delicious seasonings and topped with Cabot Pepper Jack Cheese, this meatless dish is loaded with fresh flavor. The filling is so tasty, it could be served as a side!
After making this stuffed bell pepper recipe, share it with friends and family on Facebook, Pinterest, Instagram, and Twitter.
Ingredients
1½ cups uncooked white rice

1 red bell pepper, diced
1 medium onion, diced
1 (13.5 oz) can diced tomatoes

2½ cups vegetable broth

1 bunch green onions, thinly sliced
2 tablespoons taco seasoning
1 can black beans, rinsed and drained
1 cup fresh or frozen corn kernels
5 large mixed colored bell peppers, tops cut off

4 ounces Cabot Pepper Jack Cheese, shredded (about 1 cup)

¼ cilantro, chopped (optional)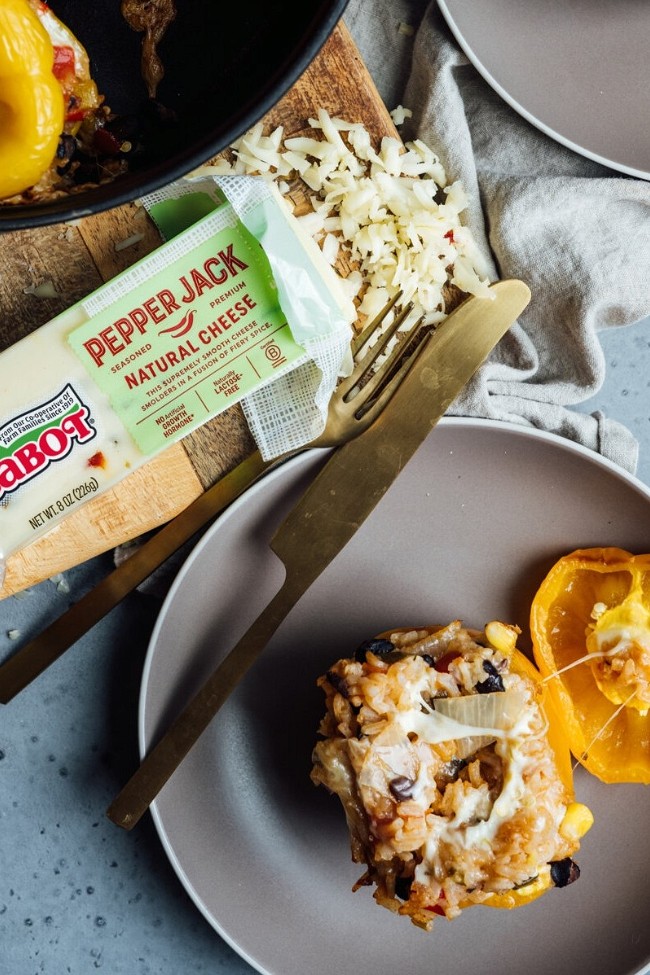 Directions
PREHEAT oven to 400°F.
STIR together uncooked rice, chopped bell pepper, onions, tomatoes, green onions, vegetable broth and taco seasoning in a large skillet. Stir and bring to a simmer. Cover and cook on low for 20 minutes. Once cooked add in black beans and corn and fluff with a fork.
CUT the tops off each colorful bell pepper and remove seeds and membrane.
FILL peppers with prepared rice mixture and top with grated Pepper Jack cheese.
ARRANGE stuffed peppers in a large baking dish or oven proof skillet, cover and bake for 30 minutes on center rack. Remove cover and bake for another 10 minutes.
SPRINKLE with chopped cilantro as a garnish if desired.
Nutrition
Nutrition
Serving Size

1/5 recipe
Amount/Serving
% Daily Value
Fat

9 grams
14%

Saturated Fat

4.5 grams
23%

Cholesterol

25 milligrams
8%

Sodium

1000 milligrams
42%

Carbs

88 grams
29%

Fiber

13 grams
52%

Sugar

14 grams

Protein

19 grams

Calcium

252 milligrams
25%