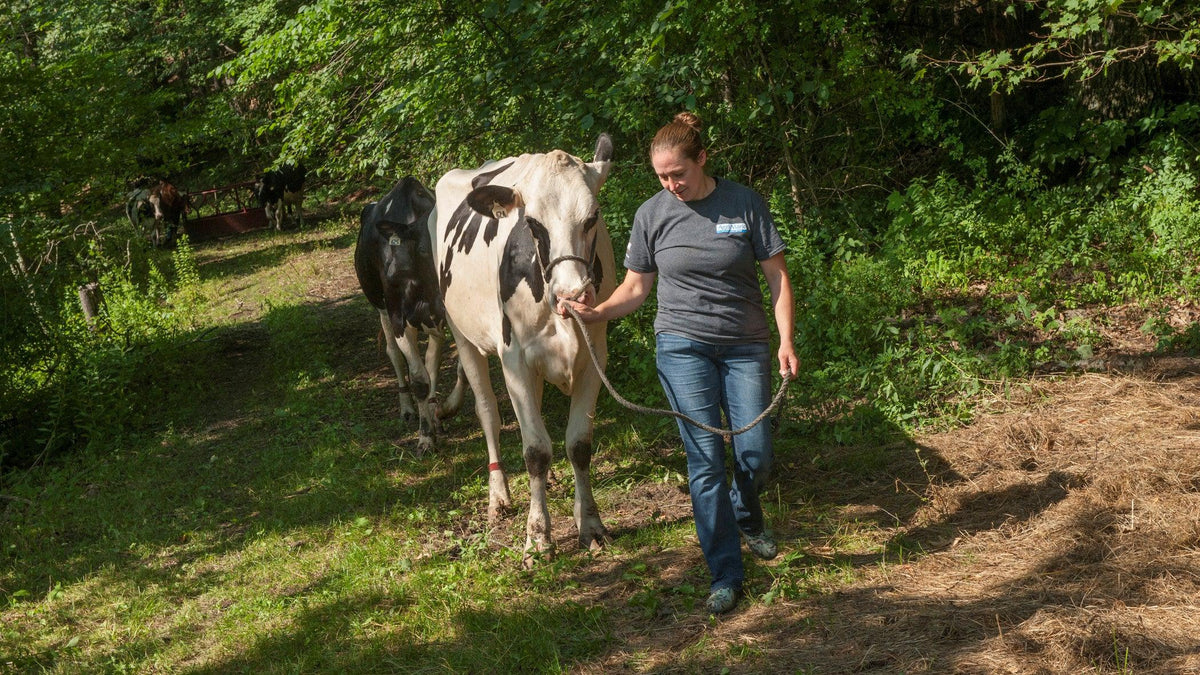 Farmer Friday: Clessons River Farm and the Farmers' Gratitude Tour
March 11th, 2016
The farmers are in New York! This week, 92 farmers and Co-operative owners of Cabot Creamery made the trip to New York City to thank New Yorkers for supporting their farms through the purchase of Cabot products.
As part of the Farmers' Gratitude Tour, our farmers are sampling the World's Best Cheddar in grocery stores in and around the city and spreading Random Acts of Cheddar to deserving fire fighters, B-Corps, volunteers and non-profit organizations.
---
Among those who made the trip is Melissa Griffin of Clessons River Farm in Buckland, MA. Melissa, a fifth generation farmer, has worked full-time managing the farm since 2005, along with her father, Paul Willis. Together they care for 125 animals, including milking 60 cows, while growing all their own hay and corn for feed.
Like most dairy farm families, Melissa's family is very involved in their community. Both Paul and Melissa's husband, Adam, are members of the town's Volunteer Fire Department. Melissa is very active in our Young Cooperators Program, as the group's Secretary and a member of the leadership team. Melissa is also known by many as a trumpet player in the Windham Orchestra, Pioneer Valley Symphony and the Shelburne Falls Military Band.
If you're in the neighborhood, you can meet Melissa and her husband, Adam, at the Whole Foods in Yonkers, NY both today and tomorrow.
---
This week, we thank many dozens of farmers for making the trip to New York City – and Melissa for answering our Farmer Friday questions:
What are you most looking forward to in New York?
I am looking forward to meeting our customers and seeing their reaction to meeting dairy farmers that produce the high quality milk that goes into the Cabot products that they love. I recently visited a local elementary school as part of their "Meet Your Farmer" Day which was organized by the Student Conservation Association. While it was neat to be able to tell my story to the students, I really enjoyed talking to the SCA members who drive past our farm every day and love our cheese, but had no idea where the milk came from for Cabot products. People always seem genuinely interested when they find out that I am a dairy farmer and it is always nice to be able to share my story and answer any questions that they may have. I'm looking forward to meeting our New York City customers!
What is your favorite thing about being part of a dairy farm family?
I think my favorite thing about being a dairy farm family is that although it's hard work, sometimes it doesn't feel like it since you are there with family. You hear friends talk about coworkers that they can't stand and I never wake up thinking I don't want to go to work because of somebody that I work with. It's exciting to be able to make decisions as a family and share in the joys and successes on the farm and know your family is there on the not so good days.
What is your family's favorite meal? Care to share a recipe?
Yes, macaroni and cheese, the microwave edition, and it can be easily be made gluten free by just substituting gluten free pasta and flour. My husband declares it is his favorite macaroni and cheese in the world and it is so easy to make!
Macaroni and cheese
2 cups uncooked macaroni (about 8 ounces)
2 cups hot water
1/3 cup Cabot butter
1/4 tsp onion powder
3/4 tsp salt
1/4 tsp pepper
1/4 tsp dry mustard
1 1/4 cups milk
8 ounces Cabot Seriously Sharp Cheddar (or other favorite Cabot cheese)
1/3 cup all-purpose flour
1. Mix macaroni, water, butter, onion powder, salt, pepper, and mustard in 2-quart casserole. Cover tightly; microwave on high (100%) 5 minutes; stir.
2. Cover tightly and microwave on medium (50%) to boiling, 4 to 6 minutes.
3. Stir in remaining ingredients. Cover tightly and microwave on high (100%), stirring every 4 minutes, until mixture is bubbly and macaroni is tender, 10 to 12 minutes.
What is your least favorite farm chore?
Putting tires on the corn pile! After we finish chopping corn in the fall, it is all packed into the concrete silo and covered with huge sheets of plastic to seal out the air and allow the corn to cure. We then lay tires on top of the plastic covering the entire pile to hold the plastic down. The tires are always wet and gross with old corn silage, mud, and water in them, so it ends up being a really dirty job with a serious splash factor!
What is your favorite time of year on the farm?
I'm not sure I have a favorite time of year on the farm. Each season brings something new to look forward to. The spring is always exciting as the grass starts to green up and we put our dry cows and bred heifers outside on pasture. Summer is when we make all the hay that will feed our cows throughout the year. Late summer/early fall is a time that I always look forward to; show season! I've been showing cows locally ever since I was 9 years old and it is a lot of work, but is something that I really enjoy. After the fairs end in the fall we start to chop corn and it is always satisfying to see the corn piles build up to feed the cows throughout the year. While I don't necessarily enjoy the cold of winter, it tends to be a slower time on the farm, at least when we're not dealing with major weather issues. We still have to take care of the cows every day, which is what I like most about farming.
Does anyone in your family participate in any volunteer activities in the community?
My Dad and husband are both on the local volunteer fire department. My whole family has participated in the Franklin County Relay for Life since it began in 1996. It was my grandfather's wish and he was there with us the first year, but passed away just before the second year. We've continued on ever since and even hand out milk to everyone for breakfast donated by Massachusetts Dairy Farmers.
What is one thing you would like people who have never experienced farm life to know?
The most important thing on the farm is caring for your animals. A clean, well-fed, comfortable cow is the most productive cow and that's what we all strive for. Dairy farming is not a job and there are no set hours, it's a way of life!
How many generations of your family have been on the farm?
I am the fifth generation on my family's farm, farming with my dad who is the fourth generation. My sisters are apt to be around in the summer a little bit to help out and my mom usually ends up helping out with our dry hay operation. I have an aunt and uncle who milk cows three nights a year for us while we are at the fair with cows. My husband is around some on the weekends to help out. For the day to day operation, it is just my dad and I.
What do you think is your greatest accomplishment on the farm?
I have been making all the breeding decisions on the farm for quite a few years now and it has definitely been a learning experience. In the herd we're always looking to improve from one generation to another and it is one of the things that I have focused a lot on and have really enjoyed trying to breed better cows and watching the calves grow and develop. In 2015 our herd received the Progressive Genetics Herd Award from Holstein Association USA, Inc for the first time, which was really exciting!