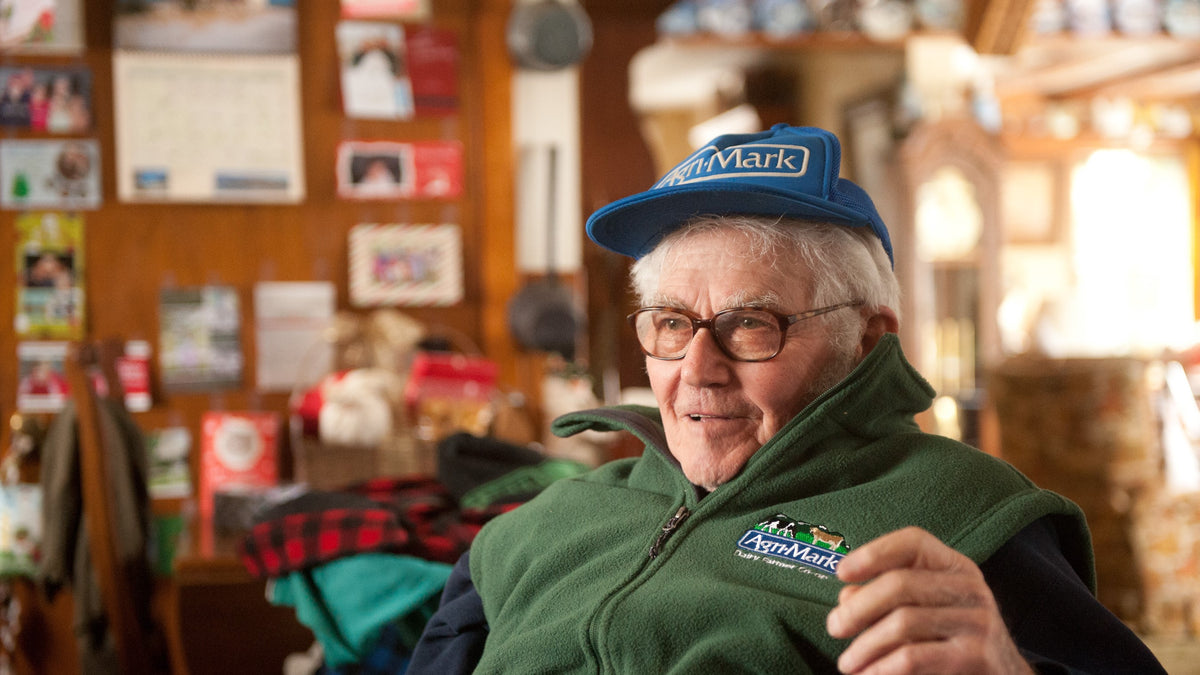 #Farmlove – The Scent of Christmas at Farmer Hodge's

The family has been farming in Fairlee, Vermont since 1846. For about the last 40 years, the Hodges have also sold wreaths mostly the old-fashioned way, in person or over the phone. "We have a roadside stand across the way from the dairy barn," explains Bev. "We ship all over. It's all word-of-mouth. We do gift packages, too, with Cabot cheese and our own jellies, local pickles and crackers." This year, she adds, they even have custom soap made with the Farmer Hodge's name on it.


The Christmas House, as the family calls it, is a seasonal extension of their year-round farmstand with trees, ornaments and snow villages, explains Cindy. Cindy and her husband Russ have taken over the daily farm operations from her parents. Bev and Herb, who is one year younger than his wife, still keep a sharp eye on things. "My dad can run the whole farm from the porch," Cindy says with a smile.
Between them and together, Cindy and Russ have six grown kids—Matt, Noah, Shaun, Nate, Mark and Maegan—who, along with Maegan's husband, all come home when they can to help out. "Maegan started family day to get the silage piles covered every year," her mother says. Priscilla's high school-age granddaughter, Emmie, also comes after school to work with Cindy.

The family will gather together for Christmas, of course, over a table loaded with good food. There will be a beef roast, mashed potatoes, peas and carrots and Cindy's famous whipped orange Jell-O dessert. It's a family tradition to make soft wintergreen candy with milk and sugar and a touch of pink food coloring and wintergreen oil.  Cindy's sister, Jody, a pastry chef also always brings her chocolate seduction cake. A new tradition might be the rich butter and cream pound cake known as Elvis Presley's favorite (see recipe below) introduced by Mark's girlfriend, Kayla Passione, a couple years ago.

Like every day, on Christmas the cows still need to be fed and milked but Cindy and Russ are happy to do it. "To be able to do a job that you truly love, it's just everything," says Cindy, "When I came home from college, I got to work with my dad. To be a small farmer, you have to have it in your blood. You have to have a passion for it. It's hard, but it means everything."
---
You can see what's going on at Farmer Hodge's on their Facebook page but if you'd like to order a fresh, Vermont-made Christmas wreath, call (802) 333-4483 or swing by Farmer Hodge's yourself at 2112 US Route 5 North, Fairlee, Vermont
Try this butter- and cream-rich version of pound cake for your holiday feast, or this one that is a little lighter and lemony.