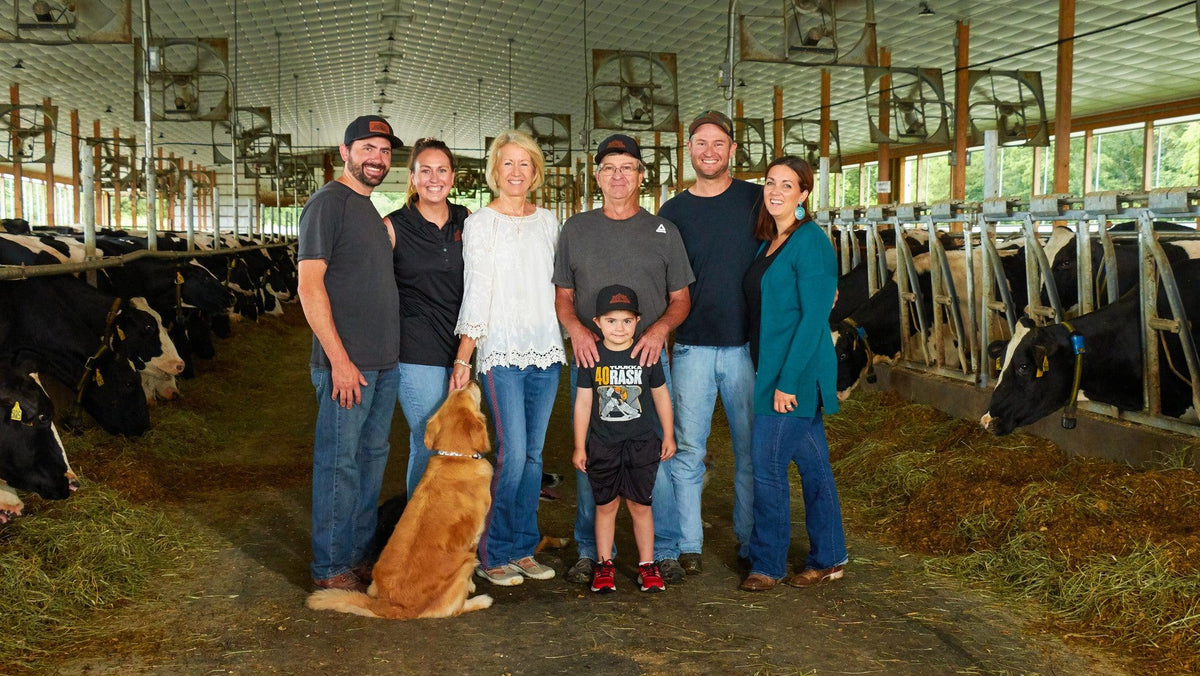 Goodrich Family Farm Salisbury, VT
A True Calling
In 2009, an unspoken connection called Danielle Goodrich and her brother Chase back home to their family farm. Chase had just received his bachelor's degree in accounting from Salve Regina University, and Danielle her associate degree in dairy herd management from Vermont Technical College. "Chase and I had always been really good friends growing up. It was kind of funny because we never had a conversation about coming back to the farm, it just happened and it's pretty special," Danielle said.
Goodrich Family Farm began in 1956 with Chase and Danielle's grandparents, Donald and Mildred Goodrich, with just 10 cows, and continues today with Chase and Danielle at the helm alongside their parents Ernest and Lee Ann Goodrich. Danielle's husband, Jason, is also part of the operation. "I watched my dad and grandpa work together, how they cared for the cows, and how much pride they took in the farm, I always wanted to be part of that," Danielle said.
Farming for a Better Future
Not long after Chase and Danielle returned, they began a decade-long project to make the farm more sustainable. "The biggest thing we needed to work on was sustaining our farm economically and environmentally," Danielle said. "We wanted to take a stand to do better for the environment and continue to provide our community with nutritious dairy products."

And so began the process of creating what would become the largest anaerobic digester in the Northeast. Launched in 2021, the digester converts over 180 tons of food waste and 100 tons of dairy manure every day into renewable natural gas to heat 5,000 homes. The leftover natural fertilizer is put through a phosphorus removal system and used to grow the farm's crops, in turn protecting the nearby Otter Creek Watershed.
"It's an honor"
Another set of siblings roams the farm today. Chase and his wife Erin are raising their two young kids, Avery and Fisher, on the farm. Dairy farming is a lifestyle Danielle says she's proud to share with her niece and nephew.

"Being a farmer isn't a career, it's a lifestyle. You're enjoying your land, and you're taking care of your cows," Danielle said. "It's an honor to be a farmer, and I am so blessed and happy that our family gets to do it all together."