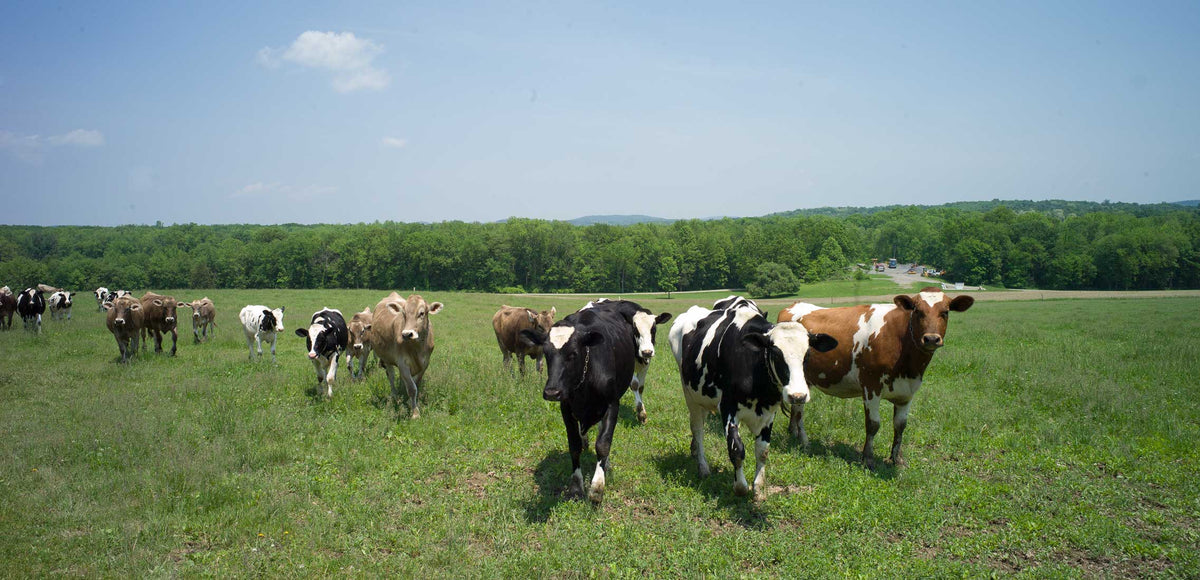 Storm Field Swiss Wappinger Falls, NY
Wappingers Falls, New York, is located along the eastern bank of the Hudson River, just south of Poughkeepsie. The village dates back to the mid-18th century, when much of the area was farmland. Today, due to the constant bustle of U.S. Route 9, suburban sprawl has overtaken the area to such an extent that only two dairy farms remain. One of those operations is Storm Field Swiss at Knapp Farm, under the care of Jennifer DeForest and her husband James Lawrence.
Knapp Farm was founded in 1920 by Jennifer's great grandparents, Thomas and Ethel Knapp, who purchased 400 acres of picturesque field, pasture, and forest. That same year, they erected the cow barn, which is still home to the farm's animals. For more than 70 years, the farm prospered under their care until it was sold to the Metzger family in 1997 after Thomas passed away. Today, Glenn and Marie Metzger still control the farm and lease the land to Jennifer and Jim, who own the cows and manage the farm.
"I've worked on a number of different dairy farms since I graduated from high school in 1998," says Jennifer. "Jim also grew up working on farms, and started dairy farming when he was a teenager. We met while working together on General Cochran Farm, and in 1999, purchased our first Brown Swiss. We dreamed of owning our own dairy, and began saving. It took eight years, and in 2007, with a modest herd of 18 cows, Storm Field Swiss was born." Storm Field Swiss is now home to 80 cows, primarily made up of Brown Swiss, along with Holsteins and a few Ayshires. Jennifer and Jim split the work; Jennifer milks the cows and Jim takes care of the fields and the rest of the operation. The couple's two children, three-year-old Jenna and one-year-old Justin, are too young to pitch in with the chores just yet, but love spending time in the barn with the cows.
Storm Field Swiss has been a member of Agri-Mark since 2007, and in 2009, joined another local dairy cooperative known for their top quality milk. Hudson Valley Fresh, a group of eight farms located in Dutchess, Columbia, and Ulster Counties of New York produce some of the area's finest dairy products, including milk, cream, sour cream, and yogurt. Their products are produced, processed, and sold locally, and can be found in the Mid-Hudson Valley, Long Island, New York City, New Jersey, and Connecticut.
Storm Field Swiss, like all of Hudson Valley Fresh farms, produces outstanding milk, as is evidenced by a number of milk quality awards, including a Super Milk Award from Agri-Mark, and several Outstanding Milk Quality Awards from Dairy One.
Jennifer and Jim are both extremely fond and proud of their animals – Jennifer has loved the breed ever since she received one as a Christmas gift when she was a child – and do everything in their power to keep the herd happy, healthy, and comfortable. They are both members of the NY Brown Swiss Association, and have twice won 1st place awards at the Dutchess County Fair in 2009 and 2011 for the Grand Champion Brown Swiss.