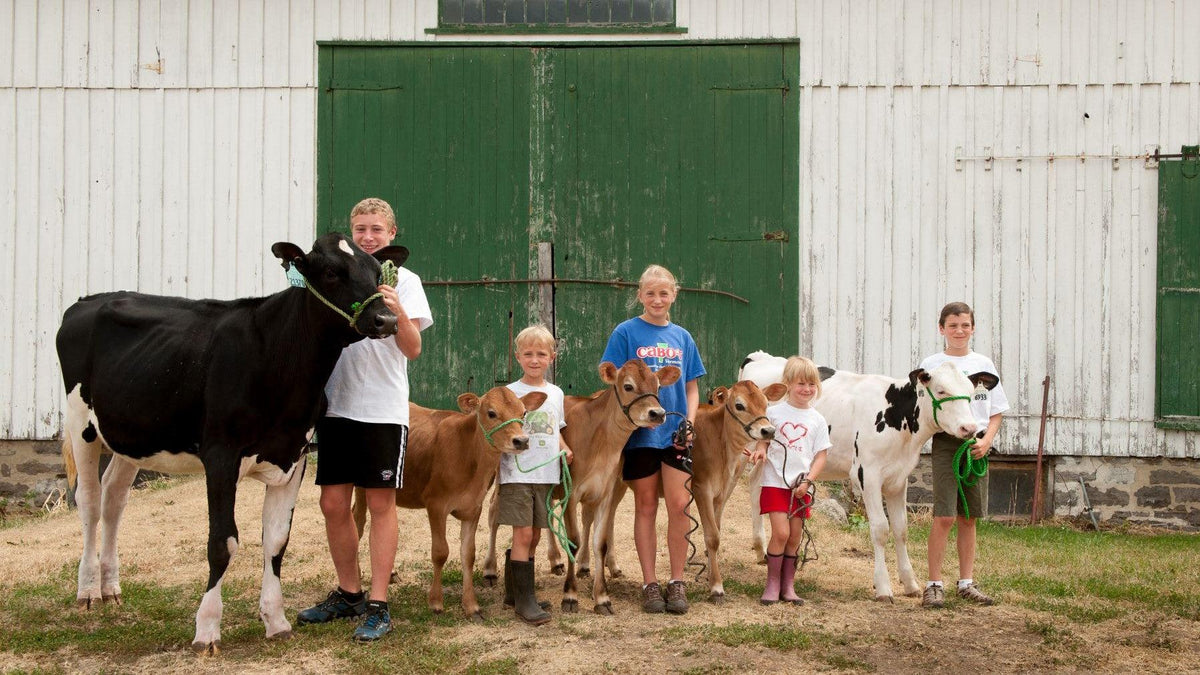 Woodcrest Dairy Lisbon, NY
 Woodcrest Dairy lies just a few miles south of the St. Lawrence River and the Canadian border, in the flat, fertile farmland of Lisbon, New York. The property covers nearly 10 square miles, and houses more cattle than the entire population of the town. Besides producing tons of high quality milk – almost six million pounds each month – Woodcrest Dairy, and its owners Robert Cruikshank and Peter Braun, are most well known for their world-class purebred Holsteins.
Woodcrest Dairy was founded in 1979 by Dr. Robert Cruikshank and his wife Melanie. He was, and still is, a practicing veterinarian who decided to go back to his dairy farming roots. Over the years he slowly expanded his operation, and in 2001, Peter Braun, who married Robert's daughter Michelle, became a partner on the farm. Robert and Peter grew the business each year, adding land and cattle. In 2008, they decided to refine their expansion, focusing on acquiring only top-tier animals and the best available parcels of land. Their efforts during the last four years have paid off. Woodcrest has produced more than 700 animals through its elite breeding program, some of which place amongst the highest ranked Holsteins in the world.
"We're very proud of our animals, and our breeding program," says Peter. "Through a lot of effort and expense, we look at each heifer calf and test the genetic makeup of our animals. This allows us to consistently produce cows with high fertility rates and strong physical characteristics. One of our calves, born in December 2011, named Woodcrest Shamrock Bronwyn, has a genomic score just shy of 2600 – an incredible number. That places her amongst the top 20 Holsteins in the world, and if you consider the other pertinent data for rating cows, she may be as high as number one."
While Bronwyn is certainly a remarkable animal, she is just one of almost 3,000 calves born every year at Woodcrest. Robert Peter and their team of 70 employees care for the herd – in addition to the property's 5,000 tillable acres – which include 2,750 milking cows. The animals are housed in free stall barns – the largest is 90,000 square feet and holds approximately 1,300 adult cattle.
"Obviously, we're a large operation," continues Peter, "but in the future, we hope to take a break from expanding and focus more on our breeding program. We're always trying to refine our business, which includes improving and marketing our animals' genetics." Woodcrest has made a sizable investment in their breeding program, which is big business in the dairy world. Top tier Holsteins can sell for around $20,000, and some can even reach six figures.
Woodcrest cares for its land with the same dedication it provides its animals.
They have a well thought-out and regimented stewardship program in place, where fields are delineated and their soil tested for nutrients. This helps Peter determine the best crops to grow on each parcel, and the proper mix of manure fertilizer to maximize yield. They've added tile drainage to fields, resulting in less soil compaction and a longer growing season. They were recently awarded a grant for a methane digester, that converts waste into electricity. And, in order to avoid buying bedding material, they are also working on a system that will recycle manure into bedding material to keep the cows dry and comfortable.
With so many first rate Holsteins, it is no surprise Woodcrest produces first-rate milk. The operation has won numerous milk quality awards since they joined Agri-Mark in 2005, and have received even more awards for their animals, including 2012 Progressive Genetics herd Award, 9th year, 2012 Progressive Breeders Registry, Central New York Holstein Show, Premier Exhibitor.
While Peter's waking hours are consumed with managing every aspect of the operation, thankfully he still has Robert to help with managing the animals' care and the breeding program. Melanie is a native Spanish language speaker, and is invaluable when helping to translate conversations with many of the farm's employees. Peter's wife, who home schools the couple's seven children, may have the most demanding and rewarding job of all. If the Brauns are lucky, Jesse, Hannah, Paul, Seth, Gretchen, Julia, and their newborn Caleb, will one day give their parents a rest and help out with the farm work.