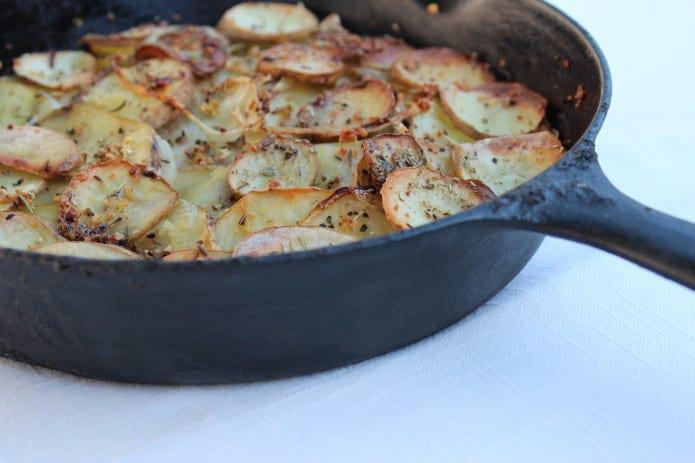 Recipe Roundup: Potatoes
Great Potato Recipes from the Cabot Cheese Board
There are few foods a versatile or as universally loved as the humble potato. Whether you like yours mashed or fried, stuffed or twice baked, scalloped or boiled, there's a favorite potato preparation for almost everyone.
We went to the bloggers of the Cabot Cheese Board to find the best potato recipes on the Internet. Here, in no particular order are some of our very favorites.
It's probably a good idea to start with the very basics. Melissa at Bless This Mess says the trick to a perfect baked potato is to ditch the foil. You can get a step-by-step tutorial and start like a pro. If you're already a spud specialist, you can send this link to your favorite novice cook.
A few very basic ingredients and a good old-fashioned skillet are all you need to produce this recipe of delicious simplicity. These Cast Iron Skillet Rustic Potatoes from Whitney at Little Leopard Book work for breakfast, lunch, or dinner.
Erin at The Law Student's Wife has our undying gratitude for this next recipe – Chicken Bacon Ranch Fries. This swoonworthy combination of flavors and ingredients transform potatoes into the makings of a full meal. The chicken is dipped into Erin's Skinny Yogurt Ranch Dip and sits on some spicy baked fries. Then the chicken and potatoes are covered with cheese and bacon. Did you hear me, people? Cheese! And bacon! You're welcome.
This is a recipe I find myself returning to again and again. Check out these Bacon Cheddar Hasselback Potatoes from Donna at The Slow Roasted Italian. Donna's recipes are inventive, fun, and always loaded with flavor, and this one is no exception. If your family and guests are anything like mine, they will implore you to make these for just about any occasion.
Here's another classic Slow Roasted Italian recipe. This Fully Loaded Extreme Cheesy Potato Casserole is perfect for family dinner. Stumped for what dish to bring to your next potluck supper? Bring this and it's likely to be the most popular dish at the party!
Here's our favorite twist on classic mashed potatoes: Garlicky smashed baby Yukon Gold potatoes baked until crispy and served with a rosemary infused cheddar cheese dip.. Crispy Garlic Smashed Potatoes - These aren't your granny's spuds!
If you've fired up the grill and want to make the perfect side dish, you'll probably want to watch this fun video from Cooking Outdoors for Loaded Dutch-Oven Potatoes. Because something as tasty as loaded potatoes becomes even better when it's cooked on the grill!
Talk about easy. And delicious. And fun to make and to eat! Georgia from the Comfort of Cooking has a great take on a humble roasted potato. Her Crispy Salt & Vinegar Smashed Potatoes are a delight – no matter how you smash 'em!
We love this savory baked dish that is perfect for fall. Try this Potato, Apple & Sausage Bake on a night when comfort – and great taste – are in order. The tart apples blend with potatoes and sausage for a piquant taste that's out of the ordinary, and out of this world. Top it with a Cabot Cheddar like Alpine or Seriously Sharp for maximum flavor.
Here's a way to bring a smile to just about anyone at breakfast time. Serve this savory and simple Loaded Baked Potato Frittata from Two Peas and Their Pod. It's a hearty and delicious way to start their day. It's also a best-loved brunch dish at my house.
This dish is a Cabot favorite and one of our first Featured Blogger Recipes, from Mary at Bare Feet in the Kitchen. Her Cheesy Mashed Potatoes with Green Chile takes this dish from safe and sedate to…wowza with just a few yummy additions. They're for anyone who wants a bit of adventure cooked into their mashed potatoes.
She had me at twice baked! Michelle, the Brown Eyed Baker has proved over and over again that she knows her way around the kitchen. So when she says this is the best Twice Baked Potato recipe, I'm just going to have to believe her. You should too.
Potatoes in a slow cooker? There's a great idea, if you ask me. Julie, from Julie's Eats and Treats, has created a dish that takes just 10 minutes to put together, but still manages to dazzle everyone who tries it. Her Crock Pot Comforting Cheesy Potatoes have added to her reputation as the Crock Pot Queen, a title she fully embraces!
Here's another much-loved recipe from the Cabot website. We've taken classic picnic fare to new and mouth-watering heights with the addition of Cabot Horseradish Cheddar and a dressing made with Cabot Greek Style Yogurt. Our New England Potato Salad with Horseradish Cheddar has it all, creamy potatoes blended with the bite of horseradish cheddar, the tang of Greek yogurt, and fresh herbs to round out the flavors.
Certainly not the least of these delicious offerings is a fun way to reinvent the potato pancake. Ali from Inspiralized has taken a classic to new and yummy heights with her recipe for Easy Cheddar-Rosemary Spiralized Potato Pancakes. They are so full of flavor and beautiful to behold!
So whether you like your potatoes baked or fried, mashed or smashed, for breakfast, lunch, or dinner, we hope you'll find some great new ways to enjoy these tantalizing tubers!
For other great recipes visit: cabotcreamery.com/blogs/recipes