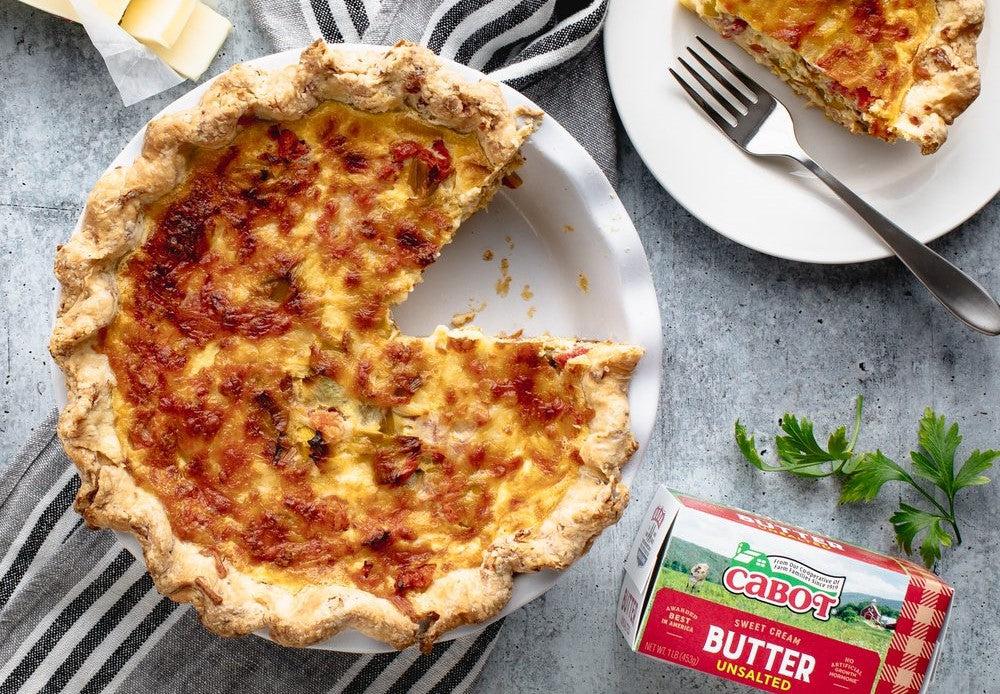 Quiche Feast Challenge
A Comprehensive List of the Tastiest Quiche Recipes You'll Ever Find
The world owes so much to French cuisine, and at the top of the list of indebtedness sits their scrumptious gift to the world, quiche. A savory, open-faced pie consisting of pillow-y cloud of custard surrounded by a pastry crust and enhanced with ingredients like cheese, meat, seafood, or vegetables, this versatile standard has long been a staple of French cooking. For centuries the popularity of this dish spread and now quiche has established itself as an international favorite. Whether it's the star of your brunch menu or the main course for a light supper, you can serve it hot or cold any time of the year. Quiche is sophisticated enough for entertaining, simple and easy enough for a family meal.
Cabot and our friends at King Arthur Flour have an ongoing love affair with this delicious and adaptable preparation. Because we're such fans, we created #QuicheFeast and challenged the food blogger members of the Cabot Cheese Board to create and share their most enticing quiche recipes with our readers.
There's nothing we love more than featuring the culinary inspiration of our Cheese Board members, but first we thought we'd share some inspiring quiche recipes from both the Cabot and King Arthur kitchens.
It's hard to know where to begin when extolling the virtues of one of our favorite cheesy dishes: Cabot Sharp Cheddar Tomato Leek Quiche with Sour Cream Bacon Crust seems to have it all – and then some. Roasted tomatoes add color and flavor to the savory sensation of this classic. But this is just one of many creative and delicious selections on our website. You can see lots more flavorful, easy-to-prepare quiche recipes from Cabot here.
Not to be outdone, the folks at King Arthur Flour know their way around a quiche crust too. When they fill it with eggs, cheese and seasonal veggies, and you have a winning – and totally yummy – combination. You'll want to try their Roasted Butternut Squash and Spinach Quiche. This pie is one that embodies all the best quiche has to offer, no matter how you slice it! Check out the dizzying array of their other quiche recipes here.
Now it's time to get down to the delicious business of the seemingly endless variety of quiche dishes from the Cabot Cheese Board bloggers. This list is by no means comprehensive, but it will give you so many mouthwatering ideas, you'll want to try them all!
From That Susan Williams:
From Cooking With Anne:
From West of the Loop:
From Suburbia Unwrapped:
 From RDelicious Kitchen:
The Nutrition Twins:
 From Kimversations:
From Kelly the Culinarian:
From Farmgirl Follies:
From Dixie Chik Cooks:
From Cooking with Books:
From Cooking Outdoors:
From Coconut & Lime:
From Caroline Kaufman:
From Bless This Mess:
From The Nutritious Kitchen:
From My Bizzy Kitchen:
From Moore or Less Cooking:
From Mimi Avocado:
From Make Healthy Easy:
From Cupcakes and Kale Chips:
From Back to Her Roots: