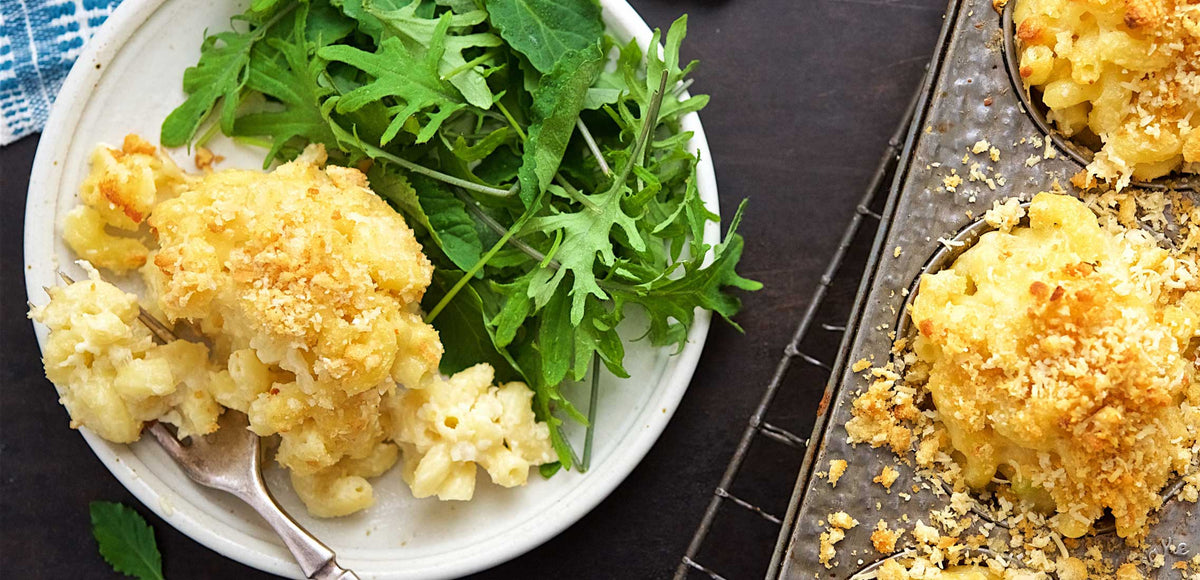 How to make Mac & Cheese "Cupcakes"
Everybody LOVES mac & cheese, hands down, no contest. This mac & cheese though… IS the mac & cheese of all mac & cheeses. Grace Potter has crushed it with her version and now there's no going back! Not only is it jam packed with Cabot Seriously Sharp Cheddar and Hot Habanero Cheddar, but there is also Gruyere, Parmesan, and truffle oil, holy decadence!
Step 1: First Things First
Prepare the elbow pasta as directed in the recipe, return to pot and set aside. Preheat the oven to 400°, and prepare the muffin tins with pan spray. Grate the Cabot Cheddar cheeses.

Step 2: Prepare the Cheese Sauce
Sauté the onion and garlic in olive oil over medium high heat for a couple minutes until it starts to take on a little color, add half the milk and sprinkle the flour over the top. Whisk until smooth, it will thicken considerably. Add the remaining milk and continue whisking until it's all mixed in.


Okay, now the fun part, stir in the grated Cabot Cheddar, Hot Habanero, and Gruyere in 3 additions, stirring in between each till smooth and melty, yum! Take a taste break… this is so good!

Step 3: Combine, Portion & Bake!
Pour the cheese sauce over the pasta:


Stir it up and add the truffle oil, salt and half the grated Parmesan. Combine the half & half and egg, and fold into the macaroni & cheese.


Coat eighteen cups of two 12-cup muffin tins with cooking spray. We like to use a big ice cream scoop to portion the cupcakes into the muffin tins, it makes life a little easier (and cleaner). Top each cupcake with crushed stuffing or breadcrumbs and the remaining Parmesan. Pop into the preheated oven and bake till golden and bubbly. If you want the cupcakes to retain their shape, cool for about 15 minutes before removing.

---
Tips:
Obviously these cupcakes are ready to eat straight out of the oven, but they also make a great grab and go snack (cold mac & cheese is really good), or a perfect make ahead for the week when you need something to throw in your or the kids lunch box. AND…While this recipe is perfect as written, who are we to leave well enough alone? This recipe is the ideal base for creating your own dream dish:
Try these delicious stir in combos:
-chopped tomato and basil for a Mediterranean vibe
-Prosciutto and peas
-Kielbasa and broccoli
-Ham and asparagus
-If you happen to be watching your carbs, sub out steamed cauliflower for the pasta
The sky truly is the limit with this one!
---
How about a mac & cheese bar!
Since we are portioning anyway, divide the recipe in half, thirds or even quarters after adding the egg and half & half, and the family can choose their own add-ins… I think we see a new Saturday night tradition in your future!