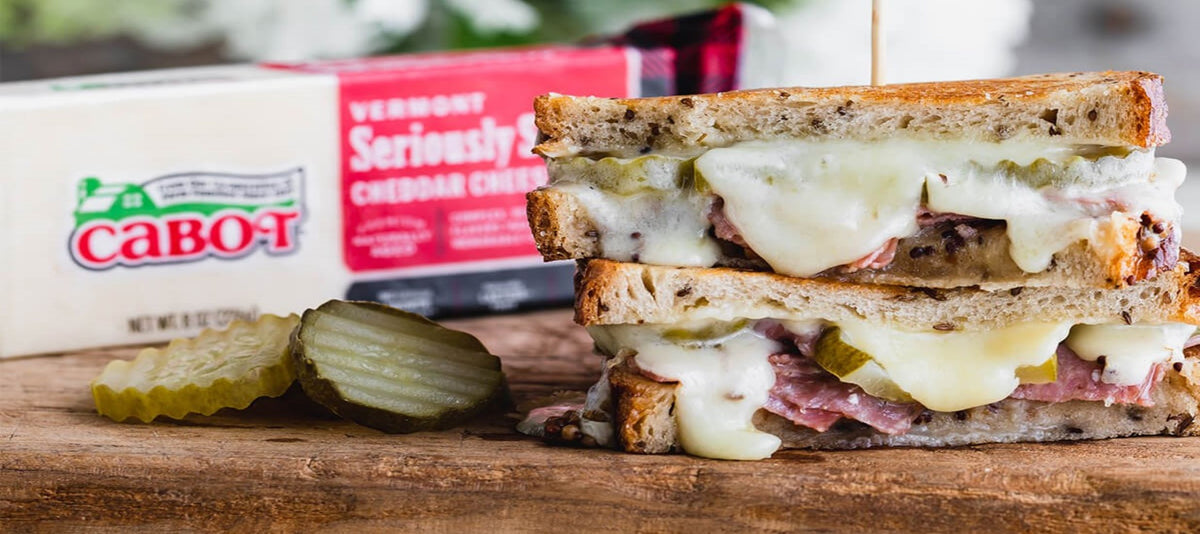 How to Can & Pickle Vegetables
The height of the harvest season arrives for me every year topped with swirls of joy, but also with a dollop of guilt.
As farmstands and farmers market stands overflow with deals for bushels of sauce tomatoes and pickling cucumbers, I avert my eyes and keep walking. 
I have, I must admit, a deep-seated discomfort with canning, which is in constant tension with my desire to preserve the bounty of locally grown produce for those long Northeastern months when local vegetables means potatoes, cabbage, turnips and onions. (Which can be delicious in their own right but, truthfully, they're no summer tomato.)
Unlike many of our Cabot farmers, I did not grow up in the kitchen with mothers or grandmothers who canned. I worry that the jars will not be clean enough, the acid level not high enough, the temperature not hot enough―and that I will be responsible for terrible gastric distress or worse. (My one major tomato-canning effort many years ago yielded neither illness nor death, but it did ruin an heirloom dining room table. Lesson: No matter how many blankets and layers of newspaper you put on a wooden table, the hot jars will still cause moisture rings as they cool.)
So every year I create other ways to preserve the harvest that do not require large amounts of boiling water nor hours of hands-on time when I'd prefer to be outside in the beautiful fall weather.
My "cheater" no-canning preserving methods include quick fridge pickles, freezer jam, roasted tomatoes and slow cooker apple sauce or butter.
I know preserving the bounty this way takes freezer and fridge space and I know it uses energy that canned jars sitting on a shelf do not, but it lessens the guilt somewhat. Not to mention that it's also all delicious.
---
Yes, you can can.
For those braver than me who would like to try real canning, university extension services are a source of invaluable expertise. Here's a link to many resources via Cornell University Cooperative Extension.
Another great resource, particularly if you want to start small, is blogger and cookbook author, Marisa McClellan of Foodinjars.com. 
The Food in Jars Canning 101 Section also offers a comprehensive list of questions and tips on how to can & preserve your harvest.
---
Alternatives to canning:
Tomatoes:
Core and slice large tomatoes and layer like a single layer of scalloped potatoes in a shallow roasting pan or rimmed baking sheet drizzled generously with olive oil with plenty of garden thyme, basil and coarse salt. Roast at about 275 degrees until they are quite dry and a little sticky. Time varies depending on type and juiciness of tomatoes. You can use these immediately or keep them in jar in the fridge for at least a week. Or to store for longer, cool and scrape them into heavy duty zippered plastic bags in about 2 cup-quantities. Freeze flat for most efficient freezer storage. These can be thawed in the fridge or on the counter and tossed with shrimp, chicken or pasta; spread over fish filets then covered and baked; or added to regular jarred sauce for an intense kiss of summer in the dark depths of winter.
During weeks that are really tomato-clogged and I have no time at all, I've been known to pop whole cored tomatoes in freezer bags and throw them in the basement freezer. They can go straight into a large saucepan in winter to simmer down into sauce with some salt, a touch of sugar to balance their acidity and dried herbs; just food-mill away the skins and seeds when the whole mixture is cooked down.
---
Quick Almost Any Vegetable Pickles
Adapted from "The Homemade Kitchen" by Alana Chernila (Clarkson Potter, 2015)
This quick easy pickle works with lots of different vegetables. See ideas below.
For brine:
1 cup warm water
2 generous teaspoons coarse salt
1 tablespoon honey
¾ cup cider vinegar
Seasonings such as

1 teaspoon whole grain mustard
1 teaspoon crushed coriander seeds
¼ teaspoon crushed red pepper flakes
1 teaspoon fresh grated ginger, a couple star anise, sprigs of green herbs
For vegetables:
About 3/4 pound vegetables, scrubbed clean, trimmed and sliced or cut into sticks as needed
Make brine: In a mixing bowl, whisk together water, salt, honey and cider vinegar until salt and honey are dissolved. Stir in mustard if using.
Make pickles: Stuff clean pint jars with prepped vegetables and your choice of seasonings, spices and herbs. Pour in brine to cover. Cover with a piece of cheesecloth or thin fabric and tie or use a rubber band to secure. Leave jar out on counter for up to eight hours and then replace cloth with jar lid and refrigerate. Pickles will improve with age for up to at least four months. Makes about 2 pints pickles; can easily be doubled.
---
Combination ideas:
Sliced radishes with their green stems + crushed coriander seeds + crushed red pepper
Sliced carrots + sliced fennel stalks + fennel fronds + whole-grain mustard
Carrot sticks + sliced radishes + fresh ginger
Green beans + dill + a few garlic cloves
---
Blue Ribbon Fair Raspberry-Lime Jam (freezer jam version)
Adapted from Beth Maurer
4 cups crushed raspberries (from 3-4 pints whole berries) (A potato masher works well. If you use a food processor, be careful to leave some pieces of berry intact for texture.)
Juice of 1 lime
Zest of 1 lime, finely grated
Pinch coarse kosher salt
3 and one-half cups sugar
1 package Sure-Jell for lower sugar recipes
Thoroughly wash, rinse, and dry enough 1 to 2-cup plastic containers with tight fitting lids to fit about 6-7 cups of jam. Sieve half the crushed raspberries to remove seeds. In a large bowl, stir together the crushed fruit, lime juice, lime zest, and salt. In a large saucepan, stir sugar and Sure-Jell together until thoroughly mixed. Stir in 1 cup of water and bring to boil over medium-high heat, stirring constantly. Boil 1 minute, stirring constantly. Remove from heat. Stir crushed fruit mixture into hot pectin-sugar mixture, stirring until thoroughly mixed. Pour into prepared containers, leaving one-half inch space at top for expansion during freezing. Cover. Let stand at room temperature 24 hours until set. Remove lids to wipe off condensation with a clean cloth and re-cover immediately. Refrigerate up to 3 weeks or store in freezer for up to one year. Thaw in refrigerator. Makes about 6-7 cups of jam.
Delicious with Cabot butter on toast and also stirred into Cabot Plain Greek Yogurt or Cottage Cheese.
---
Orange Tomato and Smoked Paprika Jam
Adapted slightly from "Preserving by the Pint" (Running Press, 2014) by Marisa McClellan
1 dry quart (about 2 pounds) orange cherry tomatoes, halved
1 1/4 cups granulated sugar
1/4 cup bottled lemon juice (Note: important to use bottled so acidity is assured.)
2 tablespoons cider vinegar
1 1/2 teaspoons finely milled sea salt
1 to 1 1/2 teaspoons red chile flakes, to taste
1 teaspoon grated fresh ginger
1 teaspoon smoked paprika
1/4 teaspoon cayenne pepper
Combine the tomatoes, sugar, lemon juice, vinegar, salt, chile flakes, ginger, paprika, and cayenne in a large, nonreactive pot. Bring to a boil and then lower the temperature to a simmer. Stirring regularly, gently boil the jam until it reduces to a sticky, jammy mess. Boiled at a fairly rapid pace, it should take about 45 minutes of cooking.
If canning: When the jam is nearly done, prepare a boiling water bath and 3 half-pint jars. Place 3 lids in a small saucepan of water and bring to a gentle simmer. When the jam has cooked down sufficiently, remove from the heat and fill the jars, leaving 1/2 inch/12 mm of headspace. Wipe the rims, apply the lids and rings, and process in a boiling water bath for 15 minutes. Makes 2 to 3 (half-pint) jars.
If not canning: simply divide hot jam between thoroughly clean jars, allow to cool and then cover and refrigerate. Keeps for up to one month.
This is great as a sandwich condiment, slathered on burgers or served on a cheese plate with aged Cabot Cheddar.
---
Slow-Cooker Apple Sauce or Butter
6 pounds apples, peeled, cored, and cut in chunks (ideally, less juicy varieties like Cortland, Macoun, Spartan or Liberty)
1 cup apple cider (or water, but cider will intensify apple flavor)
1 cup granulated sugar
½ cup maple syrup
2 teaspoons ground cinnamon
1 teaspoon vanilla extract
Combine apples and cider in a large heavy-bottomed saucepan. Bring to a simmer over medium-low heat and cook, stirring often with a wooden spoon, until apples are completely broken down — about one hour. If mixture gets too dry, add a little more cider or water. Stir sugar, maple syrup, cinnamon, and vanilla into apple mixture. Pour into a slow cooker and cook on high, stirring occasionally, for about 6 to 10 hours, with the lid ajar to let the steam escape. Just stop cooking sooner if making sauce and cook down longer for apple butter. Makes about 7 cups of sauce and 4 cups apple butter.
Use the apple butter on grilled cheese like this favorite combination of Jessica Ziehm of Tiashoke Farm in Buskirk, NY or serve with cheese.
---
Two of the simplest naturally fermented cabbage recipes are German sauerkraut and Korean kimchi. Each can be used in dozens of ways as condiments, side dishes and as ingredients in other recipes. Try these two reliable sources to get a handle on the basic method behind each.