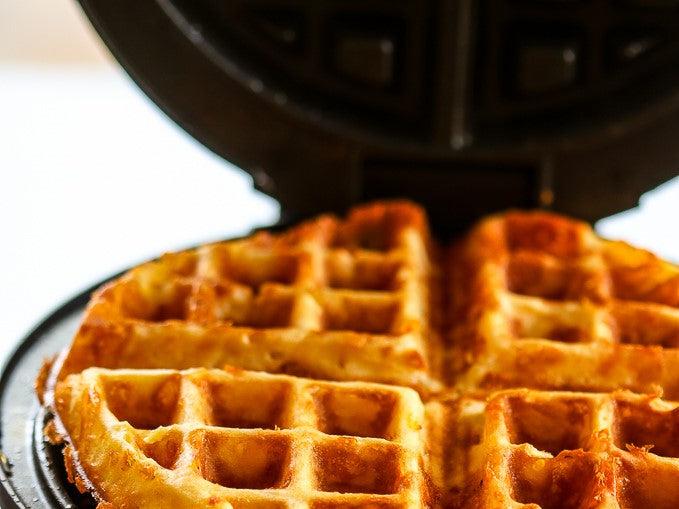 How To Make Chaffles
Whoever decided to mix cheese and eggs and pour it into a waffle iron was both brave and brilliant.
Brave… because let's face it, it sounds like a mixture that would create nothing but a mess. 
Brilliant… because, well, honestly, it's DELISH! 
If you haven't heard of the concoction we're talking about, let us introduce you to a Chaffle.
Cheese + Waffles = Chaffles
Clever, right?
When we first heard about chaffles we KNEW we had to make them. If the World's Best Cheddar can't make the World's Best Chaffle, it's time to hang up the apron, you know? 
But try them we did and improved on the original recipe (if we do say so ourselves). Originally crafted from just cheese and egg, we found that adding in a bit of almond flour, baking powder and half and half, made a light and fluffy waffle that would make you swear it's flour-based. 
Here's how you make them:
---
HOW TO MAKE CHAFFLES
PREHEAT a waffle iron. (To ensure chaffle doesn't stick, we recommend lightly brushing iron with oil, just before spooning batter onto iron.)
STIR together chaffle ingredients. (Our chaffles were all tested with freshly shredded cheese, not pre-shredded.)
SPOON batter onto lightly greased iron and close lid, cooking for around 5 minutes. (As with regular waffles, once there's no longer steam coming from the waffle iron, the chaffle is likely ready.) 
REMOVE the chaffle to a cooling rack to let cool. (The chaffle will firm as it cools. They're best when eaten at this stage, not reheated.)
TOP as preferred! 
Chaffles are for the most part a savory dish. As such, we prefer ours with savory toppings. If you decide to try yours with a sweeter taste in mind, we recommend topping them with pure maple syrup. 
3 Ways To Serve Chaffles 
With Cabot Cream Cheese, smoked salmon, red onion and fresh dill.
With marinara and sprinkled with garlic salt and dried parsley.
With black beans, pico de gallo, fresh jalapeno and cilantro.
---
Basic Chaffle Recipe - makes 1 chaffle (about 6-8 inch)
Ingredients:
2 ounces Cabot Vermont Sharp Cheddar, shredded (about ½ cup)
1 large egg
3 tablespoons almond flour
1 tablespoon half and half
¼ teaspoon baking powder
Directions:
PREHEAT waffle iron until hot.
MIX together ingredients. Whisk or spoon batter and cheese evenly.
SPOON batter onto waffle maker, smoothing to cover surface of iron. Close lid.
COOK about 5 minutes or until browned and crisp.
COOL carefully remove chaffle from waffle maker and place on wire rack to cool.