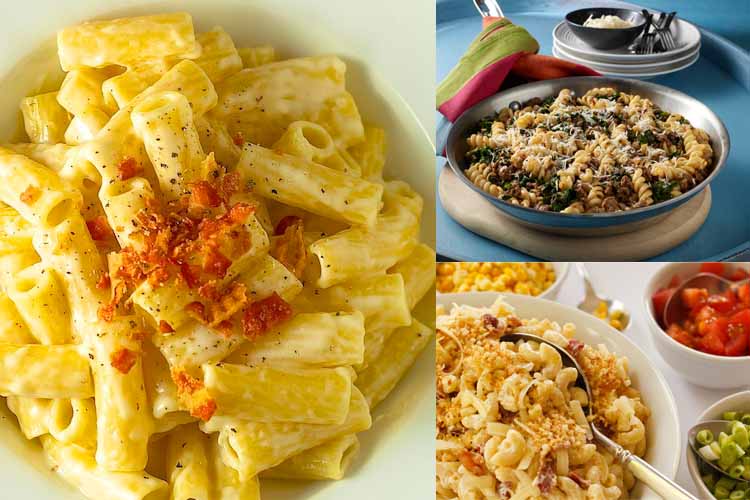 10 Cheesy, Easy Pasta Recipes
Few things go together better than cheese and pasta. We've pulled together this list of cheesy, easy pasta recipes that take you beyond the traditional baked mac and cheese. You can mix up any of these recipes by including your favorite variety of Cabot Cheese too! In the mood for something spicy? Toss in some Habanero. Cooking for the kids? They might enjoy a Sharp Light, Mild, or even Pepper Jack. The simple combination of pasta and cheese is also what makes it so versatile. These recipes are easy and simple to prepare, yet full of flavor.
Here's a cool way to savor the flavor of macaroni and cheese on a sizzling summer day. This Bacon Mac and Cheese Salad lets everyone personalize their meal with a variety of toppings such as chopped tomatoes, basil, fresh corn, or anything else you're in the mood for.
For another fresh twist on mac and cheese, try this Cheesy Pasta with Chicken and Broccoli. Use some leftover or pre-cooked chicken, boil the pasta, add cheese and this super easy dish is sure to please.
Stovetop cooking in the summer is a great alternative to turning on the oven. Want an easy and quick meal with a southwestern twist? Try this Stovetop Mac and Cheese with Southwestern Flavors using Cabot Pepper Jack (or try Habanero Cheddar if you really want some kick). Takes about 10 easy minutes to prepare, but packs a flavorful punch.
Here are two more easy, 10-minute pasta recipes:
The Lactose Free Mac and Cheese calls for using lactose free milk, but is still super easy, and cheesy. Plus, did you know, all Cabot Cheddars are naturally lactose free?
For those times when you need to plan ahead, or maybe you cooked too much spaghetti, try our Make-Ahead Spaghetti Pie. So easy and quick to prepare, and can be refrigerated or even frozen until you're ready to bake.
Speaking of spaghetti – how about this twist on Taco Tuesdays! Taco Spaghetti brings you all those taco flavors you crave, with a lot less work. Some shredded Jalapeno Lite50 Cheddar gives this dish a kick along with the lower-in-fat benefit of Light Cheddar.
Another easy, stovetop recipes with a boost of protein and fiber – Rotini with Ground Beef and Spinach. Takes about 10 minutes to prepare, and makes 6 servings so you'll even have an easy, leftover lunch.
Meatballs are surprisingly easy to make. With lots of herbs for flavor, and using turkey or chicken for a lighter version, you can make these meatballs ahead of time and keep them in the freezer for when you need a quick meal. This Spaghetti with Cheesy Turkey Meatballs recipes also features a Vegetable Tomato Sauce, perfect for using up some of those veggies from your garden this summer.
And finally, this deliciously Creamy Broccoli Tomato Cheddar Linguine provides another easy, veggie-packed meal with the ease of stovetop cooking and the satisfaction of a creamy sauce without putting in too much time in the kitchen.