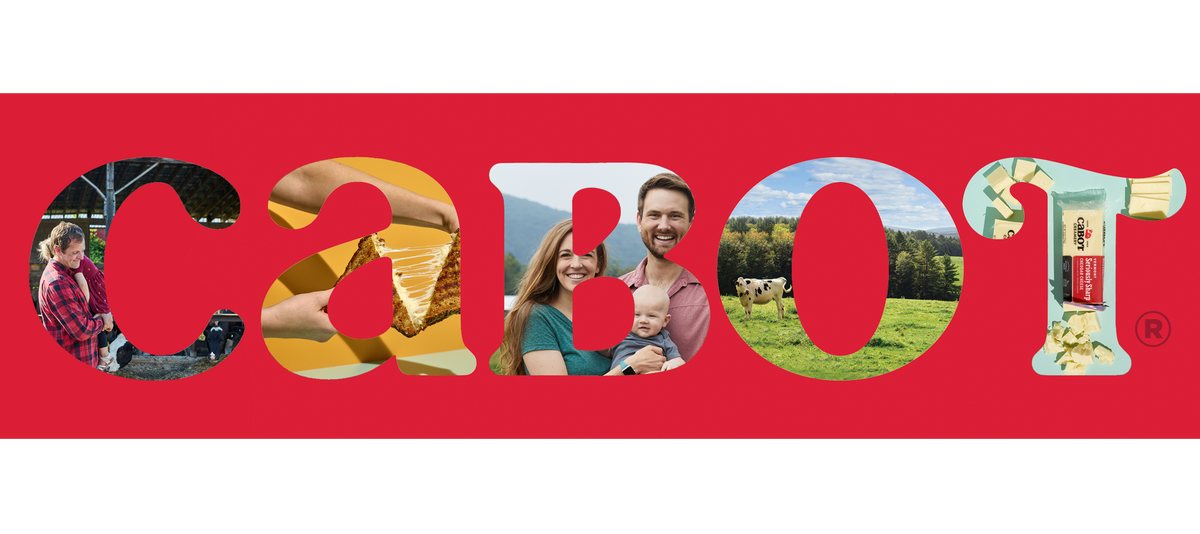 Our Brand Evolution
Sometimes you have to go back to go forward. 
Twenty years ago, I worked in new product development for Cabot Creamery Cooperative. It was a time when Cabot had a willy-wonka approach to cheese, and we experimented with chutney, mushrooms, and all manner of herbs and spices. We worked with our friends at Jasper Hill to launch Cabot Clothbound cheddar, a cheese that is seminal to both of our brands to this day, and testament to the strong cheesemaking community we have in Vermont. When I left Cabot, it was to work with other Vermont brands and to grow as a marketer. But Cabot continued to hold a special place in my heart. I loved the people, and the deep sense of love, pride, and purpose that permeated the organization.  
Then, after seventeen years, I had the opportunity to return to Cabot and lead their marketing efforts. In partnership with the wonderful team that I became a part of, we worked to set Cabot up for a new phase of expansion and growth. We endeavored to contemporize a brand that we all loved, while being careful to preserve its warmth and charm. That effort culminated in a new Cabot brand identity, that refined and evolved the existing elements to maximize their presence and punch. We also added the word "Creamery" to the base of the logo, to ensure our identity was grounded in who we are and what we do. And our classic green barn became red, the Cabot brand color.  
The rebranded Cabot has all the equities that were carefully cultivated over 100 years, but it now better appeals to new and younger consumers, and our packaging stands out more boldly on store shelves— both physical and digital. Our iconic Cabot plaid still plays a starring role in our brand, from our website to our Cabot Cruiser Cheese truck, as our plaid is a metaphor for what this brand is all about: community, connection, and the way great food brings people together.  
We want to bring the joy that runs deep through Cabot to more consumers, allowing them to taste what happens when a farmer-owned cooperative sets out to make the very best cheese and dairy, in the very best way. And personally, I am grateful to be a part of both Cabot's previous chapter, as well as it's next.  
Sarah Healy, SVP Marketing