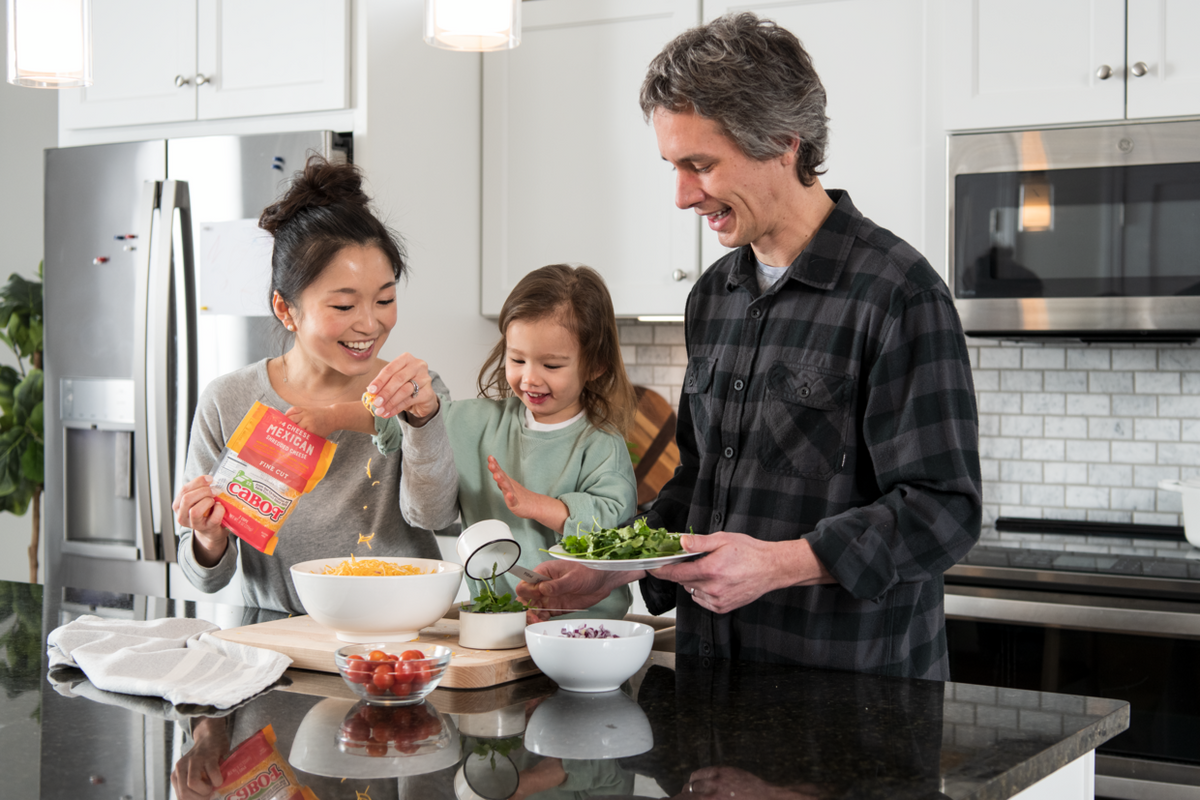 5 Fun Ways to Teach Your Kids About Food
Building a healthy relationship with food starts in childhood. Many individuals develop a complicated view of food beyond getting vital nutrients for growth and development. Kids look to the adults around them for cues on how to act, so set a good example for your children regarding their food choices. Stress healthy habits and avoid making statements about "good" or "bad" foods.
Teach your kids that food is fun! Introduce them to grocery shopping. Talk about where their food comes from. Let them help you decide on menus. Show them the joy of cooking delicious meals together to share with family and friends. Creating a positive attitude towards food and meal preparation while they are young helps them to establish healthy eating habits for life. Learn more about how to educate your children in an enjoyable way that makes an impact.
1. Grow something!
Children love to help, making hands-on activities an excellent way to help them learn. A great way to teach your kids about the origins of food and the process it goes through to reach the table is to plant a garden. Select a few seeds and grow some vegetables in your backyard. You can even still accomplish this with a few potted plants or even sprouts if you are short on space.
Growing your own food is a fun and rewarding experience that deepens your appreciation for food. Your kids will love getting to witness the process firsthand, allowing them to learn about the science behind food production while getting excited to try a new variety of foods they had a hand in growing.
2. Visit a Farm
Every farmer, including those in the Cabot family, has the primary goal of wanting to produce the very best in farmed products while providing for their families and contributing in a positive way to their communities. These values are one of the core reasons why taking your children to visit a farm is an outstanding way to help them understand how food is grown.
Many farmers welcome having visitors stop by to gain an education on the year-round process it takes to grow food. Some also have pick-your-own produce and other activities that allow you and your children to experience harvesting freshly grown produce firsthand.
Visiting a farm is always an enjoyable family activity and the perfect way to spend a wholesome Saturday together. Find out where the nearest Cabot farm is to you and start planning a fun family outing!
3. Make Grocery Shopping Fun
For most people, healthy eating starts with grocery shopping to select the ingredients needed to create nutritious and delicious meals. Make grocery shopping a fun learning experience that your kids look forward to. There are a number of ways to do this:
Dive into the specifics of where certain foods come from. Ask questions like "where does milk come from" to start the conversation and get your kids thinking.

Create excitement about shopping for food by making a treasure hunt out of your grocery list.

Talk about the foods you plan to buy and why. Discuss their nutritional value and uses.

Try online shopping to make the educational experience more fun. This gives your kids the opportunity to do a little research about the products they are adding to your grocery cart.
Take your cues from your children to see what interests them the most. For example, if they enjoy history, discuss the origins of certain foods and historical context.
4. Cook with Your Kids
One of the most rewarding experiences is teaching your children how to carefully select ingredients and follow recipes to cook meals. Cooking is a wonderful skill, and everyone should at least know the basics. It helps them create a repertoire of healthy meals to make for themselves while reinforcing basic math and language skills. 
You can also teach your kids about mindfulness with our Mindful Baking program. They can learn how the simple act of mixing can help them feel focused and relaxed as they move through the world.
Eating meals together with your children is also a good way to help build their self-confidence and develop healthy eating habits. Food is a sensory experience, involving taste, smell, and touch. Cooking with children provides the opportunity to discuss ingredients, their origins, growing and production methods, and more. You can show your children by example that experimenting with different foods is a good thing. Also, stress that eating a wide variety of foods in moderation is a healthy practice.
A great place to start is by exploring how cheese is made. Learning about different breeds of cows and how milk is made into cheese gets kids excited to find out more about their food.
5. Encourage Independence in the Kitchen
As your children learn more about food, find new ways to encourage them to participate in the kitchen and explore their own interests. You can find helpful tasks to assign to kids of any age. Open a discussion about food and get your children more involved by asking them what foods and meals they prefer. Make it a game to guess which ingredients go into a recipe. Talk about where various cuisine and dishes originate from, such as pasta coming from Italy.
There are so many ways that you can turn food into an adventure. Start by meeting our farm families or visiting a local market to support farmer-made products. Put some thought into your meal planning. Find ways to involve your kids. For more ideas, check out our fun recipes to teach food learning with kids.