Eggplant & Chickpea Stew with Cheddar Dumplings
Category
Soups Stews & Chili
Servings
Ingredients
Stew:

3 tablespoons olive oil

2 large eggplants (2 ½-3 pounds total), peeled and cut into ¾-inch cubes

1 large onion, coarsely chopped
3 medium cloves garlic, thinly sliced
2 cups water

2 (15.5-ounce) cans chickpeas (garbanzos), drained

1½ cups crushed tomatoes*

1 teaspoon salt
½ teaspoon ground black pepper
1 cup frozen corn
1 tablespoon mild chili powder
1 teaspoon ground cumin

Dumplings:

3 ounces Cabot Lite50 Sharp Cheddar, Cabot Vermont Sharp Cheddar or Cabot Extra Sharp Cheddar, grated (about ¾ cup)

¾ cup King Arthur Unbleached All-Purpose Flour

¼ cup yellow cornmeal
1 teaspoon baking powder
¼ teaspoon salt
¼ cup milk
1 large egg
Directions
To make stew:
HEAT oil in large pot over medium heat; when hot, add eggplant, onions and garlic. Cook, stirring often and scraping bottom of pan, until eggplant and onions are tender and translucent, about 20 minutes.
PLACE rack in lower third of oven toward end of cooking time and preheat oven to 350°F.
STIR water, chickpeas, crushed tomatoes, salt and pepper into eggplant mixture; bring to simmer. Cover pot with lid or foil and place in oven for 45 to 55 minutes or until eggplant is completely tender (bite into a piece to check). (Stew can be made a day or two ahead up to this point; let cool and refrigerate, then reheat to simmer and proceed with recipe.)
To make dumplings and finish stew:
TOSS together cheddar, flour, cornmeal, baking powder and salt while stew cooks, in medium bowl.  In another small bowl, whisk together milk and egg.
STIR milk-egg mixture into dry ingredients when stew is ready, just until combined.

UNCOVER stew; scoop out 4 cups and set aside for a second day recipe like lasagna.

STIR corn, chili powder and cumin into stew remaining in pot. Drop dumpling mixture in eight mounds on top of stew. Cover pot and return to oven for about 15 minutes longer or until dumplings are puffed and feel "set" when lightly pressed.
Nutrition
Amount/Serving
% Daily Value
Fat

15 grams
23%

Saturated Fat

4 grams
20%

Cholesterol

60 milligrams
20%

Sodium

780 milligrams
33%

Carbs

87 grams
29%

Fiber

15 grams
60%

Protein

24 grams

Calcium

318 milligrams
32%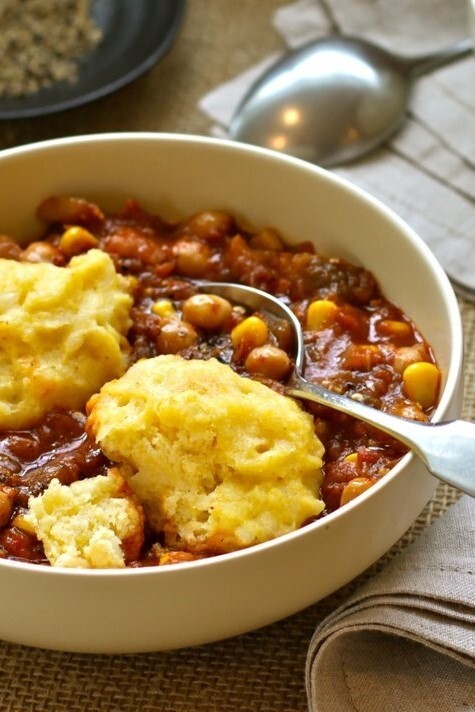 Recipe Tips
*Crushed tomatoes are convenient, inexpensive and super-useful, since they have no added sugar or fat, but they usually come in a 28-ounce can. Just refrigerate or freeze the extra; mix with chopped fresh herbs and a splash of olive oil for a quick pasta or pizza sauce, use in meatloaf, or stir into a batch of soup to enliven the flavor.