Fried Garlic Cheese Curds with Spicy Marinara
Servings
Prep Time
Cook Time
Using a jarred marinara sauce saves time in this delicious snack recipe. Spice it up to make a dip for the crispy fried Cabot Garlic Cheese Curds.
Ingredients
For the Marinara Dipping Sauce:

1 tablespoon extra-virgin olive oil

½ teaspoon ground cumin

½ teaspoon dried oregano

¼ teaspoon cayenne pepper

¼ teaspoon crushed red pepper

1 cup jarred marinara sauce 

For the Cheese Curds:

Avocado or Grapeseed Oil, for frying 
2 tablespoons beaten egg (from 1 large egg)

½ cup buttermilk

½ cup all-purpose flour

¼ teaspoon baking soda

Pinch of salt 
Chopped fresh parsley, for serving 
Directions
PREPARE marinara: Heat olive oil in a small saucepan over medium heat. Add cumin, oregano, cayenne, and crushed red pepper. Cook, stirring constantly, until the spices are fragrant, about 30 seconds. Carefully stir in the marinara sauce and cook, stirring occasionally, until hot, about 1 minute. Reduce the heat to low and cover to keep warm.

PREPARE cheese curds: pour enough avocado oil (approximately 3-4 cups) into a large saucepan to come up 2-inches in the pan. Heat over medium-high heat to 375°F. Line a rimmed baking sheet with 2 layers of paper towels.

WHISK egg, buttermilk, flour, baking soda, and salt in a large bowl. Add approximately 10 cheese curds to the batter and stir to coat completely. Using two spoons, scoop the cheese curds coated in batter carefully into the hot oil. Fry the curds until golden brown, about 1 minute. Transfer to the paper towel-lined baking sheet. Repeat with the remaining cheese curds.

SERVE the cheese curds with the marinara. Sprinkle with parsley, if desired.
Nutrition
Nutrition
Serving Size

1/5 of recipe
Amount/Serving
% Daily Value
Fat

19 grams
29%

Saturated Fat

7 grams
35%

Cholesterol

75 milligrams
25%

Sodium

570 milligrams
24%

Carbs

16 grams
5%

Fiber

1 grams
4%

Sugar

4 grams

Protein

10 grams

Calcium

240 milligrams
25%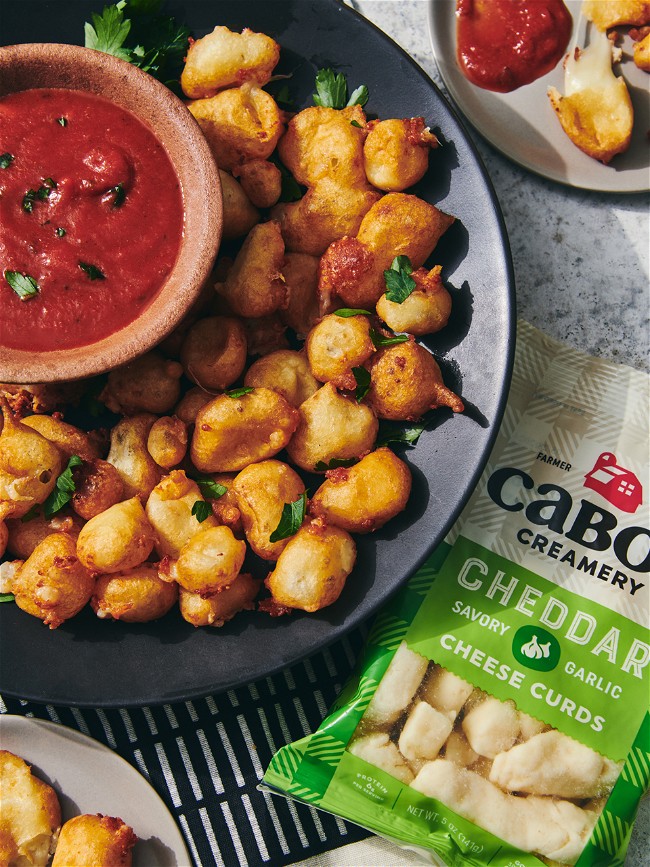 Recipe Tips
A less spicy Italian marinara sauce would be great for dipping as well.
Cabot's cheese curds also come in classic plain cheese flavor.
We think you will also enjoy this classic Canadian Poutine recipe
with fries, cheese curds and gravy.