Do you enjoy hosting gatherings with friends, family, and colleagues? If you plan these fun events, whether once in a while or frequently, you'll want to be sure to always include a gourmet cheese platter in your food offerings for your guests to enjoy. Our platter includes a wonderful combination of fresh fruit and vegetables, smoked meat, nuts, crackers, and a fantastic selection of cheeses. Know anyone else who enjoys hosting gatherings as much as you do? Be sure to share this easy cheese platter with them on Facebook, Pinterest, Instagram, and Twitter – they will thank you for it!
Putting together a gourmet cheese platter is super simple – the key is to get a good variety of quality food items to include. While you can pick and choose according to your own tastes and preferences, we've selected to use sliced cucumbers, sliced heirloom tomatoes, blueberries, smoked meat/salami, crackers, pickled dilly beans, nuts, spicy mustard, and three types of cheese: 1-2 bars of Cabot Farmhouse Reserve Cheddar, or Cabot 2 Year Cheddar, Cabot 5 Year Cheddar, Vermont Creamery Coupole (aged goat cheese), and 1 bar of Cabot Hot Habanero Cheddar.
Once you have everything you want to include in your gourmet cheese platter, you'll want to bring all of the cheeses to room temperature first, then place them on a cheese board. Surround the cheese with piles of other foods and breads/crackers for variety, as suggested above.
Want a cheese platter that is all about the cheese and looks stunning as well? Our Holiday Cheddar Star cheese platter is about as lovely as you can get! Cabot is a cooperative of over 800 farm families who continuously strive to produce the best dairy products around. If you love this gourmet cheese platter as much as we do, we'd really appreciate it if you could rate and review it when you have the chance!
Ingredients
1-2 bars Cabot Farmhouse Reserve Cheddar, Cabot 2 Year Cheddar, Cabot 5 Year Cheddar, or Extra Sharp Cheddar Cracker Cuts

Vermont Creamery Coupole

Cucumbers, sliced
Heirloom Tomatoes, sliced
Blueberries

8 ounce bar Cabot Hot Habanero Cheddar

Smoked Meat/Salami of your choice
Cracker variety of your choice
Spicy Mustard
Pickled Dilly Beans or Accompaniment of your choice
Nuts
Directions
BRING the cheeses to room temperature and place them on the cheese board.
SURROUND with piles of contrasting flavors and textures. Fresh fruit, crunchy nuts, meats and pickles.
SURROUND with an assortment of bread and or crackers.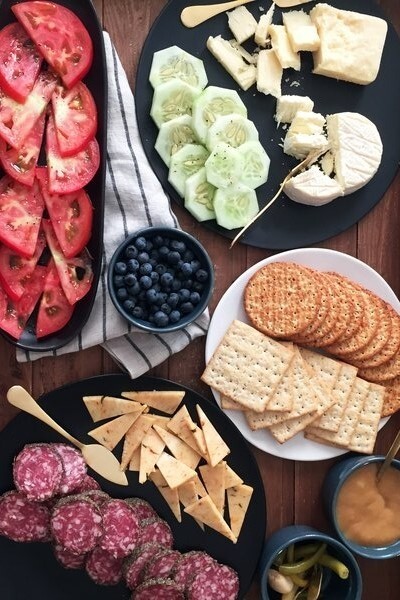 Recipe Tips
**For added convenience use any flavor of Cabot's ready-to serve Cracker Cuts.