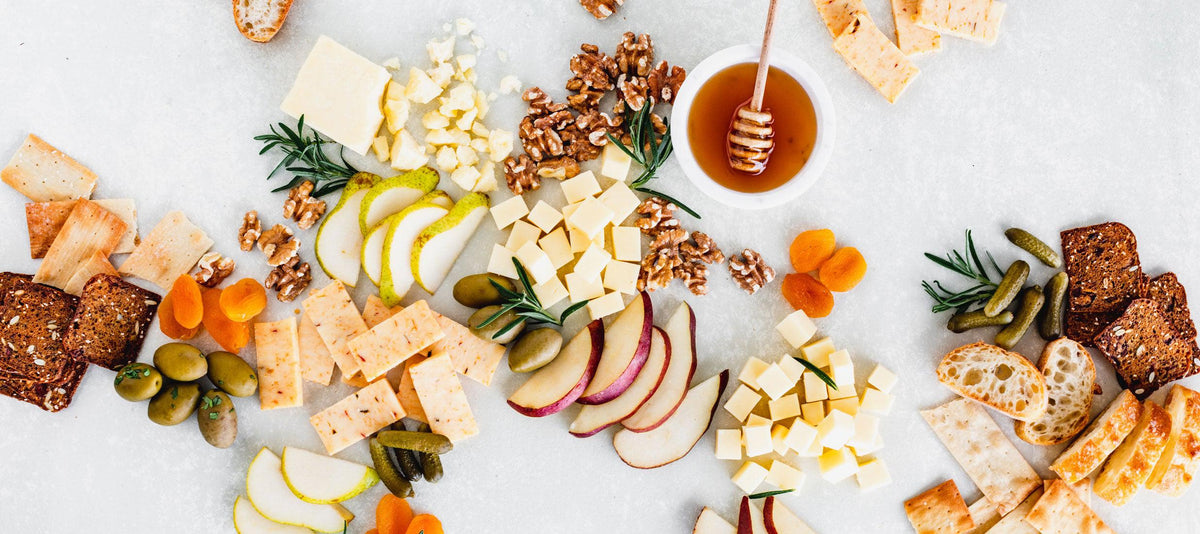 Making a Cheese Board
Cheese boards are incredibly popular for everything from small get-togethers to large events and for good reason. Because a cheese platter presentation features a variety of options, there's bound to be something that appeals to many guests. Plus, cheese is easy to eat while you mingle, and photos of stunning cheese boards are fun to share on social media. So how can you make one for your next gathering? Read on to find out.
First Things First--What Is a Cheese Board?
Before we get into the details of how to make a cheese board, let's define what one is. A cheese board is an assortment of cheese and accompaniments arranged on a tray or wooden platter in a visually appealing way in order to serve cheese.
Is a Cheese Board the Same as a Charcuterie Board?
Although you do often select cheese for charcuterie boards, cheese boards aren't the same thing. A charcuterie board features charcuterie, which is cured meats like salami and prosciutto as well as cheese and accompaniments. Check out our charcuterie and cheese pairing guide.
A cheese board normally doesn't include charcuterie. However, some people use the words interchangeably, and that's okay. You're free to include meats in your cheese platter presentation if you wish.
How to Make a Good Cheese Board
To make a delicious cheese board, follow these tips.
Use a Variety of Cheeses
Part of the fun of a cheese board is getting to sample and compare different varieties of cheese. Don't be afraid to mix things up by pairing classics like colby jack with unexpected options like Cabot Hot Buffalo Wing Cheddar Cheese. After all, it's all about the cheese pairings.
Mix Up Textures
Offering a variety of textures makes cheese boards a feast for the senses. The cheeses that you choose can kick things off. Mix and match firm, spreadable and semi-firm options to make things interesting. Then, incorporate crunch with crackers and nuts, and juiciness with fresh fruit. For more inspiration here is our fruit and cheese pairing guide as well as our nut and cheese pairing guide.
Spice Things Up
Please the heat lovers at your gathering by including a little spice. Pickled cherry peppers can add some fire and some vibrant color. You can also turn up the temperature with a spicy cheese like Cabot Habanero Cheddar.
Sweeten Up the Spread
Sweet flavors are a great complement to cheese. To bring some sweetness, try adding fresh or dried fruit or jam. Honey also makes a delicious accompaniment. Place some in a bowl or drizzle it over a bold cheese like Cabot Seriously Sharp Cheddar. Check out our spreads and cheese pairing guide.
Contrast Flavors
Tart, salty and briny elements will embolden any cheese tray. Think about incorporating capers, cornichons, olives or pickled vegetables into your spread.
How to Make a Cheese Board Platter Look Aesthetic
How a cheese board looks is just as important as how it tastes. To make a Pinterest-worthy cheese board, follow these tips.
Choose the Right Board
The platter or board that you use will impact the appearance of your finished cheese board. A gleaming glass tray looks sleek and modern, while a marble platter adds elegance. Wood boards bring a rich rustic quality to a cheese platter presentation. Take this Picnic Cheese Board for example. It utilizes a dark wooden board that compliments the outdoors and makes cheese and meats pop.
How big of a board you'll need depends on the size of your event. A good rule of thumb is to have 1 to 2 ounces of cheese per guest. Crunch the numbers to determine how much cheese that is and then select your platter or tray accordingly. For a very big event, you might want to create multiple cheese trays.
Prep the Cheeses the Right Way
For your cheese board to look perfectly put together, it's important that you know how to cut cheese in an even and attractive manner. If you're looking for a shortcut, consider Cabot Cracker Cuts, which come pre-sliced and ready to plate. Otherwise, use these methods to cut different types of cheese:
Logs: Use a thin-bladed soft cheese knife, wire or unflavored, unwaxed dental floss to slice long logs into small rounds.
Wheels: With a thin-bladed soft cheese knife, cut wedges moving the blade from the center outward. Use a toothpick to score the top first, creating guidelines that you can use to create evenly sized pieces.
Pyramids: Use a soft cheese knife to cut the pyramid into four quadrants. Turn each quadrant on its side and cut into slices.
Wedges: Place the wedge on its side and slice from the rind to the point with a chef's knife or utility knife.
Bars and blocks: Put the long side of the block on your cutting surface. Start at one end and cut into slices with a utility knife or chef's knife.
Start with the Largest Elements
The biggest items on your cheese tray are the focal points and should go on first. Start with cheese, then meats, then crackers, then any bowls or cups.
Place Contrasts Side by Side
When deciding where to put each element, try to put contrasting items next to each other. Contrasts could be the shape of the pieces, the colors or the textures.
Add the Smallest Items Last
Finish off by adding the smallest accompaniments, using them to fill in any empty space.
Best Cheese for Cheese Boards
There are hundreds of kinds of cheeses to choose from when making a cheese board, but some stand out as being great picks:
Spreadable/Soft Cheeses: Brie, Camembert, soft goat cheese
Strong in smell/bold in flavor: Gorgonzola, Stilton, Roquefort
Ingredients
Here are some ingredients to stock up on for your cheese board. Remember, you can customize this list as you see fit.
Cheeses:
American
Goat Cheese
Gouda
Meats:
Capicollo
Prosciutto
Salami
Fruits:
Blueberries
Dried plums
Figs
Grapes
Crackers:
Artisan crackers
Butter crackers
Crostini
Herb crackers
Multigrain
Accompaniments:
Chutney
Jam
Mustard
Olives
Pickles
Instructions
Here's how to make a cheese board step by step.
Prepare the cheese and meat.
Add the cheese to the platter.
Place the meats on the platter.
Arrange the crackers on the platter.
Position small bowls or piles of accompaniments in empty spaces.
Fill in any remaining space with fruits, nuts and vegetables.
Enjoy!
Now that you have some great cheese board ideas, you're ready to make your own! Shop the full collection of award-winning Cabot cheeses now, and stock up on the ingredients you need to create a crowd-pleasing cheese platter presentation. Here's a helpful infographic that will help you achieve cheese board perfection!