Greek Yogurt Mashed Potatoes
When preparing a dish, it's good to remember that yogurt, especially Greek Yogurt, can be used as a substitute for cream, butter, or milk. While adding cream or milk can help to make a dish extra rich and tasty, it can also make the meal rather heavy and calorie-rich. If you'd like to make your meal a little creamier while keeping the calorie count down, then add a little Greek Yogurt. That's the idea behind our Greek yogurt mashed potatoes—they're just as creamy and fluffy as regular mashed potatoes, but they're a little healthier and lighter. If you think one of your friends or family members might like our potatoes, then please share the recipe after you try it on Facebook, Pinterest, instagram or Twitter.
Ready to whip up some Greek yogurt mashed potatoes? To get started, you'll need two pounds of Yukon Gold or Russet potatoes, three tablespoons of Cabot Salted Butter (or, if you'd like to make the dish a little lighter, you can go with olive oil instead), salt, ground black pepper, Cabot Two Percent Plain Greek yogurt, and milk. Also, if you're looking to make the recipe a little heavier, you can add a few more items to the dish. We suggest three tablespoons of fresh chives, eight ounces of Cabot Sharp Cheddar, Cabot Extra Sharp Cheddar or Cabot Horseradish Cheddar. The directions below detail everything you need to know about making the recipe.
In the mood for another cheesy potato recipe? Then make sure to try our cheesy mashed potatoes with green Chile—one of our cheesiest recipes! Cabot is a cooperative of 800 farm families, and we take a great deal of pride in making our award-winning cheeses and dairy products. We understand just how important it is to only serve the best to your friends and family at mealtime, which is why we work so hard to make sure that all of our dairy products are truly top notch. After trying our Greek yogurt mashed potatoes recipe, we'd love to hear your thoughts about the dish. We can't wait to check out your thoughts about the recipe!
Ingredients
2 pounds Yukon Gold or other yellow potatoes or Russet (Idaho) potatoes

3 tablespoons Cabot Salted Butter, melted, or extra-virgin olive oil

1 teaspoon salt or more to taste
½ teaspoon ground black pepper

⅔ cup Cabot Lowfat Plain Greek Yogurt or Cabot Plain Greek Yogurt

⅓ cup milk
Directions
PEEL potatoes and cut into 1-inch pieces.
PUT potatoes in large pot; add about ½ inch of water to pot and place over high heat. Once water is boiling, reduce heat to maintain gentle simmer and cover pan. (Alternatively, use folding vegetable steamer in pot.)
COOK until potatoes meet no resistance when pierced with knife, 20 to 25 minutes. Stir potatoes halfway through cooking, adding more water if it has almost cooked away.
WHISK together in small saucepan over low heat, yogurt and milk until warmed through.
POUR off water from large pot. With ricer set over bowl or potato masher in pot, mash potatoes. Add yogurt/milk mixture, butter or olive oil, salt and pepper, plus any optional additions, and stir in gently.
SERVE immediately, or keep warm in covered bowl set over pan of barely simmering water until ready to serve.
Nutrition
Nutrition
Serving Size

1/6 recipe
Amount/Serving
% Daily Value
Fat

6.5 grams
10%

Saturated Fat

4 grams
20%

Cholesterol

16 milligrams
5%

Sodium

444 milligrams
19%

Carbs

28 grams
9%

Fiber

2.5 grams
10%

Protein

5.5 grams

Calcium

6.9 milligrams
7%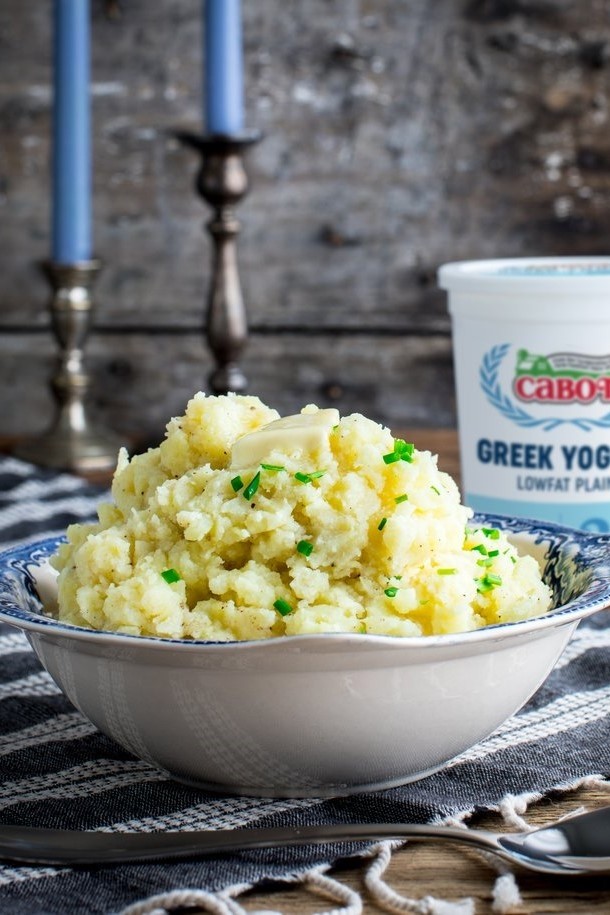 Recipe Tips
OPTIONS: 3 tablespoons chopped fresh chives and/or 8 ounces Cabot Sharp Cheddar, Cabot Extra Sharp Cheddar or Cabot Horseradish Cheddar, grated (about 2 cups)