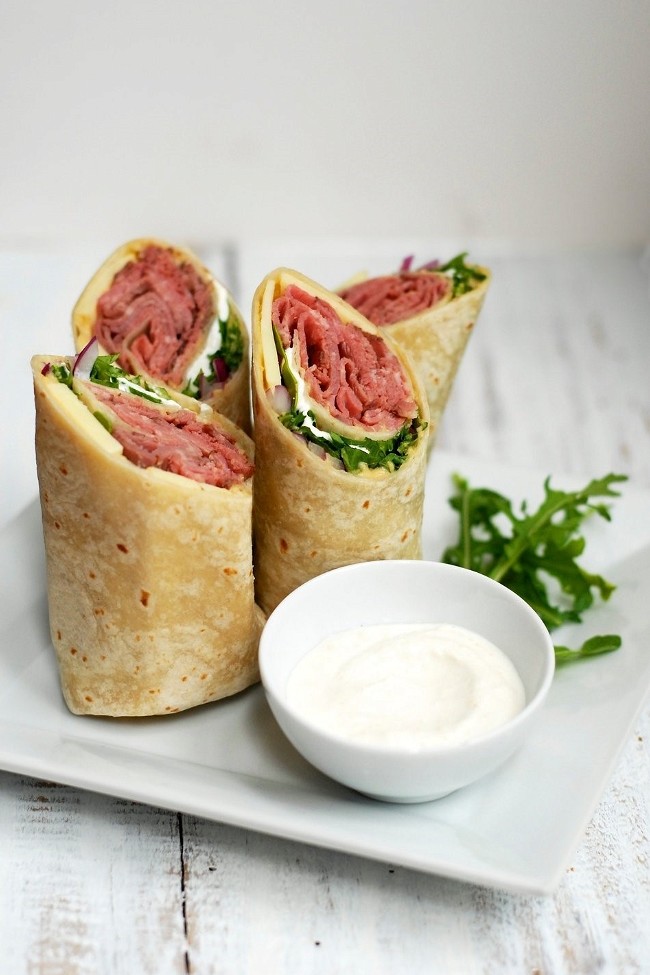 Horseradish and Hummus Roast Beef Wraps
These easy, satisfying roast beef wraps are loaded with flavors that that go perfectly with lean roast beef or turkey slices. Who knew that hummus and Cabot Horseradish Cheddar could be the perfect complement to this wonderful wrap? Why, we did! You're going to love this one.

Ingredients
¼ cup Cabot Sour Cream

1 tablespoon prepared horseradish
½ teaspoon lemon juice
¼ teaspoon salt
¼ cup hummus
2 sandwich wraps or flour tortillas
4 ounces roast beef/turkey
¼ cup thinly sliced red onion
1 cup baby arugula leaves

4 ounces Cabot Horseradish Cheddar, Cabot Sharp Cheddar, or Cabot Extra Sharp Cheddar, thinly sliced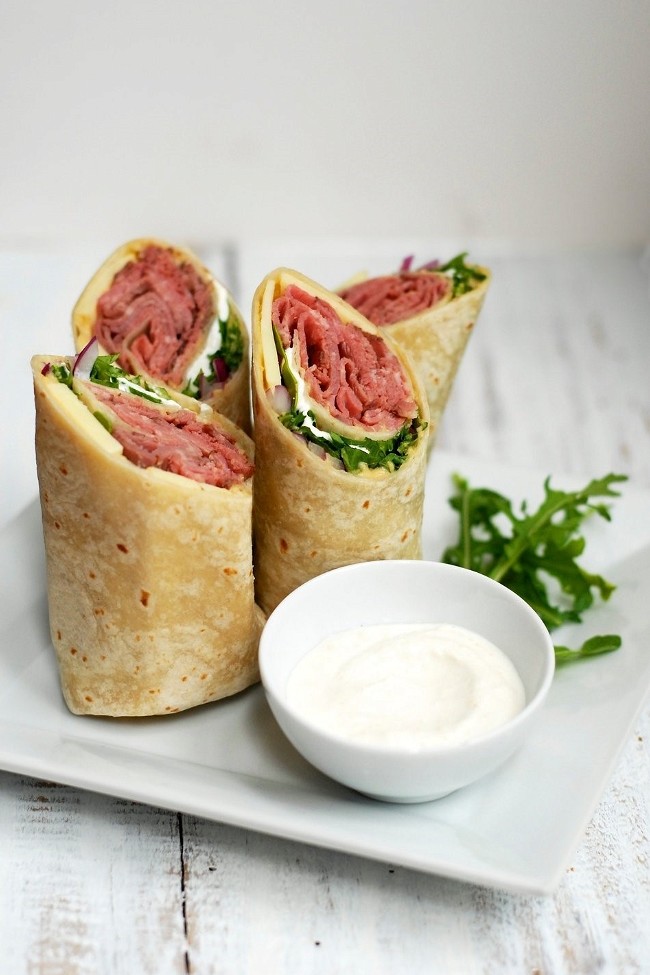 Directions
COMBINE sour cream, horseradish, lemon juice, and salt in a small bowl. Set aside.
DIVIDE hummus evenly between each tortilla. Divide roast beef, red onion, arugula and cheese on top of hummus and evenly between tortillas. Drizzle with sour cream mixture. Fold in sides and roll up each tortilla tightly. Cut wrap in half. Serve with additional sour cream mixture, if desired.
Nutrition
Amount/Serving
% Daily Value
Fat

17.5 grams
27%

Saturated Fat

8 grams
40%

Cholesterol

58 milligrams
19%

Sodium

1027 milligrams
43%

Carbs

18 grams
6%

Fiber

1.5 grams
6%

Protein

15.5 grams

Calcium

225 milligrams
23%