Roasted Sweet Potato Poutine with Chimichurri
Servings
Prep Time
Cook Time
This Roasted Sweet Potato Poutine recipe with a tangy Chimichurri Sauce will bring a welcome new side dish to the table. Try it and leave a review!
Ingredients
5 large sweet potatoes, peeled and cut into thin ½-inch wedges
1 red onion, sliced into ½-inch thick wedges
3 tablespoons extra virgin olive oil
1 teaspoon kosher salt
Fresh cracked black pepper

4 ounces Cabot Monterey Jack Cheese, grated (about 1 cup)

For the Chimichurri:

1 cup cilantro, roughly chopped
½ cup flat leaf parsley, roughly chopped
1 tablespoon oregano leaves
2 garlic cloves, minced
½ teaspoon kosher salt
½ cup extra virgin olive oil
½ cup red wine vinegar
1 shallot, minced
½ teaspoon red pepper flakes
Directions
PREHEAT the oven to 425°F and line a large roasting tray with parchment paper or aluminum foil.
ADD the sweet potato and red onion wedges to the roasting tray. Drizzle the entire mix liberally with extra virgin olive oil and use a spatula to gently turn the wedges once or twice to ensure they are evenly coated. Season with kosher salt and a few cracks of black pepper.
BAKE the sweet potatoes and red onions for 45-50 minutes or until slightly crisp yet tender in the interior, turning them once or twice to roast both sides.

PREPARE the chimichurri sauce by combining all of the remaining ingredients except the shallots and red pepper flakes in a food processor. Pulse several times until smooth and well incorporated. Transfer the sauce to a small bowl and stir in the remaining shallots.

TRANSFER the roasted sweet potatoes and onions to a large serving platter and sprinkle on the Cabot Monterey Jack Cheese. While the oven is still warm, set the platter in the oven with the door propped open and let the cheese melt on top for 5-7 minutes.
PULL the platter out of the oven and sprinkle with red pepper flakes, additional black pepper, a pinch of kosher salt, and generously spoon a few tablespoons of the chimichurri sauce over the entire dish.
SERVE warm with the remaining sauce in a separate bowl on the side.
Nutrition
Nutrition
Serving Size

1/6 recipe
Amount/Serving
% Daily Value
Fat

18 grams
28%

Saturated Fat

5 grams
25%

Cholesterol

20 milligrams
7%

Sodium

530 milligrams
22%

Carbs

35 grams
12%

Fiber

6 grams
24%

Sugar

11 grams

Protein

8 grams

Calcium

204 milligrams
20%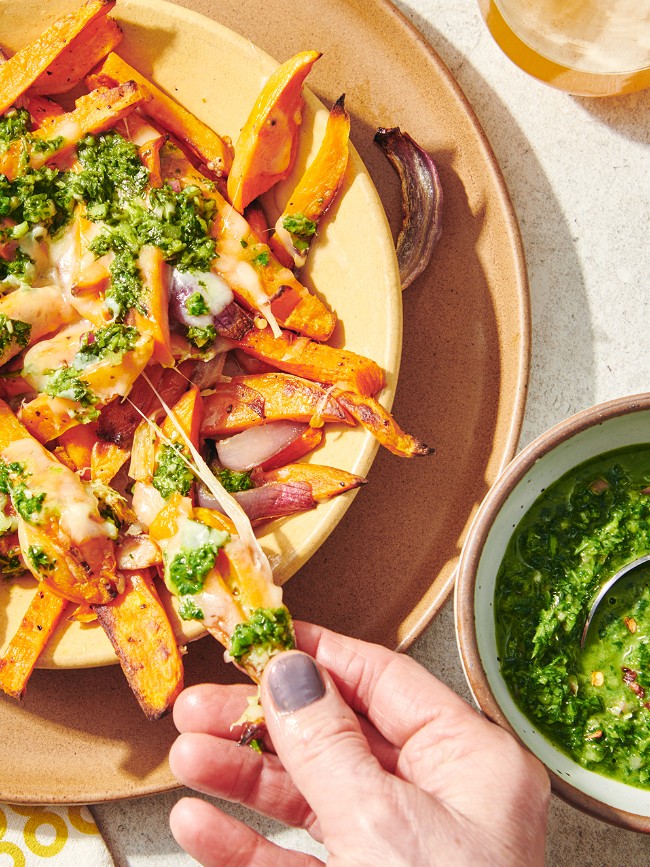 Recipe Tips
While a traditional poutine is a delicious and comforting dish composed of fries topped with cheese curds and hot gravy, this simplified recipe uses melted Cabot cheddar, roasted sweet potatoes and a Mexican Chimmichuri Sauce to mix it up a bit.
Poutine can be as varied as your imagination. Use your favorite toppings like veggies, bacon, chili, pulled pork or chicken and of course - Cabot cheese!
You might also enjoy this Cabot recipe: Bacon Cheddar Poutine.