Savory Cheesy Waffle aka a Chaffle
Category
Breakfast & Brunch
Servings
Prep Time
Cook Time
Whoever decided to mix cheese and eggs and pour it into a waffle iron was both brave and brilliant. Brave… because let's face it. It sounds like a mixture that would create nothing but a mess. Brilliant… because, well, honestly – it's DELISH! If you haven't heard of the concoction we're talking about, let us introduce you to a "Chaffle".

Ingredients
2 ounces Cabot Vermont Sharp Cheddar, shredded (about ½ cup)

1 large egg
3 tablespoons almond flour
1 tablespoon half and half
¼ teaspoon baking powder
Directions
PREHEAT waffle iron until hot.
MIX together ingredients. Whisk or spoon batter and cheese evenly.
SPOON batter onto waffle maker, smoothing to cover surface of iron. Close lid.
COOK about 5 minutes or until browned and crisp.
REMOVE chaffle from waffle maker and place on wire rack to cool.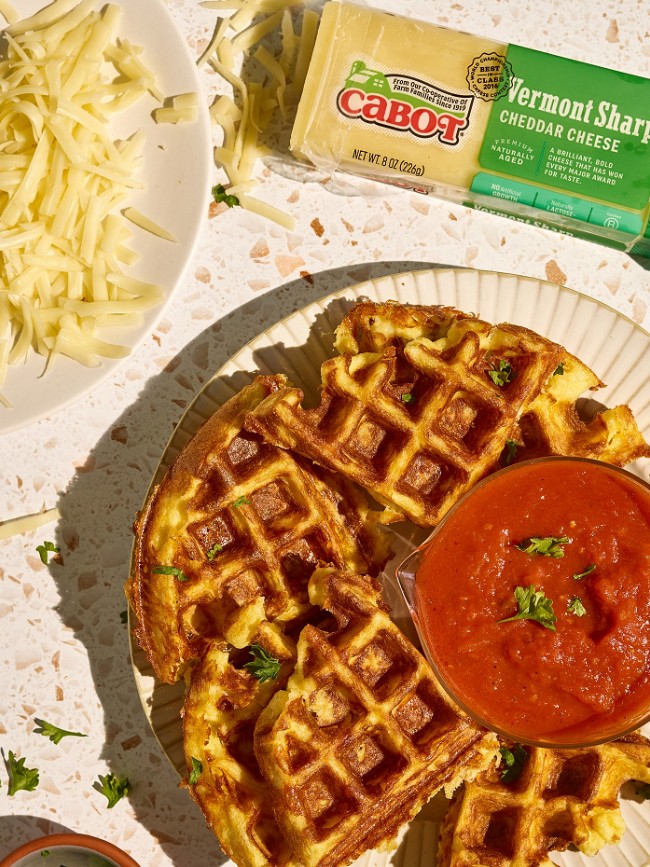 Recipe Tips
SERVING SUGGESTIONS:
Top with Cabot Cream Cheese, smoked salmon, red onion and fresh dill.

Top with marinara sauce and sprinkle with garlic salt and chopped parsley.
Top with black beans, pico de gallo, fresh jalapeno pepper slices and chopped cilantro.