Tennessee Onion & Cheese Casserole
Servings
Prep Time
Cook Time
This casserole can be used as a side dish for any pot luck and is typically made with butter, sweet onions and cheese. It's important to use sweet onions to balance the sharpness of the cheese. As the onions cook they create a sauce with the butter and cheese. This would make a great topping for burgers with your cheese and onions all in one!
Ingredients
Cooking spray

3 large sweet onions such as Vidalia (about 2½ pounds), peeled and sliced crosswise into ¼-inch thick slices and separated into rings

4 tablespoons Cabot Unsalted Butter, melted

3 tablespoons fresh chopped herbs, such as parsley, thyme, chives or oregano, plus more for serving 
1 large clove garlic, grated

½ teaspoon dry mustard

¼ teaspoon salt

¼ teaspoon ground fresh pepper

5 ounces Cabot Vermont Sharp Cheddar cheese, shredded (about 1¼ cups), divided

5 ounces Cabot Gouda cheese, shredded (about 1¼ cups), divided
Directions
PREHEAT oven to 350°F. Coat a 9-by-13-inch baking dish with cooking spray.

COMBINE onions, butter, herbs, garlic, mustard, salt and pepper in a large bowl until onions are evenly coated. Transfer the onions to the prepared baking dish and arrange in an even layer. Sprinkle with 4 ounces (1 cup) shredded cheddar and 4 ounces (1 cup) shredded Gouda.

COAT a piece of aluminum foil with cooking spray and place the sprayed side on top of the casserole (to avoid cheese sticking to the top).

BAKE the casserole until the onions are soft and sides are bubbly, about 40 minutes. Remove the foil and sprinkle the remaining 1 ounce (¼ cup) cheddar and 1 ounce (¼ cup) Gouda evenly on the top. Continue baking, uncovered, until the top is golden and the cheese has melted, about 30 minutes. Serve sprinkled with additional herbs, if desired.
Nutrition
Nutrition
Serving Size

1/8 of recipe
Amount/Serving
% Daily Value
Fat

11 grams
17%

Saturated Fat

7 grams
35%

Cholesterol

40 milligrams
13%

Sodium

240 milligrams
10%

Carbs

10 grams
3%

Fiber

1 grams
4%

Sugar

7 grams

Protein

6 grams

Calcium

168 milligrams
15%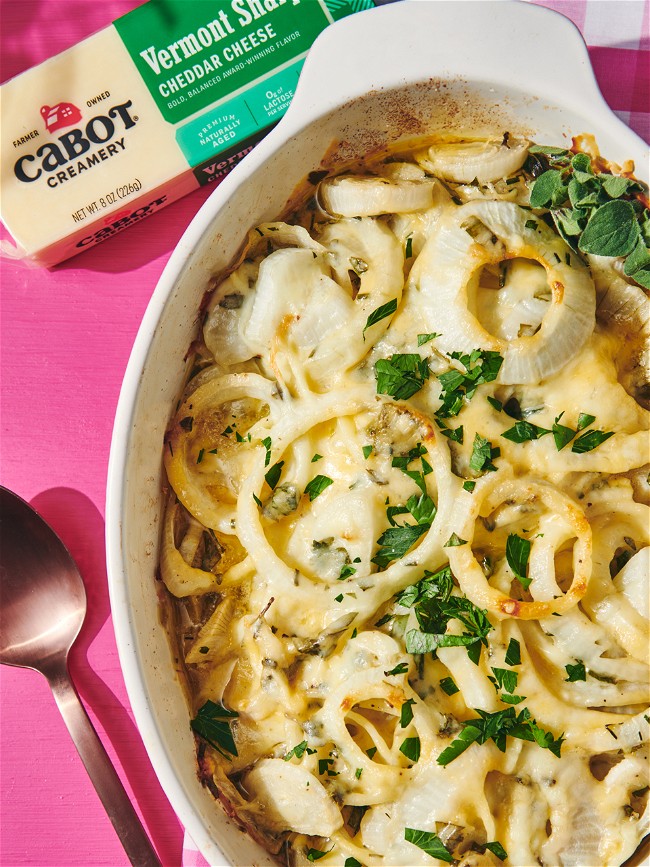 Recipe Tips
To make ahead: Prepare through Step 2 and refrigerate for up to 1 day.
Let come to room temperature before baking.
Check out these other favorite side dish recipes for the holidays or any day.