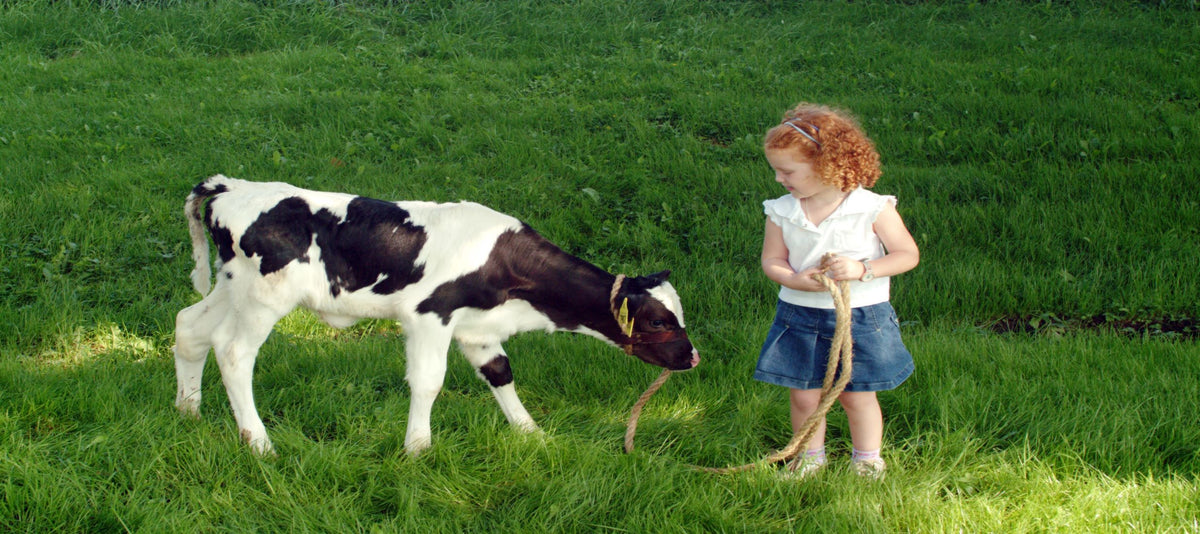 Farmer Friday: Fairmont Farm
East Montpelier & Craftsbury, Vermont
In the farming community there are many examples of cooperation between friends, family and neighbors. Within our cooperative, Fairmont Farm is a great example. The farm was founded in 1992 as a collaboration of three dairy farms run by three branches of the Hall Family and their neighbor, Austin Cleaves. The partnership allowed the group to invest in outstanding facilities and prepare for the future of the farm.
Today, Fairmont Farm consists of three locations in East Montpelier and Craftsbury. The farm is owned by Richard and Bonnie Hall and their nephew, Tucker Purchase. There are ten family members and 30 employees that milk 1,400 Registered Holsteins and manage the farm. Community, the environment and providing for their cows has always been a priority of Fairmont Farms and their mission statement reflects it:
'Fairmont will strive to be a profitable dairy farm with the utmost consideration for the safety and happiness of our people, the cleanliness of our environment and the health of our animals.'
The family has always been very interested in sharing their farm with the community. They often host farm tours. They started the Udderly Crazy 4H club, which Fairmont Farm hosts, to give local youth an opportunity to get involved in agriculture. This year they started a kid's summer camp run by Richard and Bonnie's daughter, Clara Ayer. They also hosts weddings – and the backdrop couldn't be prettier.
Beyond sharing their farm with visitors, the family is involved with their church, the local soup kitchen, local planning commissions, the Holstein Association and our Young Cooperators Program.
As with their community involvement, Fairmont Farm is a model in terms of sustainability. They are now 100% no-til and they cover crop their land, leading to less erosion and improved soil and water quality.
This week we're pleased to introduce Clara Ayer, part of the farm's 3rd Generation, who took the time to answer our #FarmerFriday question:
What is your favorite thing about being a dairy farm family?
It is hard for me to pick a favorite but a few of my favorite things include working with animals, working with family and the life lessons learned on the farm. Working with animals is very gratifying. It is fun to watch the animals grow and be a part of developing great cow families, all while producing a quality product for consumers. I feel very fortunate to work with my brother, cousin, parents and grandparents every day. I love seeing my family from a different perspective, there is an incredible amount of respect that comes from being part of a business with them. Learning early on in life to work hard and be good stewards to your animals, the land, your employees and your neighbors is something I hope to pass on to future generations.
What is your favorite time of year on the farm?
Fall! It is hard to beat the fall foliage here at the farm. Our cows, family and employees are certainly spoiled with an incredible mountain view and beautiful colors. Besides foliage, the farm is an exciting place to be in the fall; the crop crew is bustling around to finish harvesting and the smell of freshly chopped haylage and corn silage fills the air. It is both rewarding and thrilling to see how the finished product comes out, our animal's rations are all about 60% forages that we produce! The weather is also wonderful, the cool mornings and warm fall days are always welcomed by our cows and all of us.
What is the next big sustainability story on your farm?
Sustainability has always been important to us at Fairmont. Right now we are really focused on water quality and soil health. We started to transition our crops to a no-till system in 2008 and we are now 100% no-till. We grow cover crops on all of our corn fields and when rotating crops we can sow corn directly into an existing hay field. Since we have switched over to our no-till system we have seen improvements to soil compaction, erosion and nutrient management which has improved production and water quality. The latest project that we are really excited about has been harvesting our own winter rye to provide the cover crop seed for all of our corn land.
How many generations of your family have been on the farm (and who is there now)?
I am a third generation dairy farmer, our farm has a unique story. Fairmont Farm, Inc began in 1992 when my grandparents and my aunt and uncle (Hallmark Farm), my parents (Picture Book Farm) and a neighboring dairy farmer, Austin Cleaves (Fairmont Farm), all joined together. The herds were combined, a new freestall barn and parlor were built and expansion began. Expansion plans were in place to allow the older generations to retire while simultaneously creating opportunity for future generations as well. The current owners are my parents, Richard and Bonnie Hall, and my cousin, Tucker Purchase. My grandparents, John and Donna Hall, are part-time employees at Fairmont. They are still an important part of the farm but have time for other interests as well. My brother, Ricky Hall, and I returned to the family farm in 2014 to be a part of another growth period and the acquisition of a new farm.

My grandparents are very active in their church as well as the local soup kitchen where they volunteer and donate goods from their garden and small flock of hens. My parents started a 4-H club, which competes at regional, statewide and countrywide events. My dad is also the president of the Vermont Holstein Association. My brother and his girlfriend, Elizabeth Olson, coached the Vermont State 4-H Judging team this year. I serve as the Secretary of the Berlin Planning Commission. My family feels privileged to farm much of the land in our area and giving back to our community is one of many ways we can show our appreciation.