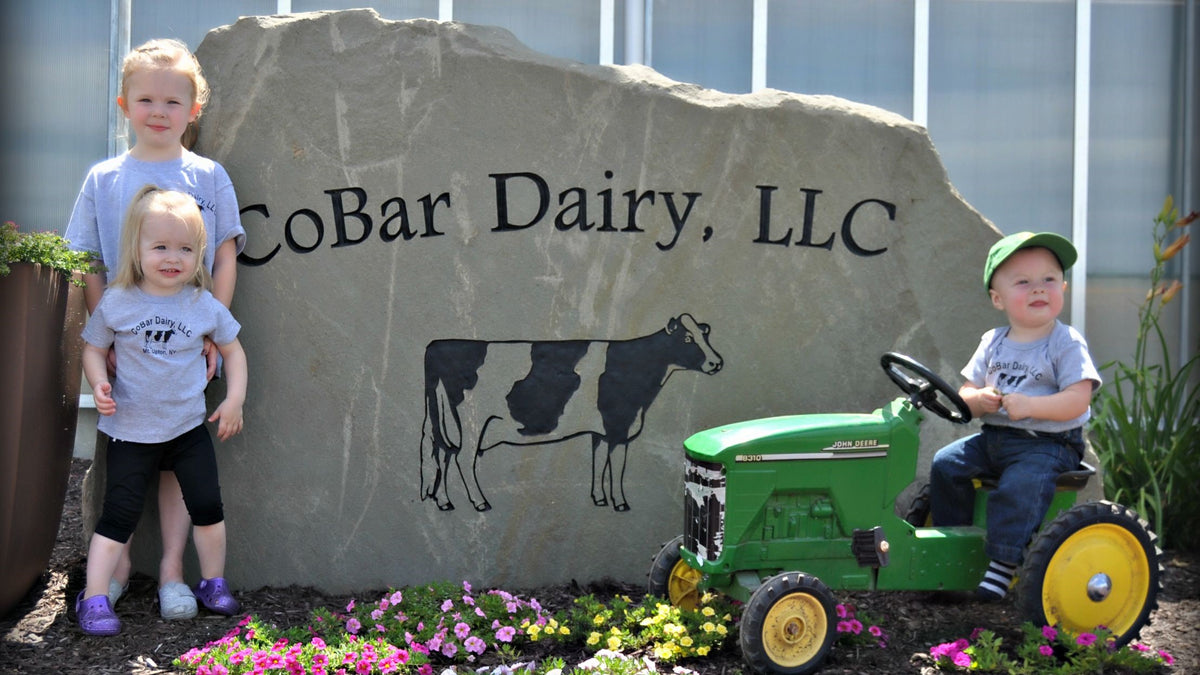 #FarmLove – CoBar Dairy
Tammy and Mike Barnes met through Future Farmers of America while they were in high school. Several decades, one farm, three kids and five grandkids later, they maintain an enduring love for the outdoors and a firm belief that a farm is "the best place to a raise a child," as Tammy puts it.
Mike's father was a cattle dealer in central New York not far from where he helped his son begin dairy farming in 1978. "I started with seven cows and worked my way up from there," says Mike. The couple was married right after Tammy graduated from high school and they've been committed to the farming life since. "I just knew I could never work inside," Tammy says. Raising their daughter and two sons on the farm played an integral role in their appreciation of agriculture. "They learned a work ethic and the value of money," Tammy explains. "Sometimes it was more of a learning experience than going to school."
The couple did not necessarily expect that the next generation would take over. "We always said that if they did want to come back, they had to go somewhere else first," Tammy says. Jacob became a diesel mechanic and Jed decided he wanted to be an architect. But then Jed switched to dairy science, finished up his degree at Cornell and went to work as a manager for a 13,000-cow dairy in Idaho.
Then one day, Tammy recalls, "He said, 'Pops, what do you think? Is there room for me to come home?'" Once he decided to come back, Jacob wanted to join him and the brothers formed a partnership with their parents. This is reflected in the farm's name, which changed from Barnes Farm to CoBar Dairy, short for "the cooperation of the Barnes family." Although Jessica, the eldest of the three, works at a local school, her mom says, "She can be found on the [hay and corn] chopper whenever she can get out there."
With the addition of Jacob and Jed and their families, the Barnes grew the herd to 400 milking cows. They've also installed solar panels that provide hot water for the calf barn and main barn. The Barnes use cover crops on about 100 acres each year and carefully manage their crop rotation and nutrient applications.
"Every day's a new challenge working outside with the animals and the crops," says Mike, who is also vice-chair of the co-op board. From that broader view, he adds, "We're all in this together. It's a team effort from the farm to the [processing] plants to the sales team. Everyone's working for one common effort and that's the profitability of our family farms here in the Northeast."
Back home, family has always been important to the Barnes, but having the third generation running around in the fields, getting rides on the tractors and starting to show cows in 4-H is extra-special. "It's just great to watch them grow," Tammy says.
The extended family gets together about every other month to catch up over a hearty meal. Mike's sister usually hosts the gatherings of about 30 family members. There is always mac and cheese and cheesy crab casserole (recipe below), a family favorite that Mike's mom always brought and Tammy has inherited responsibility for. "I have to make two pans of it," Tammy says with a chuckle. "I don't think I'm allowed in the door if I don't bring it."
Hear what farmer and co-op board vice-chair Mike Barnes has to say about the future of farming, here. 
---
CoBar Farm Crabmeat Casserole

½ cup (1 stick) Cabot butter

½ cup flour

2 cups milk

2/3 cup cooking sherry

1 teaspoon salt

Dash pepper

3 English muffins

4 cups shredded Cabot sharp cheddar 

1 pound crabmeat, or imitation "crab" sticks, torn into pieces
Preheat oven to 400 degrees. In a medium saucepan set over medium heat, melt butter until foamy. Whisk in flour and cook, 30 seconds, until golden, then whisk in milk and sherry and cook, whisking constantly, until mixture thickens. Season with salt and pepper. (Alternately, stir together all sauce ingredients in a microwave-proof bowl and microwave in one-minute bursts until mixture thickens to a cream sauce consistency, whisking between each minute.) Butter a 9 by 13 casserole dish and tear muffins into bite-size pieces. Add crabmeat and shredded cheese, pour cream sauce over it all and stir gently to combine. Bake about 30 minutes until golden and bubbly. Makes about 10-12 servings as a side dish.