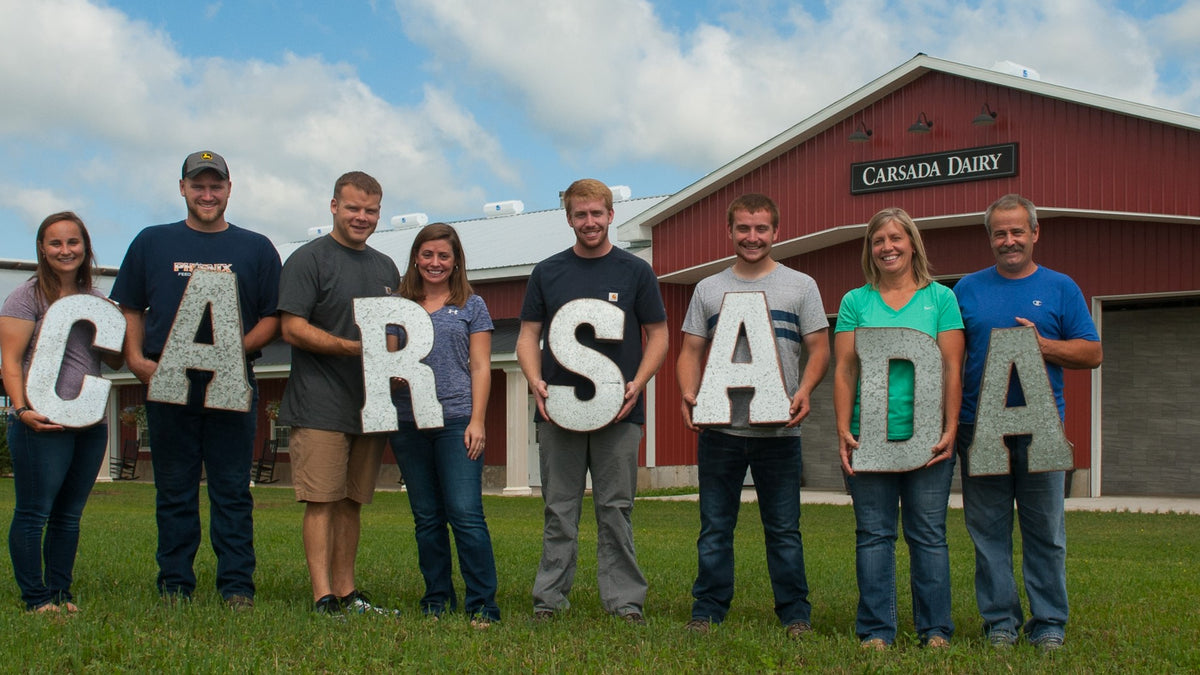 #FarmLove – Carsada Dairy
David went on to have four children with his wife Kris. They are all now older than he was then and, under much happier circumstances, three are back working on the family farm with their parents. "They've always been involved in the dairy. It was never anything we made them do," Kris says. "I don't know if I have words to describe it. We're just so happy to be able to carry on my husband's heritage."
In addition, two daughters-in-law have off-farm careers but pitch in with tours and education efforts. Even the Moores' daughter, Anissa, who lives and works in Arizona where her husband is a United States Air Force pilot, helps her mother long-distance with the human resources required for an operation that now includes 30 employees to manage 2500 owned and rented acres and 1,500 milking cows. She also sent home the fun gift of large letters that spell out the name of the farm: Carsada, representing her grandparents, Carl and Sally, and dad, David.
Unlike David's own experience, he and Kris are grateful that each of their sons was able to leave the farm to pursue studies and develop a natural interest into true expertise. Sam focuses on crops and nutrient management, Aaron on machinery and equipment and Carl recently completed veterinary school. He joined a local practice but also works with the farm's herd. "It's very unique that they each have a different passion," their father says. "We are so proud of them. They're already better in each of their areas than I ever had the chance to be."
They, in turn, very much appreciate the opportunity to build on the tradition started by their great-grandparents. Aaron explains that family teamwork is both critical and rewarding: "We use our skills collectively to try to be the best at what we do."
"What means the most to me," says Sam, "is that we can work land that has been farmed by our family for four generations. I think it is a privilege to be able to be part of something with true meaning."
 "Farming is in our blood," adds Carl, the eldest. "My brothers are my closest friends and I'm constantly amazed and proud of the unique skills and work ethic they bring back to the farm. We all returned," he concludes, "because we love the land, our cattle, and our family."
---
Sunday Dinner
Like many farm families, the Moores gather together at least once a week around the table for a big meal. Sunday is special at Carsada Dairy. "We're usually together," Kris says. After church, the family will often come home to Kris and David's house to share lunch, maybe loaded baked potato casserole, pork chops on the grill and their own sweet corn followed by peanut butter pie.
---
Try these recipes for your own special family dinner:
Quick & Healthy Potato Casserole

Beer-Marinated Pork Tenderloin w/Charred Corn-Cheddar Relish
Peanut Butter Dream Pie from The Cabot Creamery Cookbook
Barstow's Longview Farm's Peanut Butter Dream Pie
As flavor combinations go, peanut butter and chocolate are a match made in heaven, as Shannon Barstow, the mastermind behind the farm's Dairy Store and Bakery, knows all too well. This easy no-bake pie is a sure-fire crowd-pleaser.
Ingredients:
12 cream-filled chocolate sandwich cookies, such as Oreos
6 peanut butter sandwich cookies, such as Nutter Butters
4 Tbsp. unsalted butter, melted
4 oz. 
Cabot cream cheese
, softened
1/4 cup smooth peanut butter
1/4 cup sugar
1 tsp. pure vanilla extract
1 1/2 cups heavy cream, plus more for garnish, optional
16 mini chocolate peanut butter cups
1/2 cup milk chocolate morsels
1 1/2 tsp. vegetable oil
Process chocolate sandwich cookies and peanut butter sandwich cookies into fine crumbs in a food processor. Remove to a bowl and stir in melted butter with a rubber spatula. Use the spatula to press cookie crumb mixture into bottom and up sides of a 9-inch pie plate. Put crust in refrigerator to chill.
Meanwhile, cream together cream cheese, peanut butter, sugar, and vanilla at medium speed with an electric mixer until completely smooth. Whip heavy cream to soft peaks and fold gently into cream cheese mixture, starting with one-third of whipped cream and adding more until thoroughly incorporated.
Spread filling evenly in crust. Top decoratively with chocolate peanut butter cups and chill, covered, at least 2 hours.
When ready to serve, microwave chocolate morsels in a small, microwave-safe bowl 30 to 40 seconds or just until smooth when whisked. (Alternatively, melt over a double boiler.) Whisk in vegetable oil. Cool for a few minutes. Transfer chocolate drizzle into a piping bag or a small zip-top plastic bag. If using a plastic bag, snip off a tiny corner and twist bag to use as a temporary piping bag. Pipe decorative swirls over top of pie.
Garnish with additional whipped cream, if desired, and serve immediately. Refrigerate any leftovers.
Makes 8-10 servings