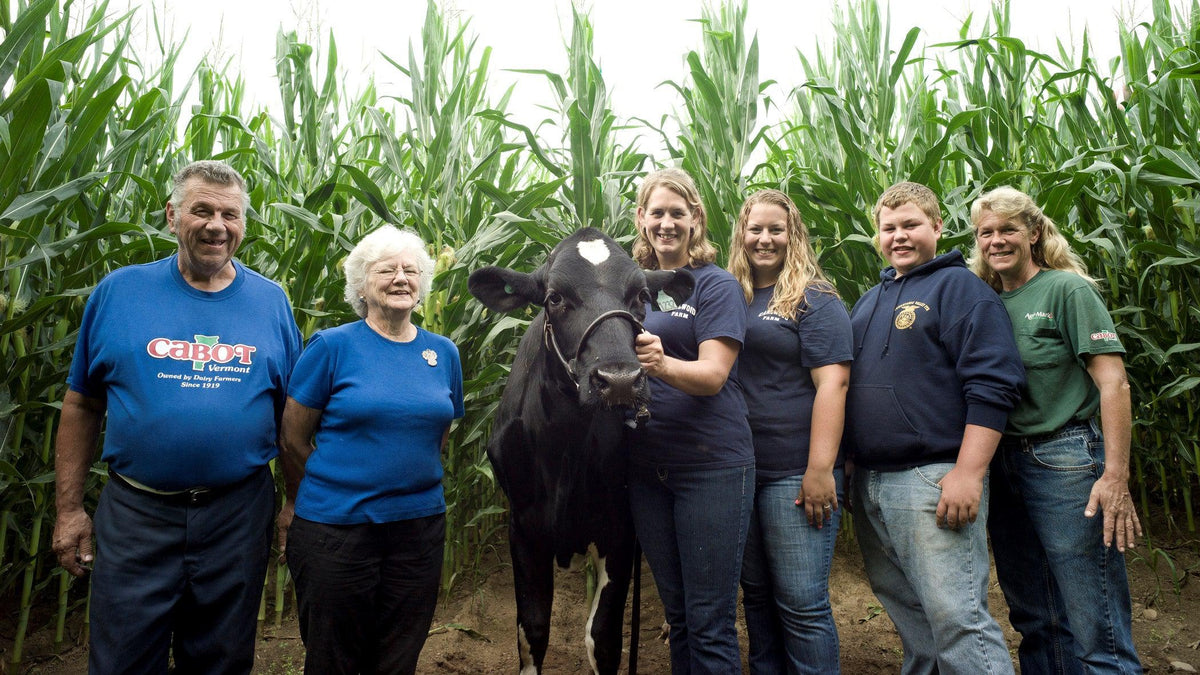 #FarmLove – Carlwood Farm and Fire Prevention Week
Her husband, Rick, recently retired after 32 years of service on the volunteer firefighting force in Sheffield, Massachusetts where he and Sandy raised their three children just a few miles across the state border from her family's Carlwood Farm in Canaan, Connecticut.
"When those tones went off," Sandy recalls, referring to the special pagers volunteer firefighters always carry, "no matter what you were doing—celebrating a birthday, Christmas or Thanksgiving—he had to go. It did make me anxious when he was out on a call, but I would listen over the radio and when he was chief for the last eleven years, I would hear him and be comforted by his voice. He accepted me having to work 15 hours a day on the farm and I accepted his firefighting. It was his family, whereas the farm was my family."
Sandy's great-grandfather emigrated from Sweden and bought the family's first plot of farmland near Canaan in the early 1900s. The second of five kids, Sandy always knew it was the life for her. "I would escape from the house to avoid housework," she says. "I loved playing with the animals, loving helping clean the barn and tagging around after my dad."
Four years ago, she became a full partner in Carlwood with her parents, Doug and Cris Carlson. She is happy that her parents were recently able to re-acquire a 42-acre parcel of the original farm, which they had been renting as part of the 200 acres where they milk 50 registered Holsteins and a handful of Jerseys. Rick no longer drives the milk truck but he helps with crops around his full-time job driving for a local forestry company.
People may not realize that 85 percent of the fire departments in the United States are staffed fully or partially by close to 1 million volunteers. Most of these serve in smaller rural communities across America, which are dependent on their volunteer force for emergency response to everything from car accidents to fires. The tradition is older than the United States; Benjamin Franklin organized the first volunteer fire brigade in Philadelphia in 1736.
Many rural residents, including a number of Cabot co-op members, have a family tradition of volunteer firefighting and Rick Boardman is no exception. His father, a dairy farmer turned vegetable farmer, also served on the local force until he became a selectman and could not do both. For several years, the family still had one of the red phones in their house, which preceded the era of pagers. Rick remembers his mother picking it up to help send out word that the firefighters were needed.

Rick joined as soon as he was 21, the youngest age allowed at the time. "Our family was firefighters," he says simply. "Two brothers-in-law were on the force and my friends were, too. It was the brotherhood. It's in my blood to serve the community and help in whatever way I could."
---
This week is Fire Prevention Week nationwide. It's also a week when many Cabot farmers take the time to stop by their local fire station to thank firefighters, both volunteer and paid, for their work in the community and to deliver a bag of delicious Cabot cheese, like these farmers did last year:
Fire Prevention Week is always a good time to check your smoke alarms and check potential fire hazards around your home. The National Fire Protection Association offers this helpful list: Safety In The Home
---
Sandy and Rick Boardman raised three kids on wholesome farm fare like this family corn chowder recipe. Their two daughters, Sheri and Rene, both earned agricultural education degrees and their son, Ricky, has taken over the fruit and vegetable farmstand of his paternal grandparents. All three take turns milking on Sundays to give their mom a day off; Sheri even drives four hours round-trip once a month to do so. The family shared a favorite recipe for corn chowder, which they make year-round with fresh sweet corn from Ricky's farmstand or their own frozen corn. And here's another version from the Cabot archives:
Cabot Cheddar Vegetable Chowder
Ingredients
6 strips thick-cut bacon
1 tablespoon Cabot butter
1 small onion, minced
4 cups diced all-purpose potatoes
Salt and pepper, to taste
2 cups half and half
1 cup milk
2 cups corn kernels
2 tablespoons cornstarch
Directions
In a medium soup pot or deep sauté pan, fry bacon until crisp. Remove bacon from pan to plate lined with paper towels and cool. Crumble and set aside. Remove all but 1 tablespoon bacon fat in pan. Add butter. Set over medium heat and add minced onion. Cook, stirring occasionally, just until softened, about 4 to 5 minutes. Add potatoes with half and half and milk and a good pinch of salt. Bring pot to a simmer, cover and cook until potatoes are just starting to get tender, about 10 minutes. Add corn kernels, cover and simmer another ten minutes until potatoes and corn are both cooked. Take a spoonful of hot liquid and whisk in a small bowl with cornstarch. Whisk cornstarch mixture back into soup over low heat and cook another few minutes until thickened to desired consistency. Adjust thickness with a little more milk if desired. Season to taste with more salt and black pepper. Serve sprinkled with crumbled bacon. Serves about 6.