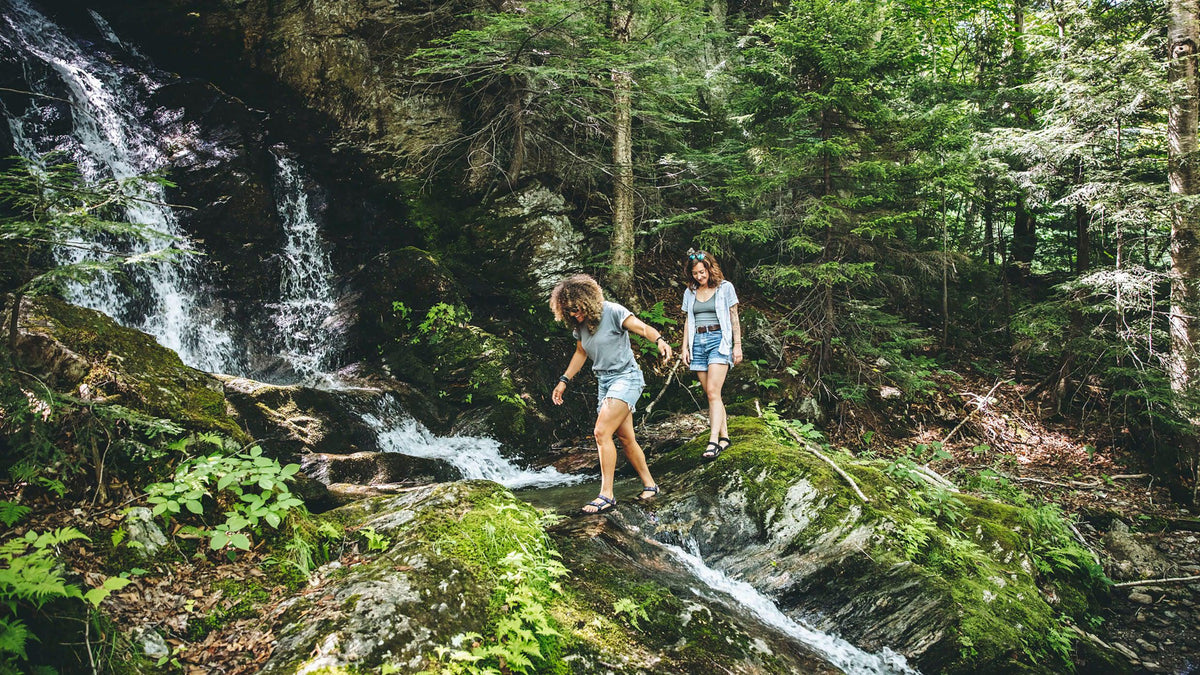 Spring into Summer with Cabot
This post was written & photographed by Gretchen Powers – filmmaker, photographer, and writer with a passion for storytelling and capturing the essence of a person, place or thing.
Five Reasons to be Stoked for Summer
If you've taken a drive down one of Vermont's gorgeous backroads this week you know that spring has sprung and the green for which this state gets its name is as vibrant as ever. The trees, grasses and mountains shine brightly on the sunny days we've been lucky to experience this spring, but with temps in the mid 60's it's not quite time for all of the things we love so much about the short summertime that we get to enjoy in Vermont. Late May and early June are the perfect time to check a few things off before the summertime tourist crowds arrive. June-August fly by so it's time to make that summertime bucket-list.
CAMPING 
Time to air out the tents from whence they've been hiding all winter! Whether you want to give backpacking a try and complete a small section of the Long Trail that runs the length of Vermont or camp at one of Vermont's many state park campgrounds, there are options for every sense of adventure, family size and kiddo age. It's easy to have the summer months fly by without getting away for a weekend for a bit of "roughing it" so do yourself a favor and block a slot or two off for some outdoor fun with friends. Check out our how-to guide to prep for your next camping trip and don't forget to pack the s'mores kit, cheese plate and some favorite brews. 
BEERS
It's officially porch beer season! Snag a 6 (or 4) pack from one of Vermont's many famed Microbreweries - Lawsons Finest Liquids, Burlington Beer Co, Zero Gravity, Hill Farmstead, River Roost, Fiddlehead, Foam, Hermit Thrush Brewery, Lost Nation, Red Clover Ale Co, The Alchemist… to name a few. If you're not drinking alcohol these days BBCO's Wave is a hoppy seltzer that's refreshing as heck and Zero Gravity's Rescue Club NA beers are some of the best on the market.
BIKING
Gravel roads are dry, mountain bike trails are ready for you to get "shreddy" this summer and bikes are no longer quite so hard-to-find! If you've been wanting to get back on the bike, now's a great time to start. Vermont has more dirt roads than paved and that makes a gravel bike a great way to explore the lesser-travelled road systems of Vermont. Looking to try out mountain biking for the first time or find a new trail system to master? Check out VMBA for trail conditions, maps and many other resources. A quick google search of your area will likely link you up with smaller local organizations who are planning group rides and trail building volunteer days. 
WATER
The best thing about the temperatures warming up is that the water is too! You may have time for one last cold plunge before it's time for all of your favorite on-the-water activities. Take a dip in Lake Champlain, or swimming hole along one of Vermont's many rivers that are still icy cold for many of the well researched health benefits from increased dopamine to better sleep. While you wait for the water to warm up, now's the time to dust off your kayaks, canoes and inner tubes so they are ready for some fun when the time is right! Don't forget your sunscreen, PFD and always tell someone where you are going.
CREEMEES
Last, but certainly not least, it's Creemee season! Haven't tried a Creemee yet? It's a place-specific name for these creamy, high-butterfat content desserts that are a must for the ice cream lover who visits Vermont in the summertime. If you haven't tried the quintessential maple flavor, that must be first on your list. Burlington Bay, Little Gordo's, Palmer Maple, Big Spruce, and The Canteen are some North West Vermont faves. Also check out our Vermont Biking & Creemee Tour! Can't swing the cream? Check out Offbeat Creemee in Winooski for a plant-based version that is sure to delight.
What did we miss? What are you most looking forward to checking off your bucket list this summer?
For all of your on the go snacking adventures, we've got you covered with our Cracker Cuts and Snack Sticks. And don't forget about Vermont Sharp White Cheddar for all your sandwich and grilled cheese needs.