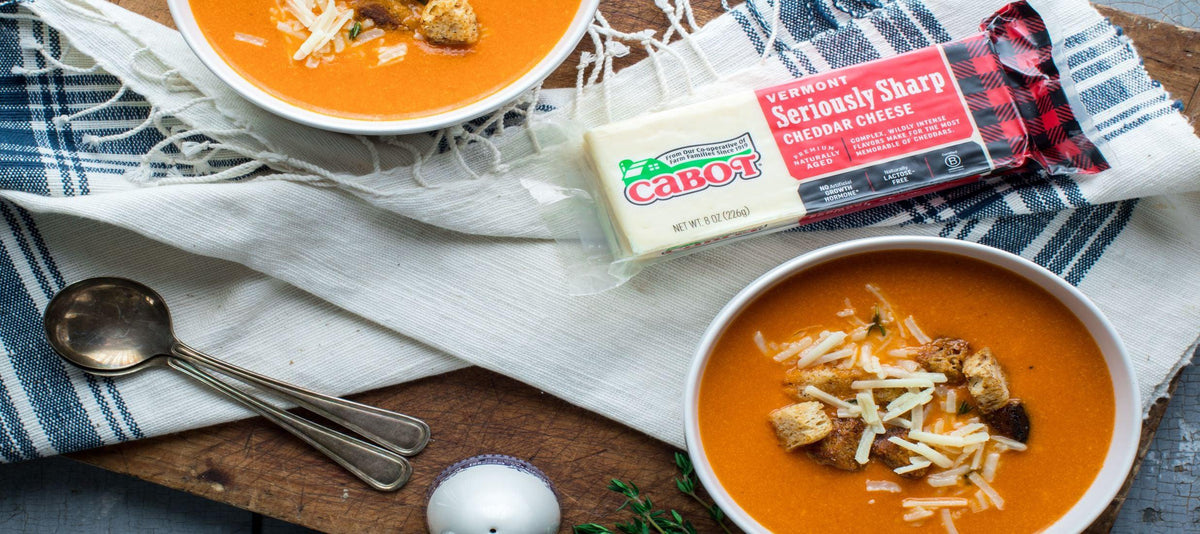 4 Easy Ways to Dress Up Tomato Soup
You could argue that tomato soup needs little more than a good grilled cheese to make it a meal. Let's face it. The combo is warm, comforting and oh so simple to make. What's not to love?
But we see no harm in helping even the most humble of soup bowls become a little more special by adding in a few favorite mix-ins. In the spirit of the popular Power Bowls, Smoothie Bowls and fancied-up variations on Mac-n-Cheese we've shared with Cabot fans over the years, today we bring to the table a better way to build a bowl of tomato soup.
While our original version of Tomato Cheddar Soup with Grilled Cheese Croutons is virtually perfect… just see for yourself.
Tomato Soup
What we've done today is crafted four easy mix-in ideas for either our tomato soup recipe or your favorite store-bought version. Each recipe is special enough for guests, yet easy enough for an everyday lunch or dinner. We've shared them with you below as recipes "for one" that rely on common leftovers or pantry items you likely have on hand.
---
Chili
Since chili typically starts with a tomato sauce base, it stands to reason that tomato soup can easily be transformed into this hearty classic. The benefit to our method is that there's really no need for a long, slow simmer. Simply stir in, top with Cabot Extra-Sharp Cheddar and your chili is ready!
Here's how to make it:
1 cup tomato soup + 1/2 cup canned chili beans in sauce + 2 ounces cooked ground beef or sausage + 1/2 tablespoon chili powder
Top with Cabot Extra-Sharp Cheddar
---
Wedding Soup
You won't likely find Wedding Soup sporting a tomato base anywhere else, but we fell in love with this inspired variation from the moment the first meatball hit our lips. If you prefer a more traditional broth to the thickness of the tomato soup base, simply thin the soup with chicken broth to reach your desired consistency.
Here's how to make it:
1/2 to 3/4 cup tomato soup + 1/4 to 1/2 cup chicken or vegetable broth + 3 cooked meatballs + 1/2 cup wilted fresh spinach leaves
Top with Cabot Seriously Sharp Cheddar
---
Taco Soup
Variations of this quick and easy soup seem to circle the internet on the regular. It's super tasty, but often makes more than we really need hanging 'round the 'fridge for days and days. This easy upgrade to tomato soup makes only what you can enjoy in the moment.
Here's how to make it:
1 cup tomato soup + 1/4 cup corn kernels + 1/4 cup canned black beans + 1/2 tablespoon taco seasoning
Top with Cabot Pepper Jack Cheese
---
Shrimp Curry Soup

While we tend to be partial to the pairing of tomato soup + grilled cheese, there's nothing better than the creamy taste of Cabot Greek Yogurt stirred into a bowl of a tomato soup. Top the combo with cooked shrimp, cilantro, fresh ginger and a bit of curry powder and you'll be amazed at how quickly this curry comes together.
Here's how you make it:
3/4 cup tomato soup + 1/4 cup canned coconut milk + 2 ounces cooked shrimp + 1/2 tablespoon curry powder + 1 teaspoon fresh ground ginger
---
Our favorite Grilled Cheese Recipes:
---