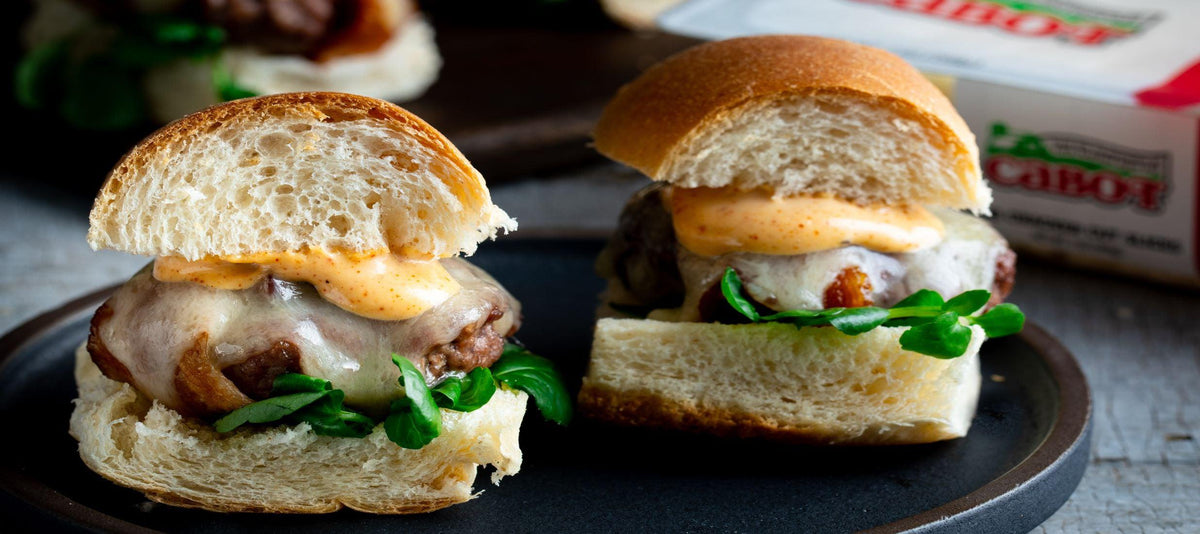 Delicious Burgers for a Backyard Barbecue
Burgers – the quintessential backyard barbecue food. We have pulled some of our most delicious and unique burger recipes to help you kick it up a notch at your next barbecue. Think beyond the basic grilled beef burger this summer; these burgers pack flavorful and fresh ingredients, and some don't even need a grill!
Whether or not you're a vegetarian, these Black Bean Veggie Burgers will satisfy even the most die-hard traditional burger fans. Loaded with sweet potato, black beans, and Cabot Seriously Sharp Cheddar, these are a filling and tasty alternative for your next barbecue.
Cooking burgers indoors offers a great convenience when cooking for larger groups, potluck barbecues, or if you simply want to cook ahead. Here's a delicious burger cooked on the stovetop. With a combination of Portobello mushrooms, beef, and Cabot Alpine Cheddar, these burgers are simply heavenly!
Featuring Cabot Greek-style yogurt and simple fresh ingredients, kick up the spice at your next barbecue with these incredibly Easy Moist Turkey Cheeseburgers. Top them off with our Habanero Cheddar or Jalapeno Lite50 Cheddar for even more flavor.
You may not think of bringing burgers to a backyard barbecue but this next recipe is sure to be a hit among any crowd. These nearly bite-sized Mini Cabot Cheddar Bacon Burgers are simple to prepare and the recipe makes about 24 burgers. You can whip these up in less than 30 minutes and you won't need to stand over the hot grill, leaving more time to enjoy friends and family on those warm summer nights.
Of course there are those burgers that taste just that much better when cooked on the grill; that delicious fire-cooked flavor definitely holds a special place at a backyard barbecue. These next two recipes hit the mark. With a hint of chipotle pepper, Cabot Cheddar Bacon Burgers feature a delicious combination of beef and spicy turkey sausage.
And finally, our BBQ Pork Burgers with Monterey Jack combine crispy bacon with tangy barbecue sauce and creamy Monterey Jack to fulfill your grilling dreams with a juicy, flavorful burger.