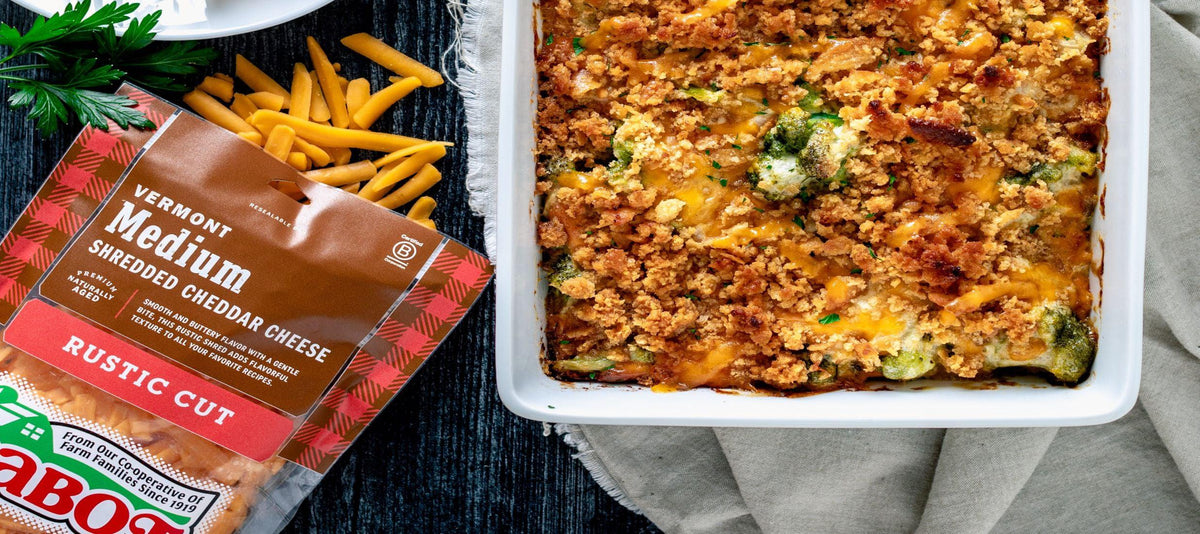 Cheesy Casserole Recipes
It's the time of year when meal planning has to be squeezed into busy schedules – so casseroles are a great solution at mealtime. Whether you need a make-ahead breakfast dish, a satisfying side dish, or a main dish that comes together in one pan, casseroles are just the ticket.
We've gathered the very best cheesy casserole recipes from the talented food bloggers of the Cabot Cheese Board and our favorite Cabot recipes. They're easy to prepare, filled with wholesome ingredients, and perfect for hungry families…like yours!
If breakfast is the most important meal of the day, these yummy selections will start you off on the right foot.
Do you love a meat & potatoes kind of meal? This Cheesy Potato Sausage Casserole is a comforting dish that will keep you full and satisfied – and it's a cinch to whip up!
Karly at Buns in My Oven tells us there are few things in this world better than cheese covered potatoes, and we have to agree. Her Cheesy Hashbrown Casserole proves her point – in the most spectacular way.
Annie at Maebells gives us a tasty (and easy) way to start your day. You can make her Spicy Sausage Casserole the night before, pop it in the over in the morning and as she says: "two cups of coffee later, you have a piping hot spicy sausage casserole." We like the way she thinks.
Here's another make-ahead breakfast casserole with bacon, cheese, and spinach in the starring roles. Heather at Sugar Dish Me, who describes herself as 'sleep wimpy,' has created another delicious dish that is perfect for breakfast, brunch, and the holidays. Her Bacon Spinach Breakfast Casserole will probably become a regular at your house.
With the holidays looming on the horizon and cold weather closing in, side dish casseroles play an important part of many meals. Here are some we've tried and loved.
We can always count on Katie at Healthy Seasonal Recipes for great food that is nutritious AND delicious. Her Cheddar Green Bean Casserole is no exception. Kate takes a classic dish and brings it into the 21st Century, with even more taste and fresher ingredients. Well done, Katie!
We love all the colorful veggies and cheesy deliciousness that go into this gorgeous Vegetable and Cheddar Strata from Joanne at Eats Well with Others. This is an inspired side dish, but would serve equally well as an amazing vegetarian main course. I speak from experience when I tell you, this is a dish you'll want to make again and again.
If you're looking for a way to lighten up a regular potato dish, Rachel at Rachel Cooks has just the recipe for you. Her Cauliflower Potato Cheddar Bake amps up the nutrition but keeps all the taste in this classic dish.
Here's another inventive and totally tasty way to get creative with plain potatoes. Ali at Inspiralized describes her Bacon & Brussels Sprouts Potato Noodle Casserole perfectly: "It's got everything – a hearty green vegetable, a tasty starchy vegetable, bacon and, of course, melted cheese."
This dense and creamy Bacon Cheddar Corn Casserole comes from food blogger and writer Devon Stiles. The creaminess from the addition of Greek yogurt adds to the great flavors of bacon, corn, and cheddar. Her secret ingredient? Corn muffin mix – a staple in many kitchens, including mine.
This gorgeous, colorful, veggie-filled casserole comes to us from Jenn at Peas & Crayons. Her Savory Sweet Potato Casserole has a delicious and decidedly Southwestern flair. It's another great choice for a side dish or a vegetarian main dish.
Michelle, the Brown Eyed Baker, has recreated a family recipe she loved as a child. Her version uses fresh ingredients, skipping the frozen broccoli and canned soup, resulting in this classic Broccoli Casserole. The one ingredient she kept totally old school was the buttery Ritz Cracker topping. We applaud her choice!
And if you've run out of time and are looking for a shortcut version of the above recipe, try this classic Cheesy Broccoli Casserole recipe from the Cabot site. We can thank the Pourpore family at PAPAS Dairy for coming up with this hearty & cheesy side dish!
I find myself going back again and again to visit Donna and Chad and their amazing recipes at The Slow Roasted Italian. Their Bacon Cheddar Beer Potatoes Au Gratin is one of their best. Don't blame me when you check it out and find yourself sucked into their delicious recipe rabbit hole.
Casseroles often equal comfort food, and main dish casseroles can be comfort food at its finest. Take this Confetti Chicken Bake with Cheddar Biscuit Topping from Mel at Mel's Kitchen Café. It's loaded with chunks of chicken, sprinkled with peas, cooked in creamy gravy and to top it all off…cheddar biscuits! I'm getting giddy – and hungry – just thinking about it.
Kit from The Kittchen used asparagus and mushrooms in her Cheddar Egg Casserole but she tells us any of your favorite veggies will do in this easy-to-prepare, versatile dish. It's perfect for a crowd and works well from breakfast, brunch, or dinner.
Erin from Well Plated tempts us with tastes of fall in her Healthy Ham and Cheese Casserole with Apples and Sage. Erin tells us magic happens when these ingredients come together, but her secret is a creamy and healthier take on white sauce. She says hers is made with a touch of butter and half-and-half, but the thickness comes from Greek yogurt and a handful of freshly grated sharp white cheddar cheese.
This Easy Turkey-Potato Casserole recipe comes from the Cabot kitchen, and with ground turkey, potatoes, and sharp Adirondack cheddar, this classic casserole is so good, the entire family will be requesting it for dinner time, and time again!
Let's end this Roundup with a cheesy classic. Rachel at Rachel cooks declares that hers is The Easiest Ever Baked Macaroni and Cheese. We have to agree that it looks pretty darn easy and oh-so-yummy too. There's really no excuse not to make this for your family, right?
That's it for our Creative Casserole Recipe Roundup. You can find lots of other easy, wholesome, and totally delicious casserole recipes on the Cabot website. Stop by and see what you find!