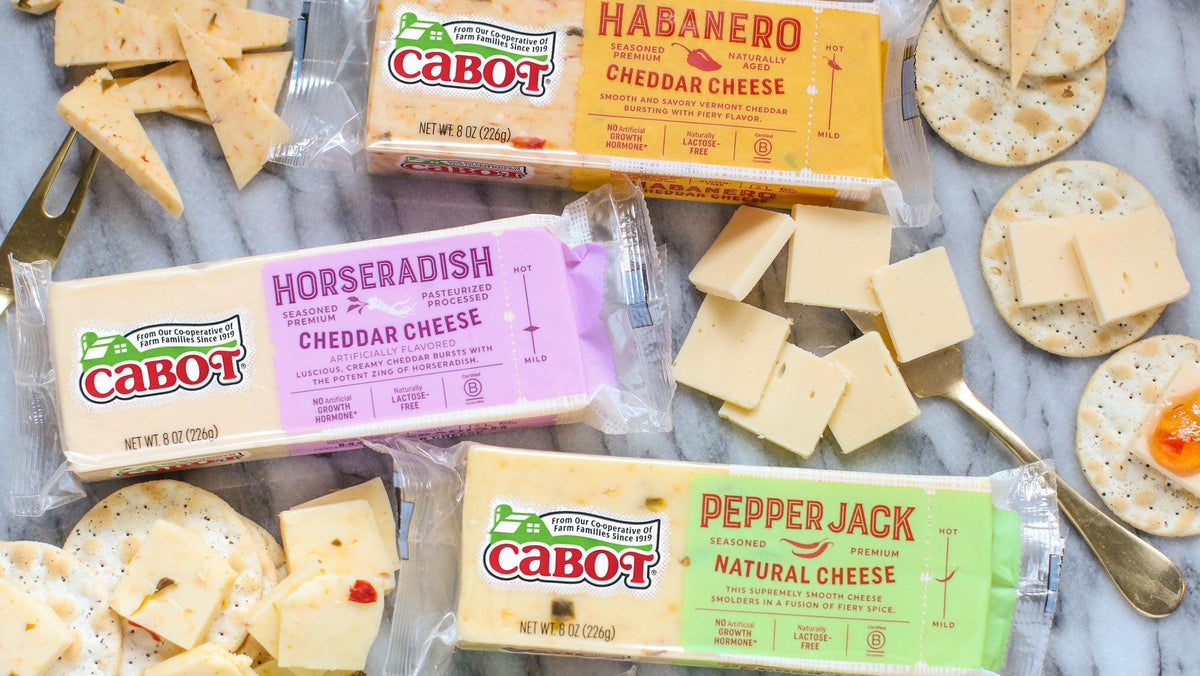 Add Some Flavor to Your Cheddar
From blazingly hot to sweetly savory, Cabot's collection of flavored cheeses brings bold, award-winning flavor to luscious meals, gooey appetizers, or show-stopping cheese boards. Pepper Jack, Horseradish, and Habanero. Who's hungry? Our classic cheddars may be the world's best, but don't sleep on our flavored cheese offerings, whose flavors more than hold their own with their more famous sharp cheddar cousins.  
---
Let's meet the stars of our Flavored Cheese Collection.   
This supremely smooth favorite smolders in a fiery fusion of green and red jalapeños, the perfect balance of spicy and creamy. 
---
Layered with mouthwatering fiery habaneros, this lusciously hot cheddar is the pinnacle of cheddar heat.   
---
A luscious blend of mouth-tingling horseradish bite and creamy cheddar smoothness. Bursts with flavor for an unforgettable ride. 
---
Like our classic cheddars, our flavored cheeses are all stars in the kitchen and add big flavor to whatever you're cooking up. In fact, some of our very favorite Cabot recipes ever feature our flavored cheeses, including these classics, which we think you're going to love: 
Pepper Jack and Ham Popovers—A light, fluffy texture filled with spicy, creamy Pepper Jack and savory ham, these popovers make an ideal breakfast, lunch, or casual dinner.  
Five Mile Farm's Spinach Artichoke Dip—This mouthwatering version of the classic uses the bold kick of our Horseradish Cheddar for hot and gooey appetizer perfection.  
Pepper Jack Cheese Sauce
 – This dreamy sauce is velvety smooth and is the perfect thing to take your nachos to the next level. Topped with fresh veggies, this simple dinner is perfect for busy weeknights.
---
With new packaging to celebrate Cabot's Centennial and our farmers' unwavering commitment to quality, our flavored cheeses look as good as they taste. Have a peek at the new look and explore our entire flavored cheese collection.  
Welcome to a bold new world of flavor. Enjoy!