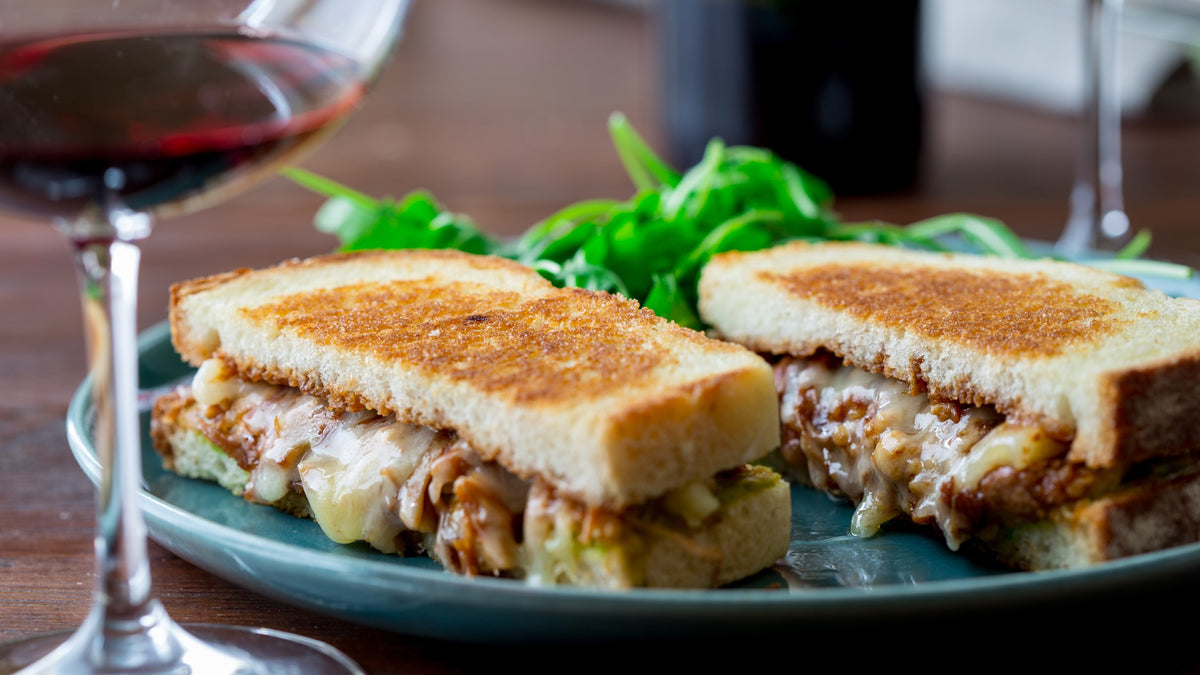 Grilled Cheese and Wine Pairing Suggestions
It's hard to imagine what could make great grilled cheese sandwich even more enticing. We submit that a glass of fine wine can!
Whether you're making a grilled cheddar cheese sandwich in your skillet with butter and good bread or you are channeling Rocco diSpirrito or Carla Hall by creating a delectable gourmet offering, pairing your grilled cheese with the perfect wine will make it a special occasion.
There is room for serious creativity here! But to get you started, our wonderful friends at Wine Sisterhood have some great tips for you.
When in doubt go with a full-bodied white like Chardonnay.  The wine will always complement the buttery bread, no matter what is inside.
Another no brainer – Bubbly!  Bubbly goes with any cheese and any sandwich, any time!
Slightly sweet white wines like Riesling or Moscato will pair nicely with any sandwich that has a spicy kick.
Adding any sort of "green" like pesto or arugula, go with a light bodied wine with some acid like a Sauvignon Blanc or Pinot Grigio.
Light- to medium-bodied red, with reasonable acidity like a Pinot Noir or Merlot works well with any combination of cheddar and turkey, ham or bacon sandwich.
Cheddar and Cabernet Sauvignon are the perfect pair!  Really, you can't go wrong here!
Grilled Cheese Florentine & Middle Sister Drama Queen Pinot Grigio
Pesto, Vermont Sharp and Arugula & Girl and Dragon Pinot Grigio
Piperade and Sharp Cheddar with Lemon Zest and Capers & Middle Sister Goodie Two-Shoes Pinot Noir
The Clubber – Turkey, Tomato, Cheddar, and Avocado & Girl and Dragon Cabernet Sauvignon
Garlic Herb Grilled Cheese with Fresh Tomato and Anchovy Aioli & Middle Sister Smarty Pants Chardonnay
BBQ Shredded Chicken with Pepper Jack Cheddar and Mashed Avocado & Purple Cowboy Tenacious Red
Heaven in Vermont & Middle Sister Sweet and Sassy Moscato
Buffalo Chicken and Pepper Grilled Cheese & Girl and Dragon Malbec
Classic Cheddar Grilled Cheese & Monogamy Cabernet Sauvignon
Farm Girl's Fave & Purple Cowboy Cabernet Sauvignon
Griddled Rachel Sandwich & Middle Sister Rebel Red
Ver-Monte Christo & Middle Sister Wild One Malbec