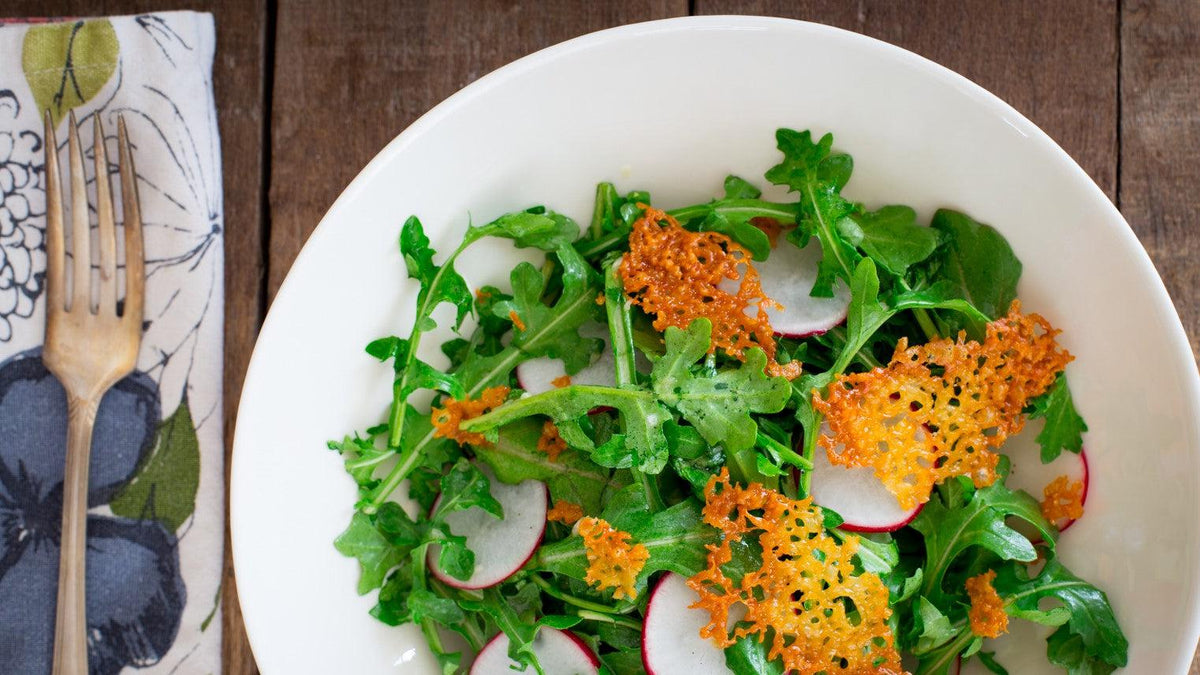 Cabot's Favorite Low Carb Recipes
These easy-to-prepare, family-friendly recipes are lower in carbs, but full of great flavor and nutritious ingredients.
Milk, like many foods we love, has a significant number of carbohydrates. Each cup contains about 12 grams. It's this carbohydrate content that makes milk (and chocolate milk) one of the more commonly recommended refueling beverages for endurance athletes and generally isn't a problem for people who are striving to eat a balanced diet.
But for those on carbohydrate-restricted diets, limiting the amount of carbs we take in is an important factor in meal planning. Whether this restriction is addressing specific health concerns like diabetes, or is part of a weight loss plan that follows a diet higher in vegetables and protein and lower in carbohydrates, creating a nutritious comprehensive eating plan is key.
There is good news for cheese lovers who are trying to limit their carbohydrate intake. Cheddar cheese can be an important part of a low carb diet because aged cheeses are naturally lower in carbohydrate, thanks to the aging process. In fact, the longer a cheese is aged, the lower its carbohydrate content and the more protein it has.
And, as an added bonus, that same aging process that creates The World's Best Cheddar also removes the lactose in Cabot cheese, which is 100% naturally lactose free!
Whether you're searching for low carb recipes on advice of your doctor or because you're simply craving great meals and snacks for your family, look no further than some of our favorite here.
Here is a fun and healthy way to enjoy an American family favorite. These Cheeseburger Lettuce Wraps, that came to us from Cabot Cheese Board blogger Katie at Dashing Dish are a delicious and health way to eat with your hands – kids love them!
Salads are a wonderful way to eat the rainbow – and lower the carbs in a meal. The crisp, spicy flavors of arugula and radishes are a perfect counterpoint to crispy cheese fricos – delicious baked Cabot cheddar rounds in this spring fresh Arugula Salad with Cheddar Frico from Cabot Cheeses Board blogger Katie Webster at Healthy Seasonal Recipes.
This colorful Cabbage, Apple & Cheddar Slaw is another bright and tasty way to keep flavor up and carbs down. The combination of apples and cheddar is a classic pairing and makes this slaw extra special.
The most important meal of the day gets a couple of low carb choices from the Cabot recipe archives. Start your day with this Ham & Broccoli Alpine Omelet; it's loaded with flavor and protein to keep your hunger at bay all morning long. The distinctive taste of Cabot's Farmers' Legacy Collection Alpine Cheddar makes this breakfast dish totally egg-ceptional!
We love these delicious savory scones from Carolyn at All Day I Dream About Food. These perfect little Bacon, Sundried Tomato And Cheddar Scones are both Low Carb and Gluten-Free, and would make the perfect addition to any breakfast table.
Here's a light but satisfying low-carb supper option from Cabot Cheese Board blogger Gina at Running to the Kitchen. Gina is a passionate athlete as well as a fabulous food blogger, so her recipes, like this Cheesy Chicken Stuffed Eggplant, not only taste great, they're so good for you.
One of the most popular grilling recipes on the Cabot website also features eggplant. Our Grilled Eggplant with Tomatoes and Melted Cheddar makes a colorful and delicious low carb vegetarian meal or a tasty side dish.
Looking for a spicy appetizer to share with your guests at your next cocktail party? Carolyn from All Day I Dream About Food created these Chorizo Cheddar Jalapeno Poppers – as Carolyn says, "Stuffed with chorizo and sharp cheddar, it's a party in your mouth!" We couldn't agree more.
Finally, a classic dish: Deviled Eggs. They make a great low carb snack or side – and they're a versatile addition to just about any meal. Try these Avocado Cheddar Deviled Eggs for your next family get together and watch them disappear!