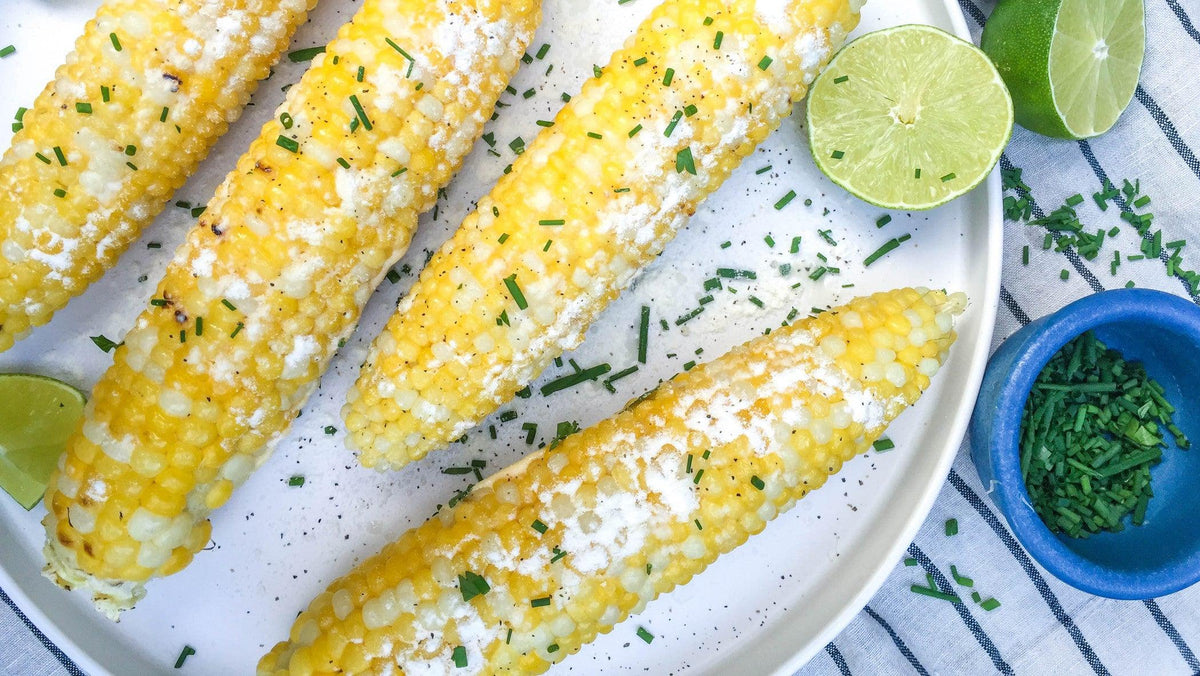 Summer Corn: Recipe Roundup
We love the taste of corn all year 'round. But fresh, just-picked summer corn, on or off the cob, is a favorite with our farm families. That sweet burst of delicious flavor as you bite into crisp kernels…really, is there anything better?
There are so many great recipes that feature corn that we wanted to do this roundup of some of our favorites.
But first, check out our favorite kitchen hack for quickly taking corn off the cob with less mess. It's fast and so easy, you'll wonder why you didn't think of it sooner. Just take a clean bundt pan and put your ear of cooked corn, top (pointed) end into the hole in the middle of the pan. This will hold the cob in place while you cut the kernels off. As you cut, the kernels will fall into the pan, ready to become the star in one of these great recipes.
Before you begin, you may want to watch this quick YouTube video from America's Test Kitchen. It shows you an almost miraculous way to shuck corn in seconds, silky strings and all!
Our first recipe comes from Jessica at How Sweet It Is. Her Hot Cheesy Caramelized Corn Dip is so good and so fresh, you'll want to begin every party with it. Here's how Jessica describes it: "It's sort of like… a garden dip or something. It's quite summery and exceptionally flavorful, and when it comes to dips with vegetables included, this is something that can't be overlooked."
Next we come to one of our favorite recipes from the Cabot website. This Street Corn Salad is a summer favorite. The sweet corn kernels, grilled to perfection, are highlighted by the intense flavors of the dressing made with yogurt, lime and cilantro.
Our next yummy summer corn recipe comes from A Cozy Kitchen. Here's what Adrianna has to say about her awesome Chile Corn and Cheddar Pizza. "This pizza is delicious to make with fresh, early-summer corn. If you have access to a front porch, I suggest you eat there. If you can whip up a margarita to go with it, that wouldn't hurt either." Sounds like a plan to us…cheers!
There are days when only soup will do and if you have some sweet corn for your soup plans, all the better. This light, satisfying Chicken Corn Tortilla Soup has a mellow south-of-the-border flavor and it is so easy to prepare. Perfect for a late supper or as comfort food on a rainy day.
With this amazing recipe for Sweet Potato and Corn Cheddar Fritters, Gina from Running to the Kitchen, shows us just how great the combo of sweet potatoes, crispy corn kernels, and sharp cheddar can be. This is a call to action for fritter lovers everywhere!
We love this recipe from Melissa at Bless This Mess so much that we made it one of our Featured Blogger recipes on the Cabot website. Every time we serve these Bacon, Chicken and Sweet Corn Quesadillas, they disappear in seconds. Yes, they're that good. They're also a perfect meal choice, for even the pickiest of eaters. Bacon, chicken, sweet corn and cheese? What more could anyone want?
This last summer corn recipe in the Roundup may be the simplest – it's a Southwestern Corn, Avocado, and Pepper Jack Salad topped with a light vinaigrette. This salad is perfect for lunch or dinner, as a side or just on its own. The creaminess of the avocado is a delicious contrast the pop of the sweet corn kernels. And the pepper jack cheese adds just the right spicy kick to this dish.
For more recipe ideas visit cabotcheese.coop